10 Years of Classic Confections
10 years ago, Greenbelt opened its doors to the discerning shoppers of Makati -- within it, a humble abode of delectable goodies opened too -- we look back at Classic Confections, a true-blue go-to for homemade sweets
Classic Confections is the perfect gift destination, sure to please all the family, friends, officemates, and children on your Christmas list. For almost a decade, this pastry shop has been putting smiles on their customers' faces with its quality, affordable treats and specialty cakes. For its 10th year anniversary, Classic Confections is proud to launch new gourmet desserts in the form of chocolate bars, cookies, pies, cakes with unique twists to make Christmas even sweeter.
"I wanted Classic Confections to be a pastry shop that serves familiar and timeless desserts. I do not want to make anything over the top or intimidating." – Baba Ibazeta-Benedicto
Chef Baba Ibazeta-Benedicto, the creative mind behind Classic Confections decided to open the doors of her first shop back in 2007 with a vision of sharing her timeless creations to people other than her family. 10 years later, her quintessential desserts and cakes have delighted many hearts.
Her cakes have landed on many of Manila's top dessert lists. One of her bestsellers is the Nono's Chocolate Oblivion, a flourless chocolate cake topped with chocolate mousse and walnut praline bits. You can also enjoy other customer favorites like the Sylvia's Strawberry Shortcake, Lemon Torte, Almond Crunch, Calamansi Bars, and Sugar Cookies, which are very popular with children.
Read Also: Nono's: Keeping It Simple
But what makes Classic Confections a favourite present? It only takes one bite from any of their desserts to realize the quality of the ingredients, the careful craft, passion and care put into making each pastry. Chef Baba always wants the best and she doesn't settle for less. She ensures that everything placed in the shelves of her stores is something she can be proud of. To give you a head start, here are some holiday specials from Classic Confections that you can look forward to.
Specialty Holiday Cakes
A celebration is never complete without a slice or two of delectable cakes that make moments extra special. This year, Classic Confections will be introducing 6 holiday cakes that will not only be pretty on the outside but will leave a statement of goodness in every bite.
The newest dessert in the Classic Confections family is a Chocolate Pecan Pie. For the chocolate and nut lovers on your list, this is a unique twist that elevates a very popular American thanksgiving pie. Chef Baba mixed bittersweet chocolate with the pecans on a flakey crust, creating a balanced texture and right amount of sweetness that is delicious bite after bite.
When it comes to cakes nothing spells classic with a twist like the Naked Red Velvet Cake that will demand attention with its striking red hue, rich cream cheese frosting and new look. Moist, dense and delicious with a hint of cocoa. A festive cake that will surely add more character to any dessert table.
Graham cracker crust, rich chocolate custard and toasted marshmallow icing. What's not to like? Chef Baba transforms every campers' favorite "graham-wich" with her version of the S'mores Tart. It still has the basics but made more sophisticated and hassle-free (It's time to skip the fire-roasted marshmallows in between your fingers during parties), and is a sure crowd-pleaser.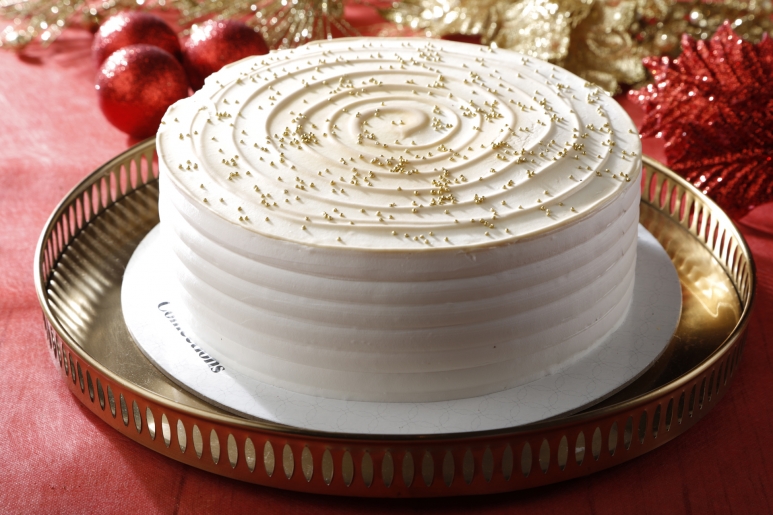 Another favorite is the Dulce de Leche. It's light and fluffy that has the right amount of sweetness. It was originally made for as a wedding cake flavor for a customer who didn't want a traditional wedding cake. It turned out really delicious so it became a regular offering and eventually a crowd favorite.
Chocolate lovers will have another cake to eye on with the rich and one-layer Meline's Chocolate Cake filled and iced with generous fudge icing. It was named after the daughter of Chef Baba's yaya because it was her favorite cake. Since it was launched, it has captured many chocolate cake loyalists too.
Last but definitely not the least, a dessert that holds close to Chef Baba's heart is the Apple Pie. A traditional rustic pie that has a flaky and golden crust. It has a scrumptious surprise filling of cinammon-spiced apples. A comforting and heartwarming dessert indeed. No wonder, Chef Baba's husband considers it as one of his favorites. Back home (Bacolod), she makes it for him all the time. Luckily for us, this classic can be served in our own homes too.
The best desserts are those that make you want to savor every bite, share it with loved ones and friends, and make you crave for more. And that's what Classic Confections brings to the table and every celebration. This one-stop dessert haven invites you to slice into the moment. So why not pamper you and your loved ones with a delighful cake during the most wonderful time of the year.
Classic Confections is located at Greenbelt 5 and Nuvali. Visit classicconfections.com.ph and @ClassicConfectionsph (Instagram and Facebook) for more information.