Behind Toyo Eatery
Check out this exclusive interview as we get behind the scenes of one of the metro's hippest dining destinations - Toyo Eatery
Upon entering The Alley at Karrivin Plaza, one notices a third wave vibe matched with minimalist industrial design across the various boutiques opening up. In the middle of this alley stands Toyo Eatery, a concept by Chef Jordy Navarra. We caught with Chef Jordy to know more about Toyo and pick his brain on some of the trends in the culinary scene.
Philippine Tatler: Where did you get the inspiration for the interiors?
Chef Jordy Navarra: From our food. Our approach to our food is similar, in the sense that we want to be clean – its very minimalist, but at the same time it's very natural, and very raw.
PT: How would you describe your ideal Toyo customer?
CJN: As long as you want to be here. It takes a bit of an effort to get to us, and when you come in and have a meal, you take bit of time out of your day to sort of commit to come be here. The best customers are the ones that come in with the intention of having fun, just eating good food and enjoy the company of friends; coming in with an open mind.
PT: How would differentiate Toyo from other restaurants?
CJN: When we came up with Toyo, we never really compared ourselves to other restaurants. It was more of an expression of what we have and our ideas.
PT: What are your thoughts on the sustainable seafood movement?
CJN: We actually buy our seafood from Meliomar, who does the Sustainable Seafood week here in the Philippines. I think it's a real issue in our world today – responsible sourcing and responsible fishing. We fully support the ideas and all of the programs they are trying to implement.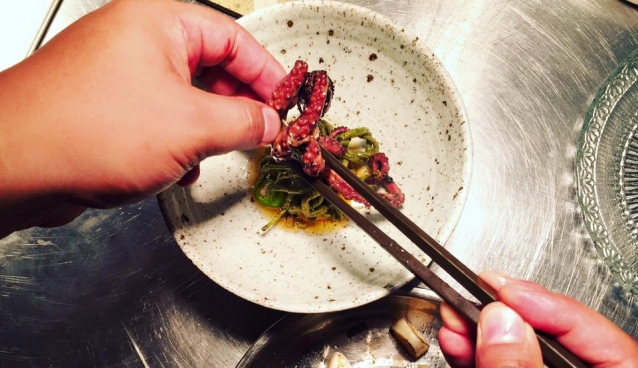 At the end of the interview, we decided to play a little game with the chef called "What would you serve?" to know more about their dishes:
PT: What would you serve or recommend to these customers:
A couple, married for about 20 years, between 40-50 years old, they already have 3 kids and they are on a date for their anniversary.
CJN: They should start with oysters and have some sparkling wine.
Young professional from 21-28, just got out of work, really tired and looking to relax
CJN: Maybe a Negroni, or Old Fashioned, something strong. And then we'll give them some barbecue so they can just nibble and drink.
Three chic metropolitan girls, out on the town for a girl's night out
CJN: Cocktail No. 5 from our cocktail menu, oysters, fried fish because it's light, and our Bahay Kubo.
Toyo Eatery is located at The Alley, Karravin Plaza at Chino Roces Avenue, Makati City. They are open from Tuesdays to Saturdays, from 6:00PM until 11:30PM. For inquiries and reservations, you may contact +639177208630.