Where To Dine For Mother's Day 2021: Celebrate With Lobster, Steaks At Sheraton Manila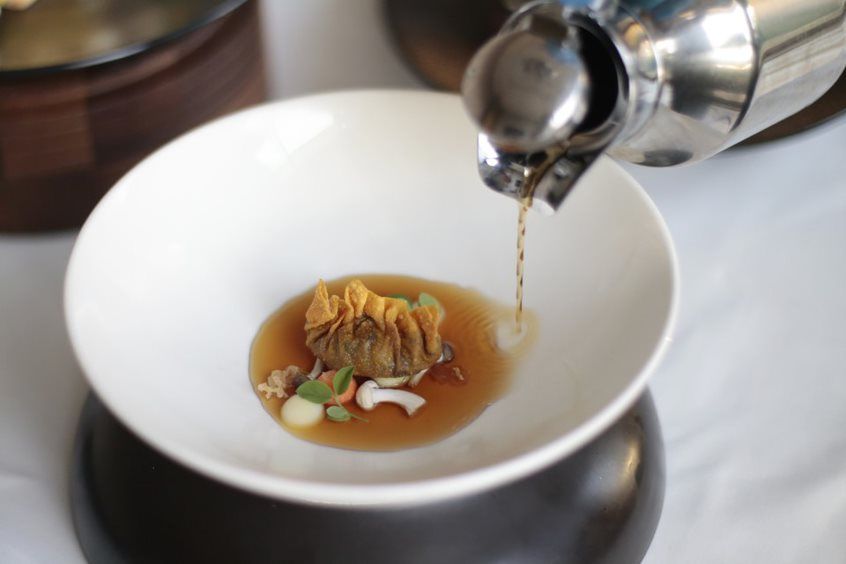 Enjoy lobster, steak, special cakes and amazing dining experiences with Sheraton this Mother's Day weekend.
With Mother's Day just around the corner, it's about time to start planning on how to treat Mum. Whether you're staying at home or surprising her with a special dinner, Sheraton Manila offers more ways to celebrate Mum's day.
Dine at the Vubble
It's not often that Mum gets to go out. Why not take this chance to treat her to an indulgent lunch or dinner? Sheraton Manila is offering a special four-course menu with sparkling wine, bouquet, and cake at the Vubble—a luxury outdoor pod with a 360° view of the pool and garden. The menu features home-cured salmon with honey mustard dressing, duck consommé soup with duck rillete won ton, and U.S. prime beef tenderloin and grilled lobster tail with garlic potato puree, honey-roasted carrots. And as you end your meal, enjoy an orange sesame cannoli with bionda crumble, mascarpone cream, orange and rum caramel while taking a sip of coffee or tea.
Book a four-course Vubble Dinner for P6,000++ per guest (Club Marriott gets 20 per cent discount). This offer is available for lunch and dinner from 7 to 9 May only.
Read more: 15 Must Try Beers
Lobster and Steak Buffet at S Kitchen
If lobster and prawns are more up your Mum's alley, then she will definitely love a surf and turf feast at S Kitchen. The buffet features a grilling station with lobster, prawns, tuna panga, stuffed squid, barbecue pork belly, and beef rump. There's also a salad bar, smoked salmon, Japanese station for sashimi, seafood chowder, baked whole salmon at the carving station, tempura, crispy pata and other Filipino favourites.
What makes this treat even sweeter are the bouquet of flowers for Mum, frozé cocktail, and a large selection of dessert where she gets to choose and indulge in her favourites such as mango éclair, ube cake, and more.
Book a seat for PHP2,700 per guest (20 per cent discount applies to Club Marriott and 10 per cent for Marriott Bonvoy). This offer is available for dinner from 5pm to 10pm.
Read more: Where To Order Cake For Mother's Day
Stay at Home Feast
Mother's Day is also a family day, and what better way to treat mom than a break from all the cooking. Sheraton Manila offers The Queen's Feast—a Mother's Day takeaway package that includes caesar salad with crisp bacon, parmesan cheese, and dressing, grilled U.S. choice beef ribeye and garlic butter prawns served with mashed potatoes, roasted vegetables with fresh herbs, chimichurri sauce, and peppercorn sauce. Complete the celebration with the Queen's Cake made of mascarpone cheese and caramel tablea. Get The Queen's Feast Package for PHP 11,000 and enjoy with six to eight guests. (20 per cent discount applies to Club Marriott and 10 per cent for Marriott Bonvoy). This offer is available from 10 am to 10 pm for pick up or takeaway.
Mom's Special Cake
Most mums agree that love and appreciation are the greatest gifts of all, but who says no to cakes? Even Mom would love to receive a cake on her special day. Show how much you love her with the 8-inch Queen's Cake made of white mascarpone cheese mousse and caramel chocolate tablea. Get it for PHP1,000 for pick up or takeaway, and delivery. This offer is available from 7 to 9 May from 10am to 10pm.
Read more: Kryz Uy Shares Where To Order Takeout In Cebu
---
For inquiries and orders on Sheraton Manila Hotel's offers, contact +632 790 21808 or +63905 279 1187. For more information on the latest offers and to join ongoing conversations, visit sheratonmanila.com hotel and follow @sheratonmanila on Facebook, Instagram, and Twitter. Join Make it Marriott Viber Community to be in the loop.