Gin Generation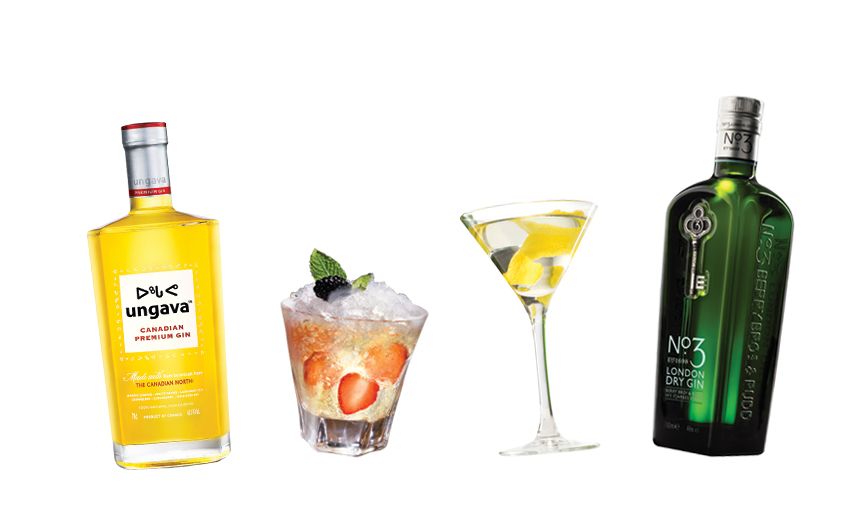 Hip spirits have their time in the sun and craft cocktails come and go. But, asks Shauna Jay Popple Williams—is gin just a gimmick?
Before you answer my question, ask yourself this: Which spirit has as many brands, sub-variants, styles, profiles, and cocktails owing to its existence?
While whisky might be the obvious top-of-mind big spirit answer, the gin phenomenon has been a thing for a while. And it looks like it's here to stay what with the A to Z of gin brands seemingly growing exponentially by the year thanks to boutique entries hailing from all over Europe, stateside, Canada, and even Asia. Let us not forget the explosion of specialised gin bars as well as those well-stocked gin carts across the global F&B scene.
Which brings us, then, to the fact that gin is indubitably the most commonly used liquor in cocktails. From traditional London dry styles, to new wave botanicals, to flavoured grape- and sloe-based variants, where does one even begin to attempt such extensive inventory?
A good place to start is with a good 'ol dependable London dry.
No.3 London Dry, for instance, is a versatile and stellar base to work with for cocktails. Whether for a basic G&T or a classic dry martini, this is as ideal and as charmingly delightful a canvas as one will get. Distilled to a proprietary recipe, it comprises six botanicals that blends three fruits and three spices. While these flavours may be imbibed neat, the real beauty lies in the delicious fact that No.3 accentuates and balances particular botanicals with other ingredients.
To put this into context with food and wine pairings, these six botanicals are, much in the same way the palate perceives flavour, correlated with the four main taste categories: dry-bitter; floral-fresh; citric sour; and savoury-umami.
To develop such an outstanding and inimitable spirit, Simon Berry, chairman of Berry Bros. & Rudd (a British family-run wine and spirits merchant), called upon the expertise of Dr. David Clutton, one of the world's authorities in the art and science of gin distillation and whom has helped to create some of the world's most prestigious gin brands. Said Berry, "No.3 is unmistakably traditional London dry gin. By traditional we mean gin that tastes as gin should: with juniper at its heart. We are determined that No.3 will be the last word in gin for a dry martini cocktail."
At 46 per cent ABV, No.3 then becomes the ideal strength for said dry gin martini but in the same breath, it can more than hold its own when mixed with stronger quinine-infused tonics. But don't just take Dr. Clutton's word for it. Mix away!
On the botanical side of this well-loved spirit, and from a vastly different part of the globe, let us now take a closer look at the premium Canadian contender, Ungava.
Formed with rare botanicals native to the Arctic region namely wild rose hip, Arctic blend, cloudberry, labrador tea, crowberry, and Nordic juniper, Ungava is as subtle as it is intriguing. Handpicked during the short-lived Arctic summer season, these six berry and flora components are infused the traditional way (naturally steeped until the gin takes on its complex flavour and distinctive sunny hue), then handcrafted to delight both adventurous amateurs and connoisseurs alike. As such, inside every glass of Ungava, there lies a heady cross-section of the Ungava Peninsula that is smooth, fresh, citrusy, floral, and spicy.
Connoisseurs in particular, however, will appreciate the mellow yellow character of this exquisitely well-balanced and velvety smooth gin. Though it is 100 per cent all natural, interestingly, Ungava boasts a surprising alcoholic volume strength of 43.1 per cent.
It is for this precise reason that while Ungava is certainly enjoyed on the rocks, or with a slice of fruit, its multi-dimensional and vibrant personality enables it to tantalisingly carry other spirits and mixers in popular cocktails such as a negroni, gin fizz, or dirty martini.
Though times have changed (and we are certainly spoilt for choice!), the manner and style in which we can enjoy gin today has dovetailed in ways gin drinkers centuries ago would never have even imagined.
So, as part of the new wave gin generation, let us toast the longevity of this age-old spirit that is very much here to stay.
---
No.3 London Dry and Ungava gins may be ordered direct from Grand Cru Wines and Spirits.