In High Spirits
Digest
Extra old cognac and sophisticated Chinese cuisine made for delightfully delicious surprises at the Hennessy X.O pairing dinner specially prepared by China Blue's Jereme Leung
Among hushed conversation punctuated by excitable "santés," generous pours of Hennessy X.O accompanied by a single but sizeable ice cube à la "On the Rock" was distributed throughout the private dining room of China Blue, the fine-dining gem of Conrad Manila Hotel.
Moët Hennessy Philippines Managing Director, Olga Azarcon and Marketing Manager Gio Robles introduced the new Brand Heritage Manager, Matthieu Lerat who then launched into a warm but brief introduction to what the evening held for an intimate albeit very lucky group of 15 comprising cognac connoisseurs, editors, and food writers.
"Tonight what we want to do is to change the idea or people's perceptions that Hennessy is an after dinner drink or that it has to be drunk neat. Tonight we will observe the different ways to enjoy Hennessy as well as to sample chef Jereme Leung's cuisine," started Lerat. He added, "I think the complexity of the flavours and the richness of the texture as well as the aromas of Hennessy make for perfect pairings with Chinese cuisine. Together, they make for new sensations and I am confident they will be a delightful surprise for everybody."
Leung, who couldn't agree more animatedly jumped in to say, "There's a famous saying which goes along the lines of "Is there a wrong time to drink champagne?" Well, I will change that to "Is there a wrong time to drink Hennessy?""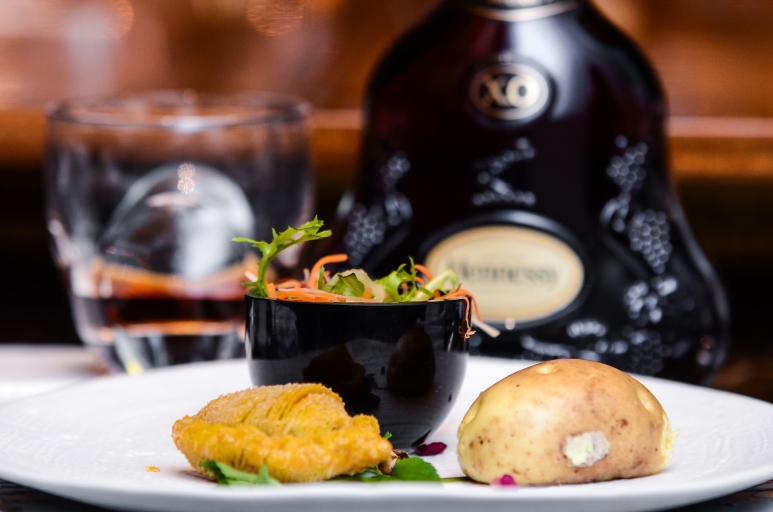 The first course emerged from the kitchen: a trio of steamed chicken curry potato bun (which literally looked like an unpeeled potato); a truffle pastry with deep fried abalone and mushroom; and a green salad with crispy "aroma" duck drizzled with kumquat sesame dressing. Said Leung of his platter of visually very interesting pastry appetisers: "Start with the potato pastry then follow it up with the truffle abalone pastry as the flavours go better in that order. The truffle abalone pastry melts in your mouth!" No one argued with him there.
Lerat chimed in to explain that the "On the Rock" style of serving Hennessy X.O complemented the delicate flavours of the starter as imbibing it neat would have rendered the pairing imbalanced with its distinct and spicy blend of flavours and bouquet. "Cognac," shared Lerat, "must be aged for at least six years but Hennessy, being a luxury brand, X.O is a blend of 100 different cognacs to get the perfect taste. Some blends are up to 30 years old! So when you enjoy Hennessy X.O, just remember that it is not only a spirit but one that comes with history and tradition."

The "pre-starter" as Leung called it was a very tasty seafood dish of stir-fried stuffed crab claw with shredded crispy egg yolk and butter cream. The sauce being markedly richer than any of the combined flavours of the first course, required a stronger partner, hence Hennessy X.O "Piscine" (or over ice) became the ideal way to serve the libation.
Next up was a healthy and rather attention-grabbing (to say the least) double boiled king coconut with peach gum consommé, abalone, pork dumpling and cordyceps flower (though technically not a flower and similar to other Chinese mushrooms, cultured cordycep is a fruiting body considered to be a fungus). Presentation-wise, the soup was beautifully served in the shell of the king coconut and here, a capful of the cognac was tipped in to render a more complex if but piquant flavour to the light and clear broth.
To accompany the three exquisite main courses (a red viande followed by a white fish fillet and then the white meat of chicken) the Hennessy X.O was served the iconic way – neat in a chilled glass being that both sides could hold their own without overpowering the other.
First up was the wagyu beef cheeks and tendons with radish in a hot pot Slowly cooked to reach fall apart texture, the chunks of beef were swimming in a fabulous earthy, thick sauce. The perfect foil to the light and fluffy oven-baked miso snow fish (or cod) was the punchy creamy garlic white sauce which was nicely counter balanced by a sweet carrot purée. Last to arrive was the baked Chinese sweet vinegar diced chicken which sat atop a fragrant garlic rice and served in a bamboo cup.
Dessert was a complete and utter treat: Yunnan fresh rose petal ice cream and vanilla panna cotta served with pistachio chocolate banana. "In Yunnan," explained Leung, "there are more than 60 varieties of roses. But there is only one that is edible and it came with me in my luggage and became an ice-cream. So you are having a dessert that is truly unique."
Sweet tooth or not, this was certainly the chef's pièce de résistance what with the remarkably but pleasant robust flavour of the rose and the perfected fluffy consistency of the panna cotta. This spectacular rosy finale was served with Hennessy X.O "Tea Ice Rock" wherein the ice cubes were moulded from a fancy oolong Chinese tea. Pockets of tea aromas emerged from the glass to headily enhance the dreamy pairing. If desired, tea could be added.
As per Lerat, as far as pairings were concerned, what might have been deemed as breaking the rules throughout this gastronomic evening, the Hennessy team together with chef Leung made it phenomenally groundbreaking than anything else.
Trending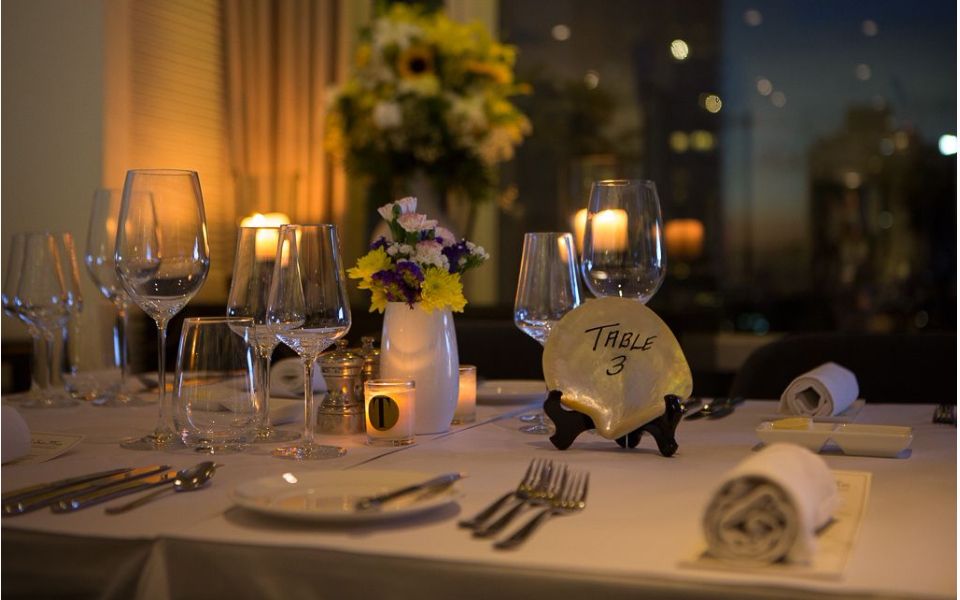 Manille-Sur-Mer: Dining For A Cause
February 20, 2018 | BY Shauna Popple Williams
photo_library
Tomatito Turns One
February 15, 2018 | BY Shauna Popple Williams
photo_library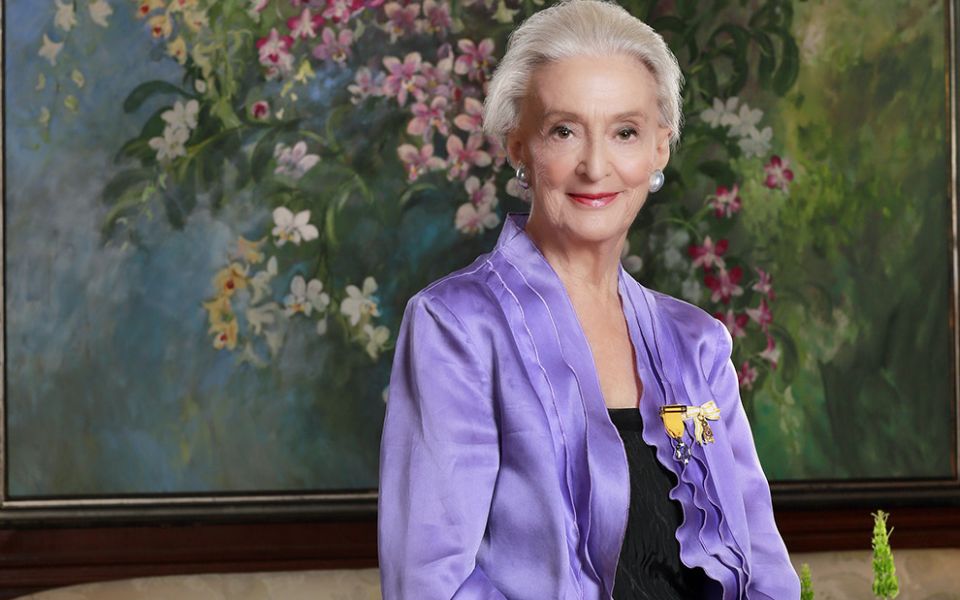 Betsy Westendorp Launches A Two-Volume Coffee-Table Book
February 6, 2018 | BY Philippine Tatler
Know Your Feng Shui Prospects For 2018
February 5, 2018 | BY Philippine Tatler
9 Artists To Look Out For At This Year's Art Fair PH
February 1, 2018 | BY Dorynna Untivero
photo_library
Presenting T.Dining & The Best Restaurants Guide 2018
January 31, 2018 | BY Shauna Popple Williams
photo_library