Moonshine Bar: A Nostalgic Experience
Right out of the prohibition era and straight into the back alleys of Makati, Moonshine has captured the hearts and palates of a buzzing after-hours crowd.
Instilling a modern vibe to the originality of the roaring 20s, Moonshine Bar has created a cosy hub for local epicures. Conceived out of a real passion for the culinary arts, partners and fellow chefs Gian Mathay, Renz Mediarito, Rainier Barbers, Jared Sto. Tomas, Jehrad Dolino, the speak-easy is not the first business venture of the Enderun colleagues. With Jared Sto. Thomas and Rainier Barbers on board, Moonshine shares the same creative team behind the well-known secret, Tipsy Pig at Capitol Commons. Jehras Dolino, executive chef and managing partner of Moonshine, on the other hand, has played his role as a private caterer and a franchisee. "I've tried my hand at managing, and now I've come back to my love which is cooking," he said.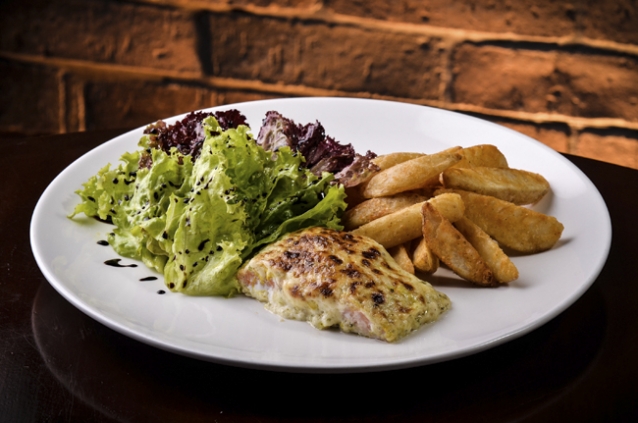 What started as a drunk idea catapulted several years later into one of Makati's rising gastropubs. Dim lights, brick walls, leather appliques and exposed fixtures exude the air of a secret tavern and has been the go-to watering hole of a vibrant working generation. Cocktails are crafted by Cebu-based Gian Mathay while Jared Sto. Thomas standardizes them into an extensive drinks selection. With a team just as exploratory as the market, what Moonshine has to offer is nothing close to ordinary. Fresh fruits and herbs are infused with a diverse line of liquor and served in mason jars with names like Jungle Juice, The Grape Hooch and The Dark Horse. Comfort food abound, the menu is a stretch from the typical bar chow. Created with the nostalgia of childhood and the trendiness of 20s fare, the list includes Truffle Mac and Cheese, Handmade Chorizo Corndogs, Baked Salmon and Mac Ribeye as a few of their best sellers.
Learned from their time at Enderun, hospitability plays a key role in this particular venture. The owners and the staff alike are an extension of the concept, and go out of their way to ensure that their guests are relaxed. Moonshine Bar is an experience overall, from their carefully formulated aperitifs, their gastronomic fare and especially the conducive ambiance for conversation.
Moonshine Bar Unit 1C Valdecon Building, Jupiter Street, Bel-Air Village, Makati City +632.478.7340