Rambla x CVNE: Tatler Steps into Tempranillo Territory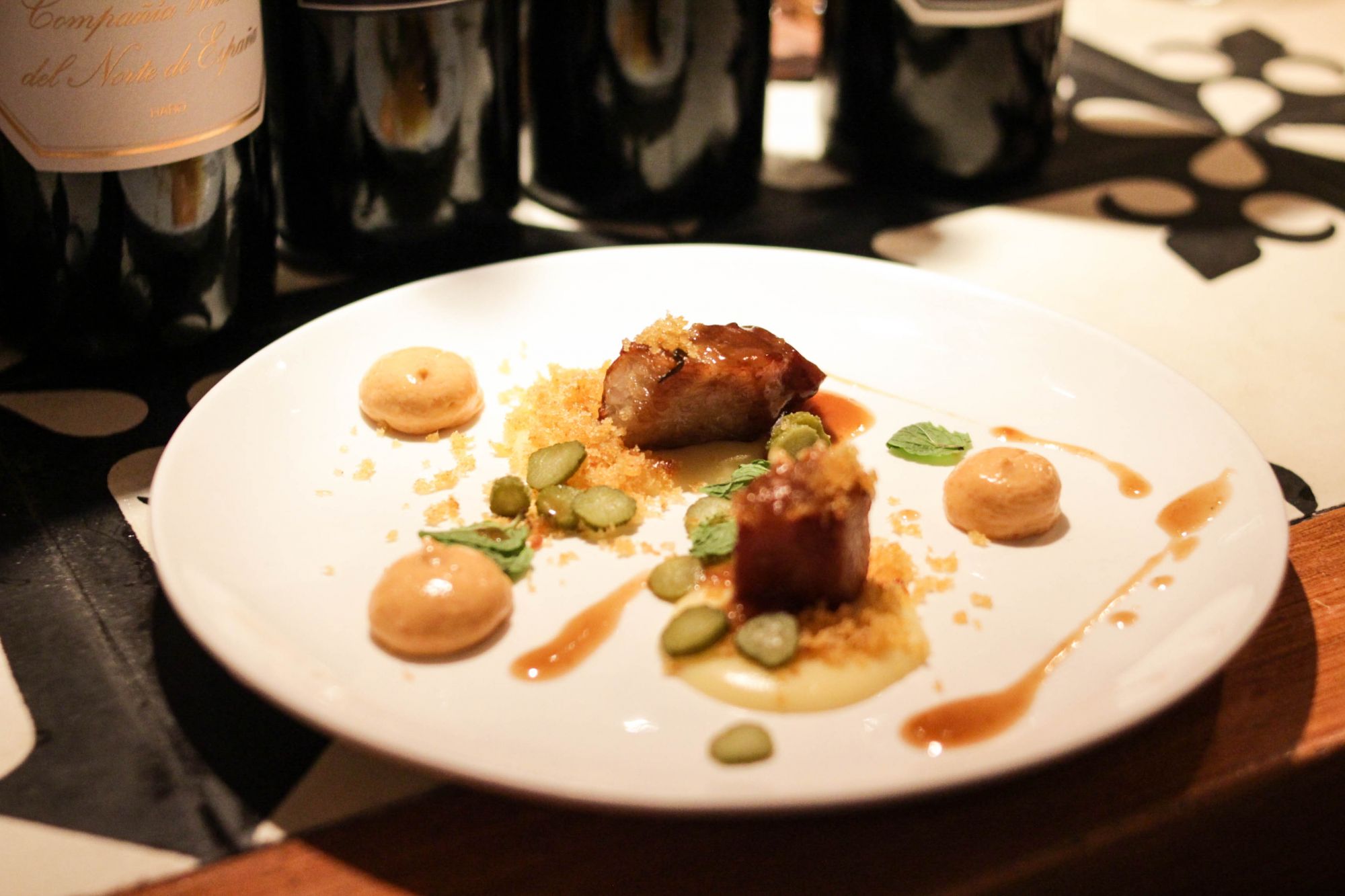 Spain's Northern (high)lights were on show at this special cena de maridaje
Rambla and Premium Wine Exchange (PWX) recently threw and co-hosted a sold-out cena de maridaje (pairing dinner) highlighting fine riojas from the CVNE winery. Bistronomia's (Rambla, Las Flores, Tomatito, BCN by Rambla) newest member of the family, chef Ignacio Alcalá of Las Flores created a special five-course menu to enjoy alongside CVNE's most coveted sips.
Many of us already know and indulge in the fruits of CVNE's (pronounced coon-yeh) labour, but for those who don't, it is an acronym for Compañía Vinícola del Norte de España—or Wine Company from the North of Spain, to the rest of us. The oldest maker of Rioja, CVNE was founded in 1879 by brothers Eusebio and Raimundo Real de Asúa, and to this day it is operated and managed by the fifth generation. Melding innovation with tradition, the family-run business has literally become the only winery in the region to have garnered ratings and medals all the way from the basic range up until the top tier.
Riojas are typically derived from tempranillo (80 per cent), and the remainder combines garnacha (grenache), azuelo and graciano grapes. These are classified by the process in which they are aged. The most basic of riojas, so to speak, are aged one to two years in a bottle; moving up a tier, Crianza is aged a year in an oak barrel, followed by a year in a bottle; Reserva splits its time between an oak barrel for a year and two in a bottle; at the top, Gran Reserva is aged two years in oak and three in a bottle. As Riojas go, traditionally, they are enjoyed with Mediterranean cuisine, red meat, and though red, even seafood.
Marina Eito, CVNE's Export Director for Asia, pointed out that Crianza is the most sold wine in the whole of Spain and that the acidity of these grapes, being on the high side, is not only aged in French oak barrels (which produces bolder, robust layers of spiciness and hints of Balsamic), but also in "softer" American oak to render more rounded and sweet nuances of cocoa, chocolate, and vanilla.
On this evening, Eito was in charge of four standout gems in the CVNE line up, in particular, the well-loved CVNE Imperial Reserva 2012. Funnily, it was no surprise that the evening commenced with a verbalised, albeit heart-felt, protest from one of the guests: "No taxes on Rioja products!"
To start, the excitable diners got busy sampling the Terras Gauda Abadia de San Campio Albarino 2014 (another PWX offering) while waiting for the first course to be served. Chef Alcalá put out a trio of amuse-bouche to tickle the palate. This was a refreshing gazpacho-like "bloody" cherry tomato shot with just a touch of basil oil; rice crispy with tuna tartar, pickled onion and calamansi juice; fritura of octopus, eggplant, a drizzle of honey and just a sprinkle of paprika.
The first course, a light yet satisfying carpaccio of Presa Ibérica, toasted hazelnuts, a healthy smattering of chopped fiery piparras (the best part), diced sour green apples and parmesan slices was served with the CVNE Reserva 2013, all tempered tempranillo and very easy sipping. The sweet nuttiness and spicy kick of this appetiser was the perfect match for the medium intensity of this particular Reserva vintage, thanks to its subtly spicy, vanilla, and toasted flavours owing to the French-American oak aging.
This was followed by the low temperature pork grill with kimchi mayo, gherkins, mint, and migas de pastor (stir-fried bread crumbs with charcuterie), which was paired with the CVNE Gran Reserva 2009. The more voluptuous body of the 2009 vintage more than held its own against the boldness of the combined porcine and fiery kimchi mayo flavours. Portion-perfect, Alcalá did well to please here.
The jewel in the CVNE crown, the star that everyone was waiting for was the memorable Imperial Reserva 2012, lovingly hand-picked from 35- to 50-year-old vines. Speaking of crowns, the King of Spain, himself, is an absolute fan. In a blind tasting of more than 100 bottles, the sovereign ruler in fact whittled down his long list to this outstanding beaut. Savoury, complex, topped off with silky licorice notes, an exquisite combination came to be when this kingly sip of choice was served with the superbly moist and none too salty bacalao with callos. The callos, it must be mentioned, that had such an amazing "slimy" mouth feel.
Certainly a tough act to follow, the nicely balanced CVNE Imperial Gran Reserva 2010 (bolstered by tasty graciano, which is known for longevity) came armed with its fruity and Balsamic aftertaste that which beautifully augmented the rich and savoury rabo de toro deshuesado (oxtail stew) cooked in red wine and served with parmentier of potato and vegetables.
To finish, Alcalá's interesting white chocolate mousse, swimming in a chai latte soup tinged with frozen whisky went well with the fruity Kiralyudvar Tokaji Furmint Demi Sec 2009. A sweet ending to a Rioja riot.