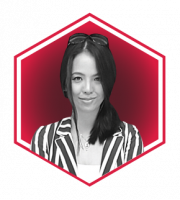 Ingrid Chua
This super mum to two teenage boys somehow manages to balance family life with her multi-hyphenate jet-setting career. She's a TV presenter for Star World, a columnist for the Philippine Daily Inquirer, and she regularly contributes to The Huffington Post UK. Her blog TheBagHagDiaries.com has a massive following, making her a social media maven. She brings her A-game to all this and more while effortlessly pulling off her edgy fashion plate status. Ingrid has a healthy passion for bags (hence her fun-loving TheBagHag persona) and travel, too, which you can keep track of on her social media. She loves to document her journey, hoping she inspires and even helps the people who come across her work. As such, Ingrid is currently penning a book which she hopes will be published before the year ends.
Her passion: Family and travel – as education, she believes, should not be confined to the classroom.
The Gen.T 2016 List
50 of the brightest connectors, creative visionaries, influential innovators and disruptive talents in the Philippines.