A Culinary Roman Holiday
Do as the Romans do, they say. I explored the hip area of Trastevere to spend hours in the kitchen of Chef Andrea Consoli of "Cooking Classes in Rome" to learn traditional and regional dishes.
With new friends, cooking skills, and one of the best meals I had in Italy, you can't visit Rome without a gastronomic experience like this.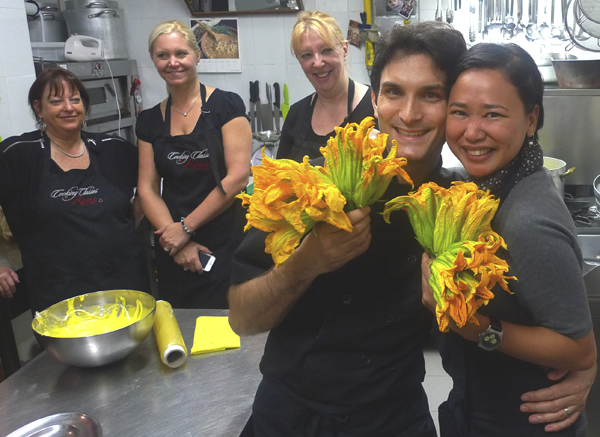 With the chef Andrea and the last of the season's harvest of pumpkin blossoms
After travelling around Spain, France, and Italy with friends last Fall, I decided to cap off my month-long European rendezvous with some "me-time" in Rome. After I'd thrown three coins into the Trevi Fountain, walked up the Spanish Steps channeling Audrey Hepburn in Roman Holiday, and marveled at the Pantheon (around five times since I kept getting lost and ending up at the same location), what do I do outside the tourist attractions? Go for an immersive travel experience that will leave me with a much more valuable and lasting souvenir of the place I visited.
I suggest veering away from the crowds and taking a trip beyond the Tiber to Trastevere – a charming medieval neighbourhood with a fiery temperament, a very hip and cool vibe – and signing up for a cooking class. When traveling, the only thing better than finding a non-touristy restaurant that serves amazing local food is having a local chef teach you how to prepare those dishes yourself.
My morning took me on a stroll in this labyrinthine district with its many shops and cafés, stopping for an espresso in a café bar. After a slurp, a very molto buono sip, a grazie, and a ciao, I found my way through the quiet cobblestoned side streets lined with quaint buildings with faded paintwork into Chef Andrea Consoli's cooking class.
Chef Andrea had been working in his family's restaurant for over a decade, using his love and talent with food to help run four restaurants in the last 15 years. He is now using his passion for cooking to teach others the great regional dishes of his hometown: Rome.

The chef Andrea deep frying our pumpkin blossoms stuffed with eggplant, prosciutto, and mozzarella
I ecstatically spent hours in his kitchen and learned traditional and regional dishes. The class included a four-course meal of antipasti, homemade pasta, a second course, a side dish, and a traditional dessert, all made with organic ingredients found in the region, highlighting freshness and quality from farmers and markets.

The chef Andrea introducing the Romanesco broccoli
This cooking class of 12 food enthusiasts did not only get to learn the recipes, but were involved in the whole cooking process. Chef Andrea combined insight and technique on cooking Italian food with history and culture and debunked the commercial view of what we were erroneously taught. The class was completely hands-on. We chopped, diced, stuffed, stirred, mixed, sautéed, and kneaded dough amidst simmering questions, friendly chatter, laughs, and the occasional selfies.
We started with a run through of all the ingredients, along with historical and cultural lessons of our dishes, all packed in a tiny kitchen. I love how every dish had a story. The participants were assigned kitchen stations, given tasks, and were encouraged to work together as a team. While focusing on our kitchen tasks and whipping out our pseudo Master Chef skills, we listened to Chef Andrea's whistles, thorough instructions, and witty banters with the use of Italian hand gestures.
He began by noting the difference between a cook and a chef. "A cook shows up at 5:00am and works until midnight, just following recipes. A chef goes to the market, builds a menu in his head from what's available, then creates an experience for his diners, based on his relationship with the food." This was a good reminder for everyone to start having a love relationship with their food again.
Come hungry because at the end of the hands-on lesson, you'll spend as much time eating as you do cooking. We feasted on crispy pumpkin blossoms paired off with the tastiest southern style pesto stuffed with eggplant, prosciutto and fresh mozzarella (Fiori di Zucca dorati e ripieni con prosciutto/melanzane e mozzarella con Pesto alla Trapanese), which I couldn't get enough of. This was followed by some homemade cavatelli-shaped pasta with Sicilian broccoli and sausages (Cavatelli fatti in casa con Broccoli Siciliani e Salsicce). Then we happily moved on to our secondi, which was meatballs with fresh tomato sauce (Polpette della nonna al sugo di pomodoro fresco) paired off with our side dish of Roman-style broccoli (Broccoli Romaneschi). And lastly, we had to make room for dessert. Our custard was flavoured with lemon zest and fresh seasonal kiwis (Crema al Limone con Kiwi) and was served in a martini glass with each of our names handwritten with piped custard on our plates. That was a perfect way to cap off our culinary experience.

Our personalised dessert plate of custard with lemon and kiwi
Chef Andrea had demystified Italian cooking with techniques, tips, and tricks using local, seasonal, and organic ingredients that were easy to duplicate at home. The warm and casual atmosphere in his kitchen with his wife Erica left us with new friends, cooking skills, and one of the best meals I had in Italy. You can't visit Rome without a gastronomic experience like this.
So when in Rome, do as the Romans do… Cook and eat! Try and follow this dictum on your next trip to Italy. Now, that's La Dolce Vita!