Home Tour: Enter The Hardy Family's Bali Home Surrounded By Nature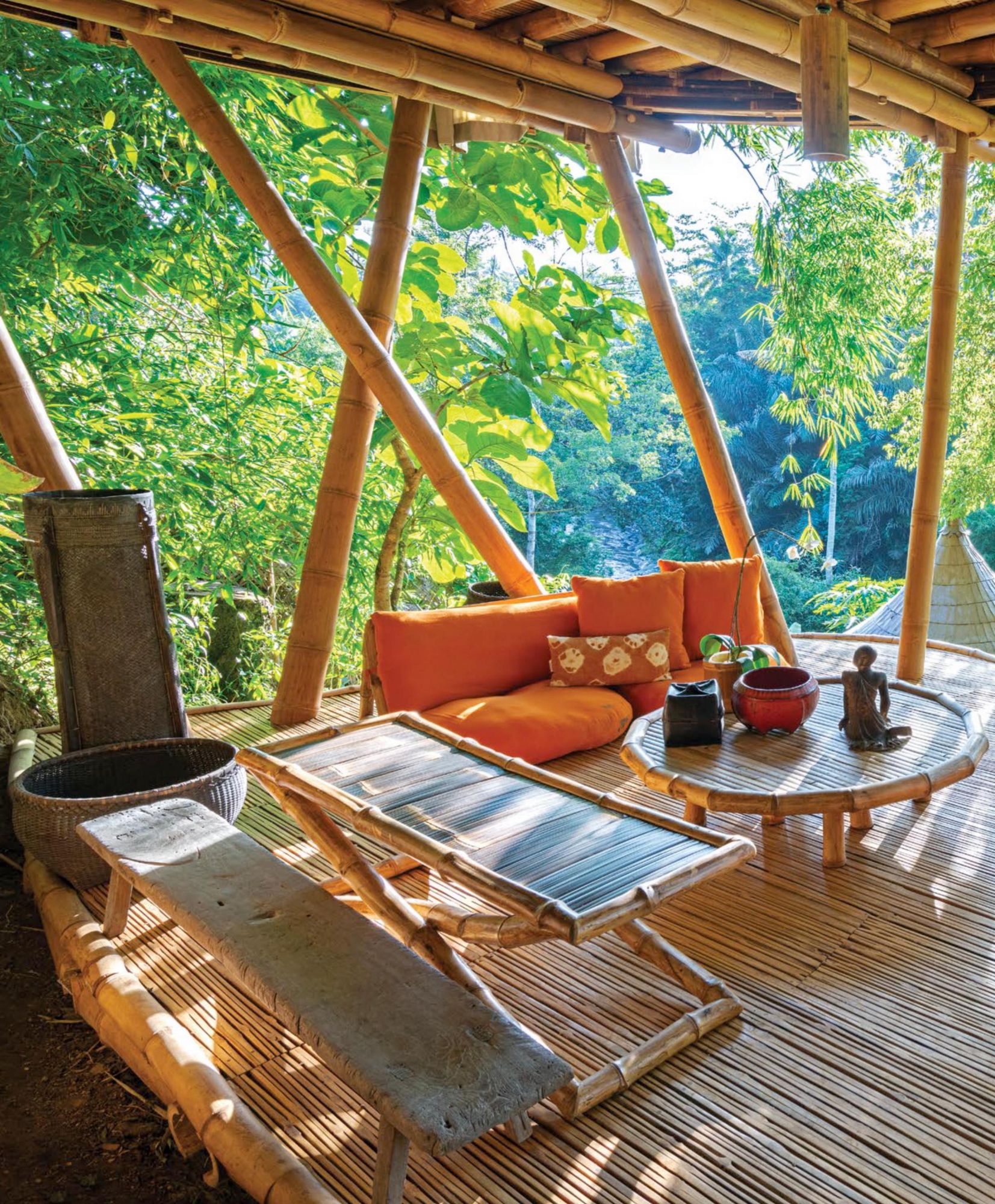 By Stephanie Zubiri
December 29, 2020
Deeply rooted in Bali, the Hardy family shares their passion for the environment, explains why bamboo is the way forward and shows the world how living in harmony with nature can be done stylishly
"Our home is a very private and sacred space for us," shares Cynthia Hardy, co-founder along with her husband, John, of Bali's innovative and environmental educational institution, the Green School. She walks through the narrow pathways of the vegetable garden and pushes a large wooden door, surrounded by the roots and overgrown trees, which leads into their private property. "This is the kitchen joglo," she says, referring to the traditional Javanese home that has been re-purposed as an open plan living area. "It is the space where we always hang out and entertain. It's really the heart of it all."
The structure is made from an old house that was dismantled, transported from the island of Java and rebuilt here in Ubud. The focal point of the building is the intricately carved ceiling, from which hangs two antique French gaslight chandeliers that John found in a gallery in New York. "I saw them and thought, I had to have them. Eventually, they found a home." Decorated sparsely, but warmly, in different types of wooden furniture, the space is functional and cosy, with the true star being the lush greenery that surrounds the property.
Adjacent to the joglo is the main complex of their home where their private quarters are, built from over four hundred recycled iron wood electrical posts. "It was a good choice then, but not a good choice today because it's a limited resource," explains John. "It's very difficult to source recycled timber nowadays. The only thing we can promise everybody in the world is bamboo, because if you plant it today, and continue to plant it every three years, after the first five years you can have a harvest every year for the rest of your life."
Located in the middle of their sprawling Ubud property—which faces a stunning valley of rice terraces and hugs the cliff rock down to a flowing river is Bambu Indah, which began as their personal residence and has grown into a vibrant eco-resort community. "Bambu Indah is truly our home," shares Cynthia. "We have stayed in, and conceptualised intimately, each one of the houses and rooms we've built here; it's where we live."
Bambu Indah is truly our home. We have stayed in, and conceptualised intimately, each one of the houses and rooms we've built here
Bambu Indah means beautiful bamboo in Indonesian, and the property's most recent addition, the Guadua House, is a true testament to the architectural wonders this tall and hardy grass can achieve. Designed by John's daughter from a previous marriage, Elora, creative director and founder of design firm, Ibuku, Guada House was created in an unconventional manner. "Elora, Cynthia and I work closely together, and Elora allows us to do a non-corporate process," says John. "We find the land, we then build a platform, and we hangout on the platform, thinking about the views before we create a floorplan."
"Dad chose this spot, not by simply wandering by; he actually really spent time there and slept up there on the platform," explains Elora. "He did that for his own home, 20 years ago too. He just really wants to bring people into that beautiful valley and have them experience it fully— and to do so, he does it himself first."
Named for the Guadua bamboo grove that surrounds it, the stilted villa melds seamlessly into the landscape. "It's beautiful, enthuses Cynthia. "There's a cinnamon tree growing through the house which we kept. We're interested in having minimal impact on the geographical landscape and with maximum impact for view and comfort."
The result is an asymmetrical tri-level open air structure, with fluid spirals and curved lines. "It's like leaning back, as you would if you were hanging out on that slope and relaxing," explains Elora further. "When I design something, I also think about the people and how we want to be in that place, especially when we're designing on beautiful natural sites that have their own integrity, character and personality. I don't want to be closed off from that, so I try to figure out how to be sheltered just enough. Humans are soft creatures without a lot of defences; we only have our minds and creativity. Therefore, we build our own shells. Guadua House feels just like the kind of shell I would need if I were a creature in that particular natural environment."
The only thing we can promise everybody in the world is bamboo
Elora's instinctive design philosophy was deeply ingrained in her since childhood. "My mother, Penny, and my father both imparted to me that we have a say in the world around us. If I had an idea for a costume, we would go to a tailor, find the fabric and walk through the whole process of inventing and creating. I wanted a jungle gym, so dad and I harvested the bamboo in the backyard and made one. They showed me that when you have an idea, you can actually make it." Later in life she went to art school but was more drawn to the world of architecture and design. Inspired by the sustainable visionary, William McDonough, she toyed with the idea of becoming an architect. "However, I thought it would be too difficult. When I came back to Bali, I saw the amazing things that dad and Cynthia had done with the Green School and they were building homes at the Green Village, so I dug in there."
Green Village is an eco-community centred around the environmentally-conscious philosophy the Green School was founded on. Located there is one of her latest designs: the River House—a 5-storey, 3-bedroom villa ensconced in a canopy of greenery overlooking a flowing river. This gorgeous creation is organically moulded into the surroundings and made almost entirely of bamboo. When asked why it is her favourite material to work with, Elora explains, "Bamboo has incredible strength and is appreciated by engineers because not only is it strong, it is also flexible. It guides us to imagine and create what it can be. We don't just invent something and impose it on the bamboo. We need to listen to it and find the wisdom to work with it." Her brother, Orin, shares her passion for bamboo and is the founder of Bamboo U, a school located within the grounds of Bambu Indah, that offers courses in bamboo design and sustainable architecture.
Luxury, I think, is a merging of what is deeply and satisfyingly comfortable with what is uplifting and inspiring
Sustainability is at the core of Elora's work. "I don't understand why it's not at the core of what everyone does," she exclaims. "I have to believe that a beautiful, healthy and amazing world is possible and there's a lot out there that suggests that it isn't. I just have to keep on looking toward what I want it to look like, and what I can feel good about building with. I feel good about building with bamboo because I know I can count on it."
It is this consciousness of being responsible for the environment, and being harmonious and intimate with nature, that Elora feels are true luxuries. "Luxury, I think, is a merging of what is just deeply and satisfyingly comfortable with what is uplifting and inspiring," she declares. "I wouldn't call Guadua House our most traditionally luxurious space; it's much more of an intentional jungle-connected space. But when I'm in Guadua, my gaze just flows around and follows the shapes. It's like music happening for your eyes. Don't seal yourself off too much like we normally do with buildings. When you do, you don't get the luxury of the breeze, or the luxury of the sound of the wind through the leaves, or the bird song; you don't get the way that the light falls across the floor. Wherever you are, in whatever setting you are, there's something that the natural world around can give you, unless you block yourself out from it."
For John and Cynthia, living close to nature is not so much a luxury as it is an essential part of life. This has become more evident to them now, in the post-pandemic world. "So many things have changed," says John. "All of a sudden, people found themselves together with their loved ones. People discovered how to work from home. The bicycle world exploded as people decided to ride bikes. The pandemic really changed everything, and people are fleeing cities. People are dying to live and work closer to nature, and this is a really major thing."
Sustainability is a band-aid over a bullet wound, pretending everything is fine... We must regenerate the planet
The couple also feels strongly about the insouciant way in which the concept of sustainability is often taken. "Sustainability is a band-aid over a bullet wound, pretending everything is fine," declares John passionately. "We have to regenerate. The bullet has to be removed, the wound has to be cleaned and we have to create a new way of being. This time has seen the skies clear, freeways thin and smog decrease, but it is not enough. Much of the world is under siege by people who are looking for profit at any price, but we simply can't afford the price. We must regenerate the planet."
The couple has temporarily moved to Santa Fe, New Mexico with their two daughters, Carina and Chiara, due to the health risks Ubud posed for John. "I was very committed to staying in Bali and not leaving our home, our hotel, our gardens; but when it became clear to John that I was a bit worried about his risk being 70, we decided to hop on a plane," shares Cynthia.
Much like the bamboo that the Hardy family reveres, flexibility and resilience are crucial to survival. "It's just really hard to understand what travel is going to look like in the future and what the new iteration of Bamboo Indah will be. We've been keeping our gardens up. They're healthy, happy gardens and we are giving produce to orphanages. We're doing community support by keeping some people employed and keeping the houses maintained."
"We're looking forward to going back this fall," says John. "It will be like returning to Bali in 1986: few tourists, few cars. Although there is no sign of when tourism will start again, we will go there and see how we can help. It remains our home."
Words Stephanie Zubiri
Photography Scott A Woodward