Belgian Writer-Artist Alexandra Van Lierde Pays Tribute To Metro Manila, Her Second Home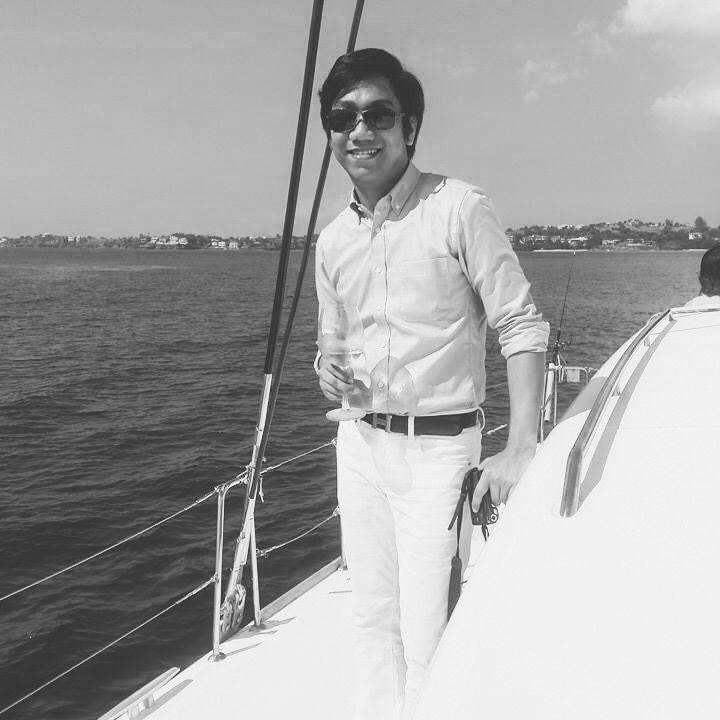 By Franz Sorilla IV
May 15, 2019
Titled as "City and Poetry", Belgian artist Alex Van Lierde's farewell exhibition in the country challenges Filipinos to see the beauty amidst the chaos and vexations in Metro Manila
Sometimes we tend to forget, or take for granted, the beauty and grandiosity of a thing or a place that has played a significant role in our lives. Moreso, a place which we lived in all our lives. Alexandra Van Lierde, through her last solo exhibition in the country before she goes back to Belgium, reminds us to see the beauty beyond what we see, particularly in Metro Manila. Key signature of Alex's paintings and photographs are them being "meditative and inviting people to find peace and serenity in today's chaotic world". The writer-artist came in the Philippines on August 2009 and had her works exhibited in 2011 at Greystone Gallery in Makati. She studied Fine Arts in Brussels and prior to her exhibition in the Philippines, she has already showcased her works abroad such as Shanghai, Istanbul, and Brussels. Now, before she return to Belgium for good, she paid homage to Metro Manila, the city she fell in love with.
Clearly, your inspiration is Metro Manila, and as you've mentioned last night, you wanted us to "see beyond", "see the beauty amidst the chaos"...
Through my paintings, I want people to see "beyond" Manila itself. We all know Manila can be very chaotic and oppressing city. But there is passion, beauty and poetry in it also. It is everywhere, in its people, in their story, in a light of sun in between two buildings, in the pink clouds at sunset… It is a question of making space in your mind, to let these things get inside your eyes and your senses. So you can appreciate it and therefore feel better.
You've been residing in Manila for 10 years. Could you share some instances where you just completely fell in love with the city, its skyscrapers (as seen in your artworks), its streets, its people and culture...
I have been living in Manila for 10 years. I arrived with my family on August 5, 2009. First year was pretty tough, coming from Europe, the contrasts were important and it took me a while to adjust. Little by little I learnt how to like this city, how to take the most of it. We also discovered the Philippines and the beautiful nature of Southeast Asia. So all in all, we decided to settle and stay here for long-term. I can't really say I fell in love with Manila… Manila is my second home, I learnt to love it and sometimes I hate it at the same time!!! There's mixed feelings, but I always work to keep the positive aspects bigger and they take over the negative things. In my paintings, I have been working on Manila skylines for around two and a half years… So basically the last part of my stay here. I guess that means it took me seven years to get Manila in my skin, so it could be transferred to my canvasses.
You chose pastel colours like celeste, turquoise, lilac, fuchsia, and other light hues that evoke calm, suppressed, emotions. What would you like to say through these colours?
My palette of colors is quite varied but indeed I have a tendency to use pastel colors. They are more peaceful, they are not distracting; you can let yourself go inside the painting without feeling aggression and barriers. Turquoise is pretty new in my artistic production, I must say it is a beautiful discovery! It is strong and peaceful at the same time. It also makes me think of the seas in the Philippines!
Also, using bright and calm colors to paint a city like Manila is a way to emphasise that there is not only gray and dark fumes in this city… You can see it in the colors you want! Same for your life actually, it is up to you to see it in black, or to see it in pink.
Through this exhibition, what would you like to say to your friends and fans of your works here in Manila
It must not completely be a coincidence that my last solo exhibition in the Philippines is a tribute to Manila that hosted me and my family for a decade. So much happened in my life since I arrived in the Philippines. It really inspires me; my paintings are a present to the city. If I had not lived in the Philippines, I would surely be another person today. It works for all us: your surroundings can really have an impact on your life, on your choices.
Last but not least, I will still be very much connected to the Philippines as even though we are moving to Belgium, my husband keeps his business here in Manila and he will travel back and forth. He will be happy to bring paintings on the plane with him, or even I will sometimes jump on the plane also and say hello! So it is not a goodbye but only a "see you soon, Manila!"
For more information about Alex Van Lierde's works, please contact alexandravanlierde@gmail.com or visit www.alexvanlierde.org