National Artist Federico Aguilar Alcuaz—View His Works At Art Lounge Manila Until 6 June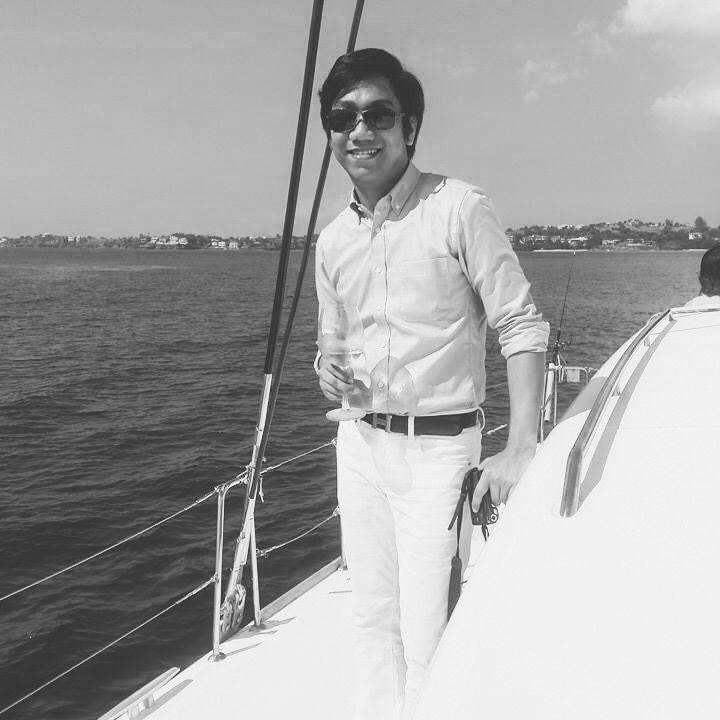 By Franz Sorilla IV
June 04, 2021
A special exhibition at the Art Lounge Manila in Ortigas is still ongoing for those art lovers who want to see the masterpieces by the revered Abstract painter Federico Aguilar Alcuaz
In celebration of the 89th birth anniversary of the late National Artist for Visual Arts Federico Aguilar Alcuaz, Art Lounge Manila showcases his works in its new space at The Podium until 6 June. Entitled "Federico Alcuaz Unveiled", the special commemorative exhibition features select works from the Alcuaz Family collection. It coincides with Art Lounge Manila's relaunch, inviting younger audiences to appreciate the mastery and ingenuity of the revered artist.
The exhibition takes us on a retrospective look at the career highlights of Alcuaz. Each decade in his artistic career is represented by pieces that allow us to see his journey through various artistic mediums. The Alcuaz family graced the exhibition opening on 22 May on an afternoon with the artist's son, Christian Aguilar, sharing his father's life and authenticating the pieces presented. The said exhibition is co-presented by the National Commission for Culture and the Arts and would run until the late artist's birthday on 06 June.
Read more: 10 Of The Most Prominent Artists In The Philippines And Why You Should Know Them
Federico Aguilar Alcuaz was born the sixth of eleven children to lawyer Mariano Aguilar, and Encarnacion Alcuaz, in 1932. His father was a multi-talented but pragmatic man—a lawyer and an accomplished musician-composer who had a concert hall within the compound of their home in Santa Cruz, Manila, in the corner of Santo Domingo and Macopa.
Like his father, he would be musically inclined, as he went to San Beda on a scholarship as part of the school orchestra playing the cello. Further following his footsteps, Alcuaz would also finish law school. He studied at the Ateneo de Manila University while being cross-enrolled at the University of the Philippines. From 1949, at the early age of seventeen, he took up painting classes at the UP College of Fine Arts, and in support of his talent, the kind priests in Ateneo gave him a small studio where he could paint. An autodidact, he has already taught himself the rudiments of painting on his own. So he probably took to the formal painting classes with ease.
Read more: Ryan Cayabyab Shares His Thoughts On The Current State Of OPM
He had several solo exhibitions as well, like his solo at the Itoh Gallery in Tokyo, reputedly the first for a Filipino artist, in Japan and solo exhibitions at Malacañan Palace in 1966, and the Luz Gallery in 1967.
Interestingly, he gets selected to represent the Philippines at a Harvard University International Seminar on Arts and Letters, where he would meet someone who would connect him with Art Protis, in Brno, Czechoslovakia. This will be where he would embark on discovering a new medium which he would introduce to the country, and other parts of the world: the non-woven, pressed-on tapestry. The medium would lend itself well to the abstraction that Alcuaz was developing from the onset of the 1960s; of which, the Untitled Composition, 1969 is a great example. It showed the influence of the earlier automatism and contemporary abstract form of colour field painting where works were more inclined to use abstraction to resolve composition rather than express fervour or religious feeling. He would stick with these two forms well into the latter part of his career, as the abstract works from the 1970s, 1980s, 1990s and 2000s are included in this exhibition.
Alcuaz belongs to the second generation of Filipino modernists and was known for his voluminous body of works that include various mediums like acrylic, oil, watercolour, graphite, ceramics, tapestries, and relief sculptures made of paper and mixed media. As stated in Proclamation No. 1825 where he was conferred as National Artist, Alcuaz's "works are highly favoured, not only for its studied refinement and European flair but also for the ease and pleasure conveyed by his choice of light, colour, and composition; all of which add up to scenes which are always quite playful but never cluttered. His love for classical music is also apparent in this constant fluidity."
Read more: Remembering Arturo Luz
---
Art Lounge Manila at the Podium, Ortigas Center, Mandaluyong, Metro Manila. For inquiries and viewing appointment, you may send us a message at +6397 783 98971 / +63998 993 7968 or email us at artloungemanila@gmail.com.
Words (Additional) Ian Belleza