Design Week Philippines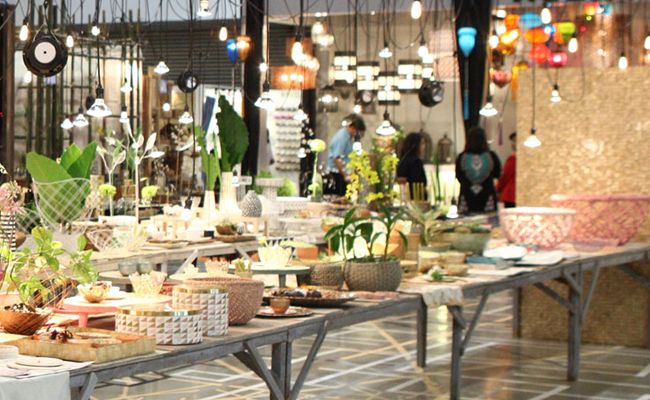 Filipino ingenuity in the arts and design fields is the main highlight of the first Design Week Philippines of 2015, which runs from March 10 to 16.
Manila FAME | March 13 to 16
The March edition of the 61st year of the Manila Furnishings and Apparel Manufacturers' Exchange at the SMX Convention Centre promises a fresh approach in Filipino craftsmanship, with the needs and wants of the 21st century global consumer in mind. Innovative artisanal home and fashion products will take the centrestage in the different programmes within the exhibit: Design Philippines Scenography, Light and Shadow, Red Box, and Manila Wear. Curated by a creative team composed of Budji Layug, Josie Natori, and Kenneth Cobonpue, the March edition of Manila FAME will surely make big waves in the entire year's arts and design scene.
Creative Environment | March 13 to 16
Exhibits that cater to the crafting, technology, and funding needs of visitors will also line up the halls of SMX. Craft Manila, Alessandra Lanot, DMC Threads, National Bookstore, FabLab Bohol, Philippines Communitere, Make It Up, Xulera, IdeaSpace Foundation, The Spark Project, and Ateneo Information Design Program will be participating in this edition of the Markers Market.
Design Tours | March 13
Specially crafted to provide insights on the rich architectural design culture in Metro Manila, the Design Tours will make the rounds in two of the oldest spots in the city: Intramuros and Paco.
The March 13 tour will commence at 11:30 a.m. until 4:30 p.m., and it will cover history, art, and design with a visit to Escuela Taller de Filipinas in Intramuros and Paco Park.
Katha Awards | March 13
Since its launch 32 years ago, the Katha Awards has served as a stamp of excellence in Philippine design. It aims to challenge and inspire designers to constantly push the envelope of what the Filipino designers and exporters can achieve with awards for Best Product Design for Furniture, Home Décor, Holiday Décor and Gifts, and Fashion, and Best Booth Display. Furthermore, an emphasis on environmentally-friendly designs has also been featured through the years with the Eco-Design award.
(See Philippine Tatler's picks for a modern home.)
Design Talks | March 15
With the theme "The Rise of the Maker," the March 2015 edition of the Design Talks focuses on transforming passive users to vibrant makers through open-source learning and contemporary design and technology. The talk will happen on March 15, from 9 a.m. to 5 p.m., and will feature a roster of thought leaders, game changers, leading creative, crafters, and technopreneurs.
For more information regarding Design Week Philippines, contact the Centre for International Trade Expositions and Missions (CITEM) at +632.833.1258 | Photos from Manila FAME and Design Week Philippines websites