#Fifty Going To Florence
By Anton San Diego
July 15, 2016
Old friends gather to celebrate a milestone and make memories to last a lifetime.
Our friendship began at the International School Manila, where we all met as schoolmates—Laurie Jimenez-Westfall, Carmela Caviles-Gozon, Marianne Gonzales-Po, Kit Silverio Zobel, Pops Fernandez, and me. It has been 43 years since then, and we have remained the best of friends. Who would've thought that our bond would stand the test of time, that after all these years and many changes in our lives, we would still enjoy each other's company? Of course, there's so much to like and love about them all, and I must say that I have never found more genuine, caring, and beautiful friends such as these. Time has only made all things better and more meaningful. As Pops puts it, "We are friends who have known each other since first grade, have grown together, and have lived different lives, yet the friendship has remained."
This trip was all about the number 50—referring to our age, not to the size of our party. At first, everyone dreaded the idea of acknowledging the number, seemingly in denial of reaching the golden years. But in the end, the admission of truth prevailed as well as the fact that we shouldn't pass up this chance to celebrate this milestone together? And what better way to spend it than to visit the magical city of Florence?
The first time all six of us travelled together was about four years ago, in Bangkok. This time around, we asked more friends to join in, and Lizette Cojuangco, Jojie Dingcong, and Ina Ayala took time off from their busy schedules to come along with us on our trip.
We finished our planning five months prior to the trip, and many of us consulted plenty of websites and travel guides for help in charting our tour. However, we soon discovered that time was not on our side. Marianne says, "We had too many things we wanted to do and see, but not enough time." Indeed, a week was nowhere long enough to experience everything we wanted to, but we made the most of what we had.
I made a special booklet containing our trip itinerary, complete with restaurants and museums to visit and—most importantly—rules that should be followed to a T. We tried to stick to the itinerary as much as possible, perhaps because as the group's captain, I made sure of that. I managed to lead a pack who would otherwise just run off to shop without supervision.
Due to the limited availability of flight tickets, we arrived in Florence in three batches—Jojie and I in the first one; Marianne, Pops, Lizette, Ina, and Laurie in the next; and Mela and Kit in the last. Once there, we went straight to our temporary abode for the next eight days.
We stayed at a 16th century mansion, Villa Vistarenni, which was situated an hour away from Florence, in the Chianti region. We chose the villa for its interiors and we weren't disappointed. The villa even had a small chapel, pool, and tennis court. The grounds, combined with the unending vistas of vineyards, made for some spectacular imagery.
Because of the villa's antiquity, we all wondered: could it be haunted? Although we did not sense any spirits, we scared each other silly just imagining them. Jojie brought salt, garlic, and holy water to repel the ghosts, placing these elements under his bed; we all got a kick out of that.
Every morning, everybody would gather for breakfast (except for Kit, who would be busy exercising), and the chatter never ceased. We'd relive what happened the night before and get updates from friends and family back home. This morning ritual proved to be one of the most embedded scenes in our memory. There were a lot of cooks in this group, but not enough cleaners. Ina proved to be a whiz in the kitchen, while Pops would always forget to brown the garlic, and once even thought it would be fun to cook the eggs on the stove and not the pan. I'm not much of a morning person, so just hearing the loud banter from the kitchen made me want to crawl back to bed. However, by the end of the trip I had gotten used to it; in fact, after I got back home I found that I missed it just a tad.
We began our trip with a food and wine tour, which we all highly recommend. We got to taste, see, and experience the country's wonderful offerings: wines, burratta, oils, cheeses—you name it. In the evening, we took a spontaneous side-trip to the Tasso Hostel (which is run by our food tour guide, Romina Diaz) for some drinks. The bar—which was styled like a school theatre—must have reminded us of our IS days, because in a blink of an eye we were singing and dancing on stage. Everyone forgot their fatigue, especially those who were complaining that they were feeling feverish or suffering from the worst jetlag! It felt great just being silly with the group, and for those who think that 50-year-olds can't party, I have photographic evidence (plus videos for blackmail) that proves otherwise.
Some of the more unforgettable parts of our trip happened during our tour around the city and to the San Gimignano and Sienna. We were treated to one of the most famous museums in the world—the Uffizi Museum—by the Ferragamo group, which donated a new wing. I also got to meet and interview Ferruccio Ferragamo, whose profile is also in this issue. Of course, a trip to Florence is never complete without a visit to the Accademia Gallery, where the most famous inhabitant in residence is Michaelangelo's David.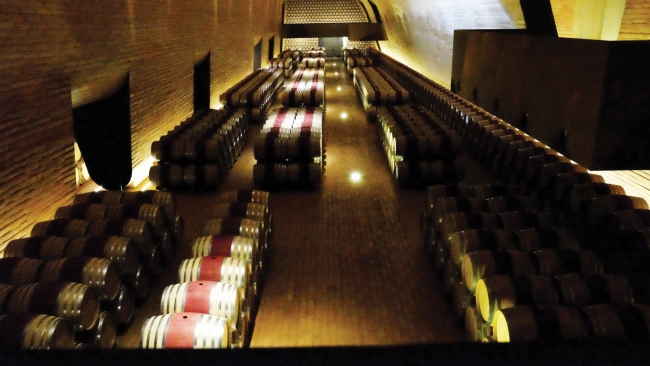 Another highlight was our visit to the Marchesi Antinori vineyards in Chanti, organised by Bacchus' Alex Lichaytoo. We were given a private tour of the vineyards, wine tasting, and capped off with a sumptuous lunch at the estate overlooking the vineyards. "I was blown away by the design of the Antinori Winery," Ina says. "You can't tell where the landscape ends and the architecture begins. It is truly nature and architecture in complete harmony." We also managed to visit the home of Laudomia Pucci, a good friend of Fernando and Kit Zobel. The 5,000-hectare land also serves as a museum, as it houses the works and archives of the Pucci family.
Joining us in the tail end of our trip was lifestyle designer Ian Giron, who brought with him his own brand of humour that left us in hysterics, especially when he would copy certain society ladies' signature poses. We also bumped into Tessa Valdes, who was in Florence for a luxury tour; had lunch with Mai Mai Cojuangco; and reconnected with Tini Ferragamo, who I met when we did a shoot at Il Borro about seven years ago. Making a last minute appearance was Laurie's husband Matthew Westfall, who is launching his artisanal gin in Manila called "Archipelago."
Our combined memories of this getaway as well as photos on our group's WhatsApp conversation won't fit in this article. So you'll just have to believe us when we say that it was close to perfection. Each of us have our own highlights and will always treasure this time together. Here are quotes from them:
Lizette Cojuangco
"This trip was defined by reuniting, bonding, and renewing relationships with friends you've known for years, and even forging new relationships. The laughter that emanated from the seriously comical conversations exchanged and the day-to-day experiences living in a villa are what made this trip special and unforgettable. "
Carmela Gozon
"Travelling to Florence with a close group of friends is a must! Your personalities must be somewhat the same but not identical to give the trip a colourful yet fun and loving flavour."
Kit Zobel
"It's not easy with everyone's schedule and family obligations to find time to get away but in our case we were each nearing a milestone celebration. That gave us reason to pin down our holiday and commit to it, and I am so happy we did. To this day when we see each other we are still recounting memories and what a blast we all had together."
Ina Ayala
"Family travel is one thing, but group travel with peers once in a while is very highly recommended! It is good for the soul."
Marianne Po
"This was not just a celebration of a milestone age but a celebration of decades of friendship. My favourite times were in the evenings when we would all be in our pyjamas in the villa's family room, just enjoying each other's company and laughing until we could barely keep our eyes open."
Jojie Dingcong
"I love the Tuscan 50 group. We are all alphas but we decided to let friendship take over and left our egos back home. Florence is such a beautiful city. It's my new favourite city in the world."
Pops Fernandez
"We will be talking about this trip for a long time. The laughter, the witty comments, the never-ending pictorials, eating dinner together in our pyjamas at the villa, sharing pictures that we've taken that day, the packing, the singing and dancing… Yes, we were children all over again."
Laurie Jimenez-Westfall
"I loved our trip and would not change a thing! Travelling with lifelong friends who are all like-minded and easy going—you can't go wrong. Our villa was filled with so much laughter, it was like going back to our elementary and high school days!"
To call the trip epic would be appropriate since it was more than 40 years in the making. It was the celebration of old and new friendships, bonds concern for one another. And, well, it was a great excuse to go to Florence.
We are already planning our trip for next year and are sticking to this group (though we have had several inquiries from others to join). Though I'm looking forward to that one, I'll definitely remember this year's trip and look back on it asone of the best I ever had, and certainly the most meaningful. To everyone who was part of it, thank you. It was the perfect way to start the year and say hello to our 50s.
Printed in the July 2016 issue of Philippine Tatler, available in all leading newsstands and bookstores. Download a copy on your digital device via Zinio, Magzter, or PressReader.