Art In The Park 2021: Get To Know Artist Henrielle Pagkaliwangan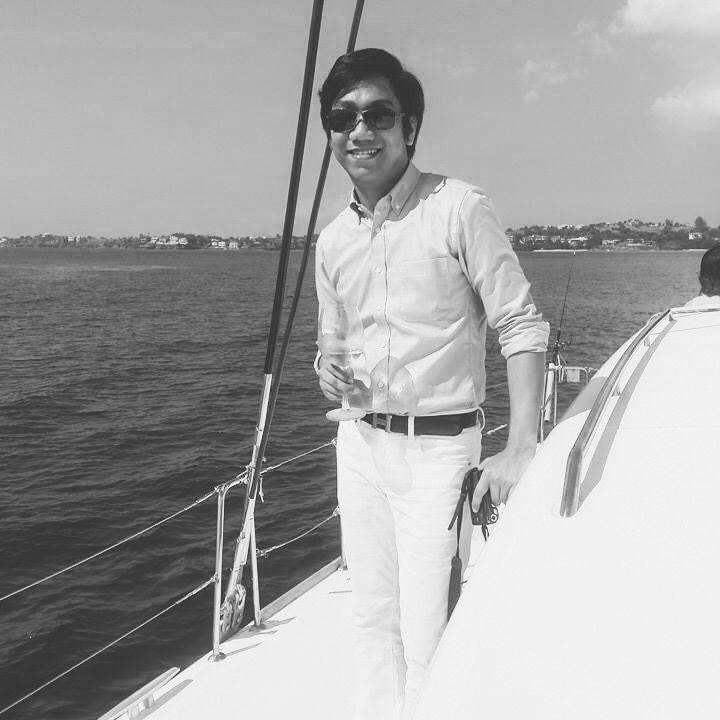 By Franz Sorilla IV
February 22, 2021
Though Henrielle Pagkaliwangan is quite new in the arts community, her merits and recent achievements are not shying her away from the top guns. Know more about her and what drives her to push herself forward:
Henrielle Pagkaliwangan graduated with Latin honours from the University of the Philippines Diliman College of Fine Arts in 2015. Since then, she has taken the arts community by storm with her exhibitions in Sangkring Art Space in Yogyakarta, Indonesia and the VT Art Salon in Taipei, Taiwan. Moreover, she won the grand prize in the Don Papa Art Competition in 2017 with "Field Notes for Papa Isio", a masterpiece made in pen, ink, and watercolour on canvas.
How did your passion for the arts come about? Who was your most influential teacher or mentor?
I've always liked drawing since I was a kid. Then in 2007, I went to Philippine High School for the Arts, and we had Don Salubayba as one of our teachers. He was a very generous and supportive mentor, and as an artist, he had a strong work ethic that was contagious and inspiring. During my college years, I apprenticed for him as an artist assistant, and he would allow me to use his studio for my own work.
That's where the taxonomic drawings came about; I picked up my fascination with classification and order from browsing his books on anatomy (which he used for his photo transfers on canvas), and I just started copying the images in pen and ink. When he saw my drawings of organs neatly arranged together, he challenged me to put an object that would seemingly be out of place. From there talked a lot about the idea of categorization, and how we humans have this knowledge of which things belong together. Up to this day, my works revolve around this concept and remember the conversations and teachings Sir Don shared with me.
Name two artists (one local and one international) who inspire you and tell us what you love about their work.
Ofelia Gelvezon-Tequi. Her prints really draw me in: her brilliant compositions, printmaking technique, and use of colour. I've always loved her works and the way she deals with and depicts social and political issues, history and colonialism.
Ahmad Zakii Anwar. I particularly like the imagery and the careful rendering in his charcoal drawings and his still lifes, and his exploration of mysticism. The subject matter in his pieces is often simple and straightforward, yet very contemplative and full of depth.
What does "art" mean for you?
Art for me is a kind of language. Works of art communicate and inspire conversations and ideas.
On your featured works in this year's Art in the Park, tell us more about it: concept, inspiration, material, process
My recent series for Art in the Park is titled "Within Walls", which is about spending most of my time in self-isolation during this pandemic. I used to go out for fieldwork, researching and documenting material culture, but since I cannot do a lot of that now, I thought of using the things I own and interact with my studio-slash-living space as my subject matter and illustrating them in pen and ink and watercolour. I made 7 drawings, each one representing a typical day of my week for the past year. In a way, it is a sort of my visual diary or a self-portrait. Although I didn't really spend a lot of time outside before the pandemic hit, to have that freedom or choice of mobility taken away from you has caused anxieties for the present and the future. Spending time alone during these trying times also became a long on-going period of self-reflection for me, and for other people as well I believe.
What do you feel about this virtual version of Art in the Park and how will the arts community continue to thrive amidst the global crisis we are facing now?
The arts community will always find a way to adjust and to continue no matter what. Exhibitions, talks, and other activities, including Art In The Park, have shifted to virtual formats. I think there are both pros and cons to this: viewing pieces online will never be the same as seeing them in person, as well as our presence in social interactions, and curating these art objects physically, but, in a way, the pandemic has made us explore more possibilities and utilize the online formats to reach more people and make art more accessible.
What is your advice/message for budding Filipino artists?
I think, just do whatever it is you want to do and work on whatever fascinates you. If you haven't found it yet, just make something and don't overthink it. Although it's not a one-size-fits-all kind of thing, personally, what would get me out of being stuck (which still happens often) is just physically doing something, even if it's just a copy of another image or a random subject matter... even random doodles, even if the work feels more like working and less like passion. I find it hard to rely on inspiration and motivation because those come and go, but doing something is still one step forward from being stuck and dwelling on a block. Also, be kind to yourself; this is something I am still working on.
Read More: Your Art Agenda For February To March 2021
Images Philippine Art Events, Inc