How To Jet Set In Style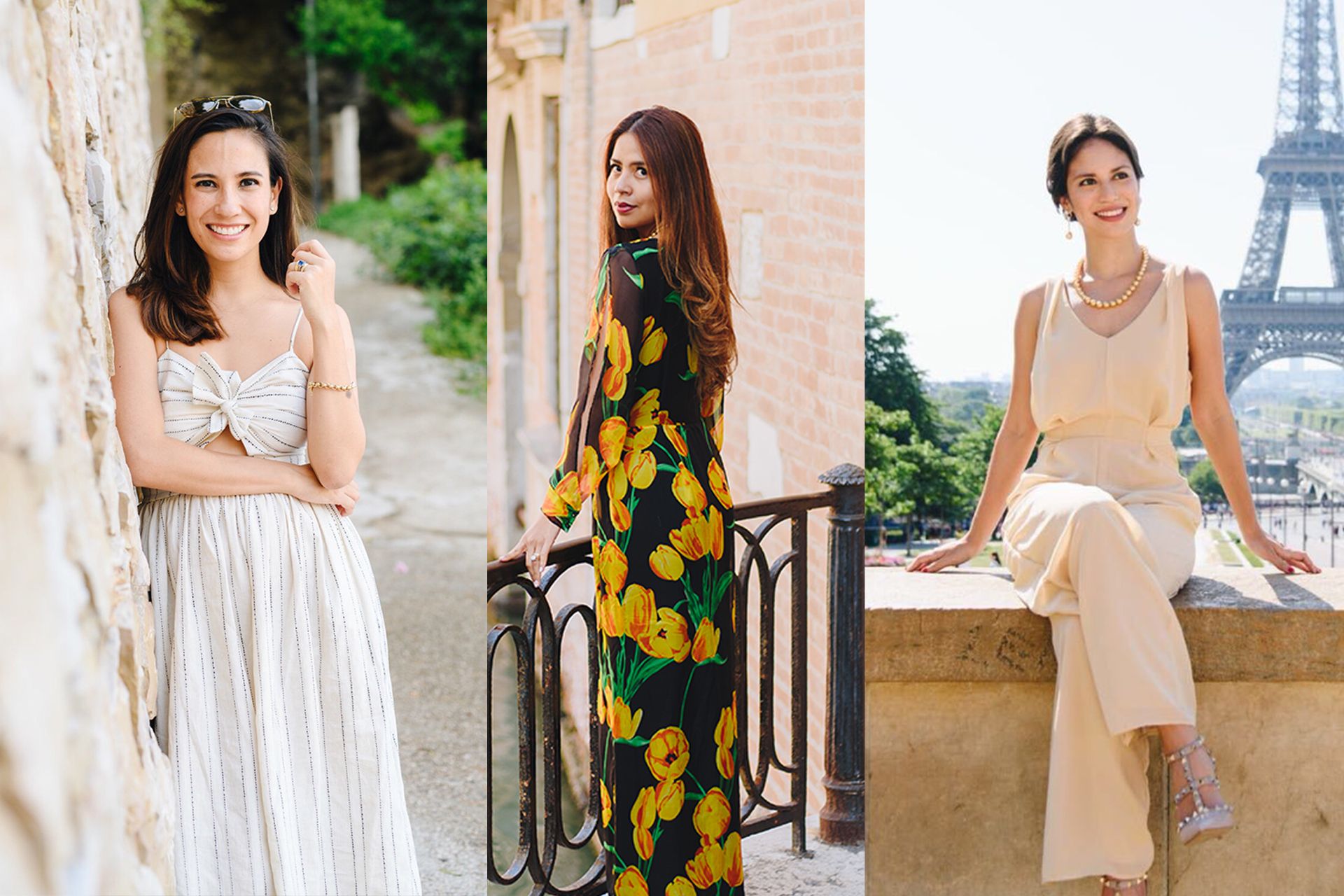 By Shauna Jay Popple Williams
August 13, 2018
Three beautiful and perennially stylish ladies, three different professions, and a shared passion for travel. Stephanie Zubiri Crespi, Mia Arcenas-Branellec and Marion Branellec-De Guzman took us with them to Monte Carlo, Venice, and Paris to fuel our wanderlust.
It's hard to keep up with the travel agendas of these three young and accomplished jet-setters. One day they're off to a favourite capital city for work, and the next they're off on a well-deserved family vacation. We "travel" and live vicariously through their social media as we feed on a steady diet of the exotic imagery and envy-inducing videos that they share along the way. Sometimes, if we're lucky, we get to "explore" what is—for the most part—unchartered territory.
Stephanie Zubiri Crespi has certainly racked up air miles for work as a columnist for the Philippine Star, among others, and a TV host for Modern Living TV. In between, she somehow squeezes in her gypsetter-esque blog entries on her lifestyle vlog www.stephaniezubiri.com where she deftly blurs the line between a well-travelled blogger and a trusted travel guide.
Whether for clients or for her own personal use—or both (her blog)—Stephanie has relied on SweetEscape, a Jakarta-based photography company that maintains an impressive and ever-growing network of professional photographers across more than 400 cities worldwide. The company's primary pitch has been to provide an easy and localised solution to vacation goers, basically like an Über for photography, enabling holidaymakers to capture moments that were otherwise achieved through selfie sticks or the willing passerby.
While this remains to be the case, the requests have since dovetailed to business-related travel (travel blogging, documentation purposes, etc.), bachelorettes, honeymoons, and more. As of July, the service now has presence in the Philippines and steadily growing its network of subjects.
Having used SweetEscape a half-dozen occasions (a mix of chronicling family vacations and shoots for work), happily, this time around, Stephanie got to sit back and relax on a recent non-work trip to Monaco, for which she tagged along with her businessman (and former Instagram) husband, Jonathan.
While it was business for Jonathan, the couple were able to enjoy some downtime at the beautiful Hermitage Hotel, imbibe copious amounts of the best French rosé in the region, and gorge on grilled octopus, langoustines and fresh pasta. To top it off, the conference, of which Jonathan was part, had organised a tour of the palace and Old Town, including a 50-car flotilla (vintage, mind you!) drive across the coast. "It was the highlight of our trip," said an ecstatic Stephanie, adding, "We even had a photo with the Prince!"
And, even though the two never entered—so much as looked—at a single casino, as demonstrated here, the boho princess in Stephanie clearly got some "playtime" in:
"I'm not the glitzy glam jet set Monaco kind of gal so I really wanted a more relaxed glimpse of the Côte d'Azur," explained Stephanie of the photography style and vibe. "My photographer, Fred, drove us to one of his favourite beaches where we took some great photos that were more me! I loved being able to get out of Monte Carlo for a bit, which was way too fancy for me, actually!" Stephanie says with a laugh.
The first time the mum of two used the service was for a family vacation and she hasn't looked back since. "I'm not a bad photographer but I'm a lazy one, preferring to be in the moment rather than play with a proper camera, especially when I'm with my kids. I think it's a wonderful concept to immortalise special vacations," she shared.
Meanwhile, the lens turns to sisters-in-law Mia Arcenas-Branellec and Marion Branellec-De Guzman, who have been gallivanting around the globe, mixing business and pleasure.
The classic French-Filipina beauty and Brand Manager of luxury jewellery brand, Jewelmer, was recently in Paris to attend the launches of several fine jewellery brands. Said Marion of her Parisian jaunt, "It was a very fruitful trip for me. It doesn't feel like work when you're in such a beautiful city."
This was Marion's very first time to shoot with SweetEscape and now she can fondly look back on this photographic documentation while simultaneously sharing Jewelmer updates. "The outputs were great as the photographer knew all the good spots and angles even if there were a lot of tourists in some areas," said the very photogenic subject.
In between stints of work, Marion got to visit all her favourite Parisian haunts and do (read: shop and eat) all her favourite things. "The must-eats for me are oysters, foie gras, savoury crêpes, steak tartare, steak frites, falafel, éclairs, baguettes, escargot and lots of French butter! A go-to place for a delicious meal and nice pasalubong is Comptoir de la Gastronomie. It's gotten more popular over the years so they now have a waiting line outside the restaurant," she shared, adding, "I like Rue Montorgueil. It has a good mix of locals and tourists, a lot of nice boutiques, and is the best spot for the perfect Parisian pastime—having an aperitif while people watching! I also love Place Vendôme because it is the centre of French luxury and the heritage of Jewelmer's craftsmanship."
For the lovely and statuesque designer Mia Arcenas-Branellec, her desire to document her long-awaited Venice honeymoon (and first wedding anniversary!) with her camera-shy husband Jacques was worth negotiating. While they do have their honeymooner mementoes to hold onto what with the charm and romance of Venice to set the mood, Mia was also able to steal some scenes—literally— of her own.
Sure, the world is their oyster, but the globetrotting Branellecs ultimately decided to celebrate the double occasion in Venice. "For our honeymoon, we talked about many places we wanted to go to, but then finally realised how much we both love Italy, the food, culture, history, people, and atmosphere. We knew that we couldn't go wrong with that," shared Mia, adding, "We started in Ravello, stayed there a few nights, went down to explore the Amalfi Coast, Positano, Sorrento, sailed around Capri, and then ended up in Venice. We'd already been around the city for work and so saved the gondola ride for our anniversary and honeymoon."
Mia acknowledges the love-hate relationship that holidaymakers typically have with the floating city due to the number of tourists that flock there. "But," she conceded, "when you're with locals, you discover another side that's just absolutely magical. It was as if you were messaging a friend to just hang out for the day," shared Mia of her shoot. "I liked how the photographer was a local, especially if you want to be photographed away from the crowds...ours knew all the back alleys and hidden bridges where tourists didn't go."
"All though Jacques is an amazing IG husband, I also think he would appreciate a two-hour break from me saying 'Can you take my picture?'" said an amused but serious Mia.
Stephanie certainly knows the feeling and shared another positive: "I think it's important to have a mix of both [your own photos and professional ones]. SweetEscape obviously can't be with you at every single moment of your trip, so you still need to capture those more private and spontaneous moments. But it's a great way to have beautiful photos especially for like a very big family trip or important occasion like a birthday or bachelorette party. In the end, I do believe that the very best moments when travelling shouldn't even be captured at all, but just experienced fully!"