Basketball Star JC Intal On His Foray Into The Philippine Art Scene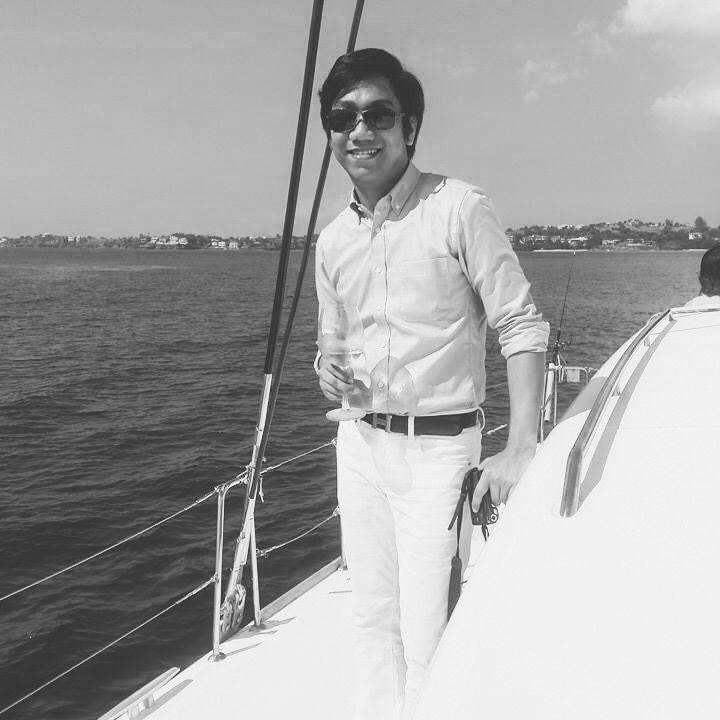 By Franz Sorilla IV
May 21, 2021
This basketball star may be known for his moves and scores on the hardcourt but his deep-rooted passion for the visual arts led him back to his brushes.
He earned the nickname "The Rocket" for his high-flying abilities during the Slam Dunk contest of the Philippine Basketball League in 2003. But just like how he soared high with every chance he took, Intal is also now trying to make his way through the artistic court. Born in Manila, Intal discovered his interest in the arts early in life; but God has a different plan for him, and brought him to the sport of basketball. In February 2020, he opened his first solo exhibition titled, Rookie Mistake, at J Studio in Makati City. It was a homecoming for him to his first passion.
"In this series of works, a new window has opened for me to see another perspective of life … It has been a journey for me to expand and digest every simple moment of creating these paintings. Mistakes and satisfaction are both important ingredients of every single form to layer sensations," he says.
How did your passion for the arts come about?
I started painting, drawing, and sketching when I was in grade school. I really loved art even before I started playing basketball. When I joined the varsity team in Grade 4 until I graduated from college, I stopped doing art and shifted my full focus on sports. But in between those years I would always go to museums and, from time to time, sketch and paint.
Almost three years ago I met my motorcycle buddy, Jigger Cruz, who is a well-known artist today. He would invite me to his studio, and I would watch mesmerised as he painted. This was when I got the inspiration to try painting again.
Name two artists who inspire you and tell us what you love about their work.
I'm a big fan of my friend Jigger Cruz and of Antoni Micallef. I love their thick oil textures and the character of their artworks.
What does "art" mean to you?
Art for me means doing and expressing what you love about life. You create something that is connected to you and your life's experiences. You do it without hesitation and over-thinking. You just create something that you feel at that certain moment.
Tell us about abstract art. How did your passion for this movement come about and how is your background in sports a big part in your artistic journey?
Abstractionism for me means creating something that you don't think you'll commit a mistake while doing it. You just look at an abstract work with your own being. We all have different styles, tastes and just by looking at an abstract work, it evolves to something really special. Playing basketball and being an athlete for two decades now taught me to be passionate and disciplined. You can't perform well at a high level if you don't prepare hard for it. Same thing with art, there are no shortcuts. You must study and learn if you really want to create something really special.
Tell us more about some of your pieces.
Two artworks are special to me. The first one is Everything I Wanted, my very first oil on canvas painting. The other one is Blinded by Rainbow, which for me is the most important art piece I've ever created. Jigger was the reason for my doing it. It was just one random night and I didn't realise I had been painting the whole piece for three to six hours straight.
What would you like to say to budding Filipino artists?
We have so many talented artists here in the Philippines. Just keep doing what you love and never stop learning.
---
This story was originally published in the 27th volume of Tatler Homes Philippines. Download it on your digital device via Zinio, Magzter, or Pressreader.