Katrina Razon Climbs Mount Kilimanjaro To Protect The Environment With Project C: Change
What follows is an account of our journey together to climb Mount Kilimanjaro, one of the seven summits of the world. It is an adventure that will stand out for me, with respect to the intensity of preparation, lessons gained, and joy experienced.
Eight days on the Lemosho route took us above the clouds to the Roof of Africa. I had been feeling a profound sense of loss lately, as the global climate emergency continues to worsen. Ecological grief is the reaction stemming from the environmental loss of ecosystems by natural and man-made events. Instead of letting this response take a toll, I set out to transform my energy into action.
Project C:Change, a social enterprise dedicated to generating awareness about global environmental degradation and conservation, assembled a group of twelve climbers from across the world to set out with the goal to raise funds in support of the Nature Conservancy (TNC). The funds will provide life-transforming support to projects in Asia Pacific and Africa benefiting wildlife, nature and people.
I knew it would not be easy, given my camping experiences were exclusive to attending and planning the Wonderfruit festival in Bangkok. I prepared by juggling between endurance training, strength-training, and reading literature about the trek. Furthermore, what pushed and motivated me was that this charity climb would hopefully encourage interest and support from others, therefore creating interest and support for an important cause. There's no doubt the joys of climbing Kilimanjaro are manifold. This enormous monolith is big enough to have its own weather systems and furthermore has the ability to influence the climates of the countries surrounding Tanzania. It is no wonder the Maasai call the mountain the "House of God".
We trekked through five ecological zones in five days: cultivation, rainforest, moorland, alpine desert and arctic. Traversing through flat, intense hills to scrambling up volcanic rocks. Serpentine stepping skyward through record-breaking rain, hail, snow and thinning air with Zara Tours, our support team, humbly controlling our destiny. Our guides and porters reminding us to "pole, pole" to move slowly in order to acclimatise to the rising altitude. The diuretic Diamox was robbing our bodies of hydration but helping with acclimatisation. What was meant to be the dry season saw dark clouds every day – just like those dark clouds that hover eternally above Transylvanian castles in vampire movies. Gore-tex became the fabric of my life.
When heavy downpours dampened our morale, we turned to desperate measures to dry our hiking boots in our mess tent. Huddled around heat lamps, we tried to dry our soles before the next trek. A cacophony of laughter erupted in the tents, from strangers at the beginning of the trip who had become fast comrades. Our shared struggles brought us closer together as we faced the same struggles during the climb and worked together towards our lofty goals.
One step at a time
Our initial midnight ascend was pushed back due to pelting rain and chilling winds. I sat in my tent, frightful yet hopeful that the weather would clear in our favor. At around 1:00am, as the downpour halted, the team assembled into a single file line. It was then where I realised that the Diamox had dehydrated me, a violent nausea arose, violating one of the most fundamental rules of self-preservation at high altitude.
It was pitch dark, and the light from our headlamps were our only light source. Positioning our hiking poles to get the best leverage, we used our own strength to haul ourselves up to the next plateau or slope. We started breathing hard. We were on our way, in search of the summit of the highest mountain on the continent. We had to trek four thousand feet to reach our destination.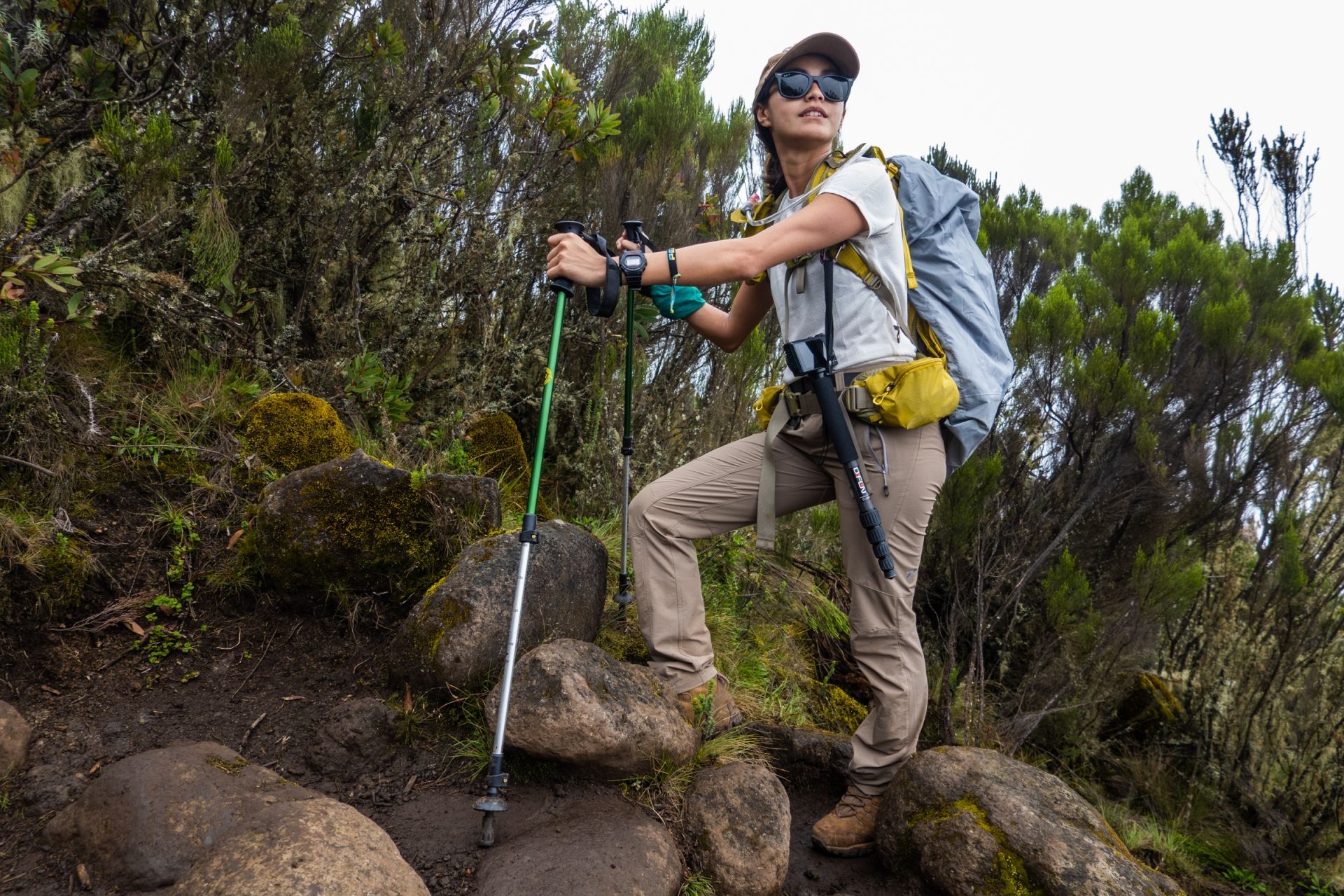 I had so much admiration for the pure strength, athleticism and thoughtfulness of the support team and porters during our trek. Beside me was Sean Lee Davies the founder of Project C:Change and our Mt. Kilimanjaro expedition leader. He glanced over and noticed my discomfort and looked at me with a concerned expression. As our supportive porters huddled around me as I vomited into the snow, I felt completely demoralised, motionless. I gained comfort from gazing up at the canvas of gorgeous stars that could be appreciated at any time.
John Krakauer wrote, "the trickiest moves on any climb are the mental ones, the psychological gymnastics that keep terror in check". Soon my body started to ache as if all of my cells were crying for oxygen and hydration. Time seemed to be standing still. Intense nausea. The night is long, very long. This feeling originated deep in my abdomen and spread throughout my body. It was a different kind of nausea than I had ever previously experienced. It felt like it had its own personality.
When our morale was at its lowest, and the night at its darkest, our guides started to sing, offering us their solace and encouragement. The slopes became steeper and steeper. Before long the skyline turned red and blue in anticipation of the imminent sunrise. It is beautiful, auspicious, and overwhelming all at the same time, immediately turning the cold endless night into a warmer new day. I reminded myself that I was climbing to raise awareness on our planet's health. Ultimately, I was climbing for myself. As these thoughts percolated through my mind, I slowly started to feel stronger and more eager to keep going. My thoughts of my campaign donors sustained me. Resting against a large boulder, I faced the sun to draw strength from the bright rays. Each step being its own victory.
We were all fighting our own battles, silently inside, capable of focusing no more than just the next step, just the next breath. Suddenly, after nine hours of trekking, the clouds parted ways almost as if on cue. I could read the large yellow words set against a bright green background: "Congratulations! You are now at Uhuru Peak 5,895m/19,341ft"! Off in the distance stood glaciers - endangered cathedrals of gleaming blue-white ice, retreating toward their final farewell. We were standing on the Roof of Africa. I suddenly felt an amazing sense of accomplishment wash over me. Our team broke out in collective tears, celebrating our massive efforts, together.
A climb is both about the journey and destination – toward self-discovery and reflection.
One cannot help but develop respect for nature's power, beauty, and diversity, from rainforest to arctic moonscape. Whether you find yourself confronting a significant challenge in your life or contemplating climbing Mount Kilimanjaro or any other mountain, I hope this story is helpful to you. Remember that the journey up any mountain begins with the first step. It is my firm belief that the chances of success are greatly improved when you focus on taking just one step at a time.
Photography Katrina Razon, Sean Lee Davies and Lee Zhelong