Leon Gallery's Spectacular Mid-Year Auction 2021: Melba Arribas' Personal Collection Of Lee Aguinaldo's Works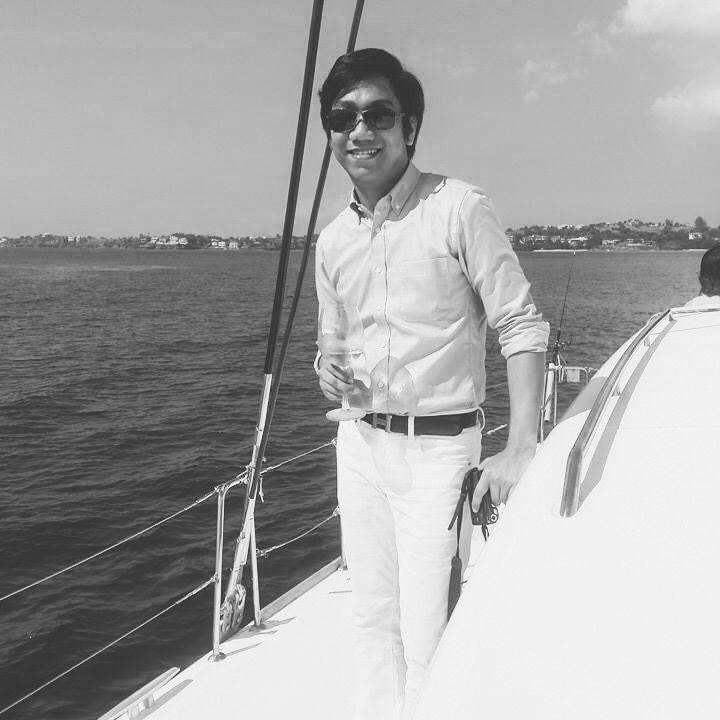 By Franz Sorilla IV
May 28, 2021
A maverick bachelor of the Philippine high society, Lee Aguinaldo lived a fulfilling life as an artist. When he passed away in 2007, he left his longtime partner, former fashion model Melba Arribas with many wonderful memories. Today, she shares to the world her well-kept treasure trove of his Modern masterpieces.
When they first met in 1977, Melba Arribas had no clue that Lee Aguinaldo was a prolific visual artist with contemporaries like Cesar Legaspi, Hernando R Ocampo, and Vicente Manansala. Who could blame her? His rockstar-bad boy looks preceded his exceptional talent evident only when one sees his masterpieces exhibited at the Metropolitan Museum or Philippine Art Gallery.
Born in New York in 1933, Leopoldo "Lee" Aguinaldo was the son of prolific business magnate Daniel Aguinaldo, who was best known today as "kingmaker" of former President Ramon Magsaysay. He came from a powerful family related to Emilio Aguinaldo, the first President of the Philippines, which could have catapulted him as a political or entrepreneurial figure in the country. After the Second World War, his father forced him to be in a military school in Indiana. But as fate would have it, he discovered his talent as an artist and decided to become one. When he came home to the Philippines to study in college, his domineering father forced him again to earn a commerce degree from one of the top universities in the country. Being at the height of his youth, his rebellious side became more prominent. After finishing college, Lee would be known as a notorious party-goer and pursuant of life's luxuries.
Things changed dramatically when Aguinaldo finally decided to turn his back on the family's business. And it was for art's sake.
After Arribas' modelling stint in the USA, she came back to the Philippines in 1980 and suddenly crossed paths with Aguinaldo at a party at the Hobbit House. "The two eventually developed an intimate connection, fell in love, and were never separated since then," said the catalogue for Leon Gallery's Spectacular Mid-Year Auction, happening this 5 June.
His passing in 2007 left her with such great sorrow. For over a decade, she hanged onto the masterpieces left by her partner at their house in Quezon City. Never did she think that the day would finally come for her to let go of the pieces after some enlightenment from their closest friends.
"With much trust, confidence, and admiration", Arribas bestowed to Leon Gallery the very private and most cherished works by the self-taught Modernist master who contributed to the Philippine art scene for more than half a century.
Aguinaldo's style is best known as gestural, minimalist, hard-edged, and varicoloured, revitalising the Philippine modern abstract movement. Being a part of the first generation of Philippine abstractionists in the '50s, he was one of the pioneers of pop art in the local art scene, as evident in his works with images from fashion magazines incorporated on each. The self-taught artist was heavily influenced by artists he admired like Rembrandt van Rijn, Jackson Pollock, Johannes Vermeer, and Mark Rothko.
Cid Reyes in an interview with Aguinaldo in 1973, asked him how paramount it is to have an idiosyncratic Philippine view in art. Aguinaldo answered, "I don't think it is really that important. The important thing is for Filipinos to create an art that can hold its own—in quality—to the art of all other countries".
Aguinaldo turned out to be one of the most sought-after artists of the '50s up to the '90s for his avant-garde, linear lines, and drip-style paintings. He was known for bringing the acrylic method into the professional artist's technique when oil and watercolour were popular materials. Veering away from the conventional standards of painting, he was an "extremely difficult artist to appreciate" according to art critic Leonidas Benesa.
Another distinct characteristic of Aguinaldo's works is the perception of light and its circulation. Art critic Alice M. L. Coseteng said, "[His] two-dimensional surfaces reflect light as they glow in brilliant tones or opaquely subdued. In this particular piece, the harmonious intermingling of the complementary hues of red, yellow, and orange produces expressive flicks of brushstrokes that showcases the refined artistry of Aguinaldo. His 'colour field' passages of intense colours emit a cosmetic atmosphere. Aguinaldo's manner of highlighting the subject elicits a response that is only generated by discerning his avant-garde virtuosity. His style has to be acknowledged for his ability to encapsulate 'the glow, the reflection, and the change of light as if on the slick and glossy surface of a car fender'".
In 1985, he and his siblings lost not only their father but his assets as well from a debacle with the executor of their father's will. Broke and in debt, Aguinaldo continued to fight with his art even when he was being expelled from their ancestral house. It was a traumatic experience that has haunted him up to his twilight years.
Aguinaldo indeed lived a full life, with all the glitz and glam, pits and falls. And yet Arribas was left with magnificent works from the renowned artist that re-echo his prowess and exceptional talent. Though he was flawed in the eyes of the tabloid papers that tried to tamper his reputation, Arribas and their children, as well as their trusted friends and loyal patrons, remember him for his passion, love, and devotion. The pieces that will be up for auction at the Leon Gallery this 5 June are testament to his ingenuity and fearlessness as an artist. The private works show us a glimpse of the artist's journey from traditional Abstract Expressionism to a style that is completely his own.
---
The Lee Aguinaldo Personals from the Private Collection of Melba Arribas is part of Leon Gallery's Spectacular Mid-Year Auction. The upcoming auction lots are available on view from 29 May to 04 June at Leon Gallery, Makati. Visit leon-gallery.com for more details.