Philippine Galleries at the Art Basel 2015 Hong Kong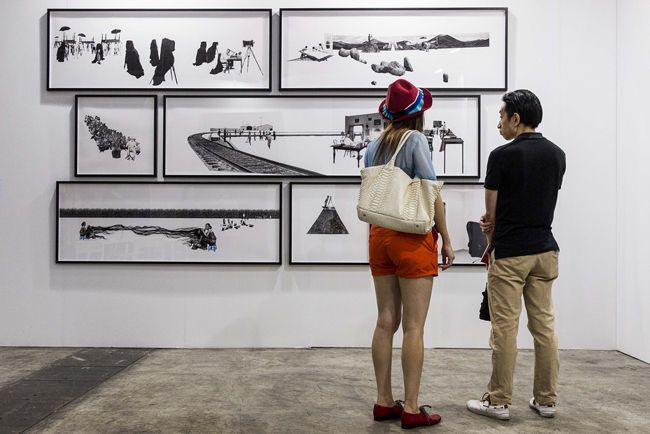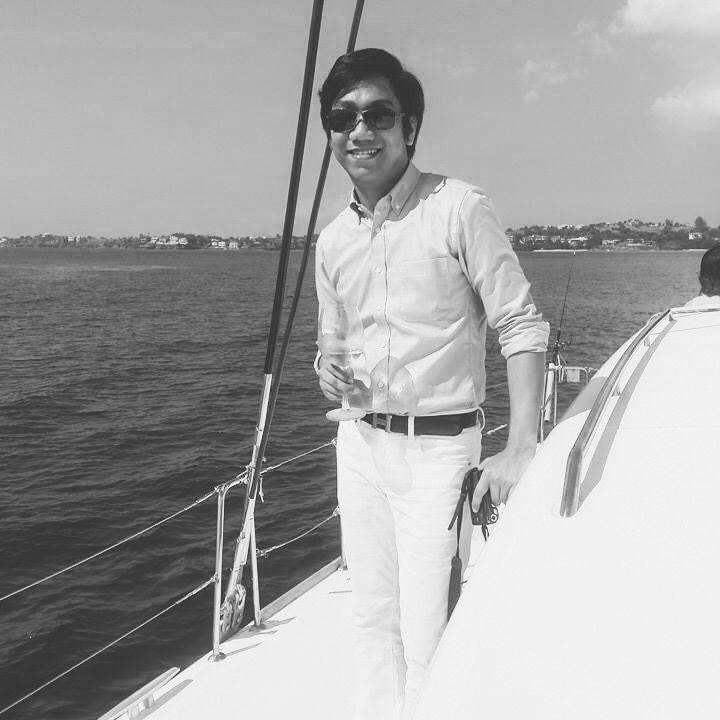 By Franz Sorilla IV
March 04, 2015
Philippine Tatler takes you to the world's premier art show for modern and contemporary works. Find out the must-see Filipino galleries at this year's Art Basel Hong Kong.
Visitors observing artworks featured at the Silverlens Booth in Art Basel Hong Kong May 2014
Art Basel in Hong Kong's Director Adeline Ooi said that the Southeast Asian countries like the Philippines are catching up a lot in the global art market. True enough, several Filipino galleries have participated in art fairs all over the world—in which featured artists have been well received by international art collectors and connoisseurs.
At this year's Art Basel in Hong Kong, which begins on March 15, galleries like Silverlens, The Drawing Room, and Artinformal will be returning to present together with 1335 Mabini, which will have its first experience at Art Basel Hong Kong. (Meanwhile, the Finale Art File joins the first ever Art Central, another art fair that coincides with Art Basel.)
Silverlens Gallery
I-Lann Yee's Tabled
Presenting at the Galleries sector, Silverlens feature a variety of artworks of different mediums, from oil and acrylic to ceramic and chromogenic print. Patricia Eustaquio's new addition to the Casting Figures series, Sunset and Range, is an oil on canvas and brass painting. It takes the spotlight at the Silverlens booth together with works of prominent artists like Maria Taniguchi and Frank Callaghan. I-Lann Yee's Tabled (2013) will surely catch one's attention and provoke the imagination because of its captivating colours and profound narrative. This 50-piece ceramic diameter rimmed flat plate ensemble with digital decal prints and back-stamp show a very different Asian world that is non-pastoral, urban, and contemporary. Silverlens will also be presenting works by Pio Abad, Leslie Chavez, Bernardo Pacquing, Gary Ross Pastrana, Gregory Halili, and Renato Orara.
Artinformal
Nilo Ilarde's Faulty Landscapes (Photo by At Maculangan)
At the Insights sector, Artinformal will be featuring mainly the works of Nilo Ilarde. The artist brings to Art Basel his renowned installation made from discarded paint tube caps, recently exhibited at the Artinformal gallery last September. In this unique presentation of the artist's collection of old paint caps, brushes, and tubes, a deconstruction and dissection is seen to present the potential of paint and its vessel to endless art possibilities. Ilarde's collection started in 2002, making the installation somehow speak of his unfathomable passion for the arts and all of its colours. Artinformal represents other artists as well such as Christina Quisumbing Ramilo, Eugenia Alcaide, Lui Medina, Maya Muñoz, and Zean Cabangis.
(See other important art fairs and auction sale around the world in the Tatler Agenda for March.)
1335 Mabini
Poklong Anading's Untitled (Landmark)
With Poklong Anading's photographies and duratransprints, 1335 Mabini debuts at the Insights sector. The multidisciplinary space for contemporary art takes a giant leap to the Art Basel Hong Kong with works heavily influenced by Filipino elements like trapos, or circular cleaning rugs prevalent in Metro Manila homes. In his Untitled (Landmark) series of duratransprints, Anading celebrates three everyday objects in a grid of oversized lightboxes, taking them off the street into an elite neighborhood. Anading continues his project of building interactions with some of the city's sub-communities by painting fingernails of women working in the market and having them photographed—not only to show the vibrant colour but to underline as well the idea of power and direction, of authority and territory. 1335 Mabini represents Catalina Africa, Kiri Dalena, Tad Ermitaño, Ian Carlo Jaucian, and Jeona Zoleta.
Poklong Anading's Untitled (Dwelling)
Fair Fare: the Third Art Basel Hong Kong
More than 170 galleries, showcasing the work of 3,000 artists from Asia and beyond, Art Basel indeed is the premier art fair of the year, marking Hong Kong as an important art hub in the global art scene. Alexie Glass-Kantor, Executive Director of Artspace in Sydney, Australia, curates the Art Basel Hong Kong 2015 Encounters sector, with Swiss global financial services company Union Bank of Switzerland (UBS) as its lead global partner.
Art Basel Hong Kong is on March 15-17 at the Hong Kong Convention and Exhibition Centre. For enquiries and more details, visit https://www.artbasel.com/en/Hong-Kong.