Rainfinity by hansgrohe: Level Up Your Bathroom With This High-Tech Shower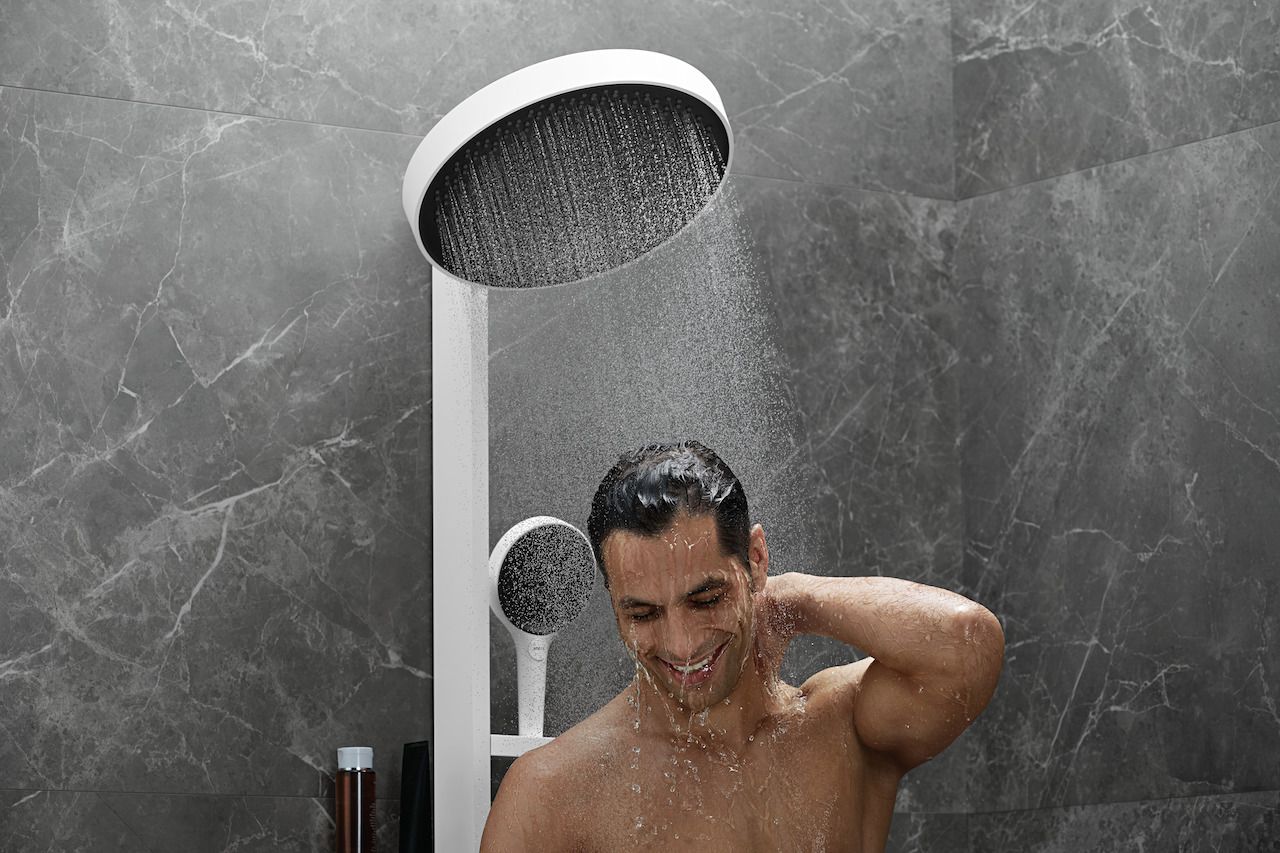 By Ryanne Co
September 02, 2020
In Partnership With
Many consider their home bathrooms to be a near-sacred space. Ensure you have the best time with hansgrohe's new and innovative Rainfinity showerheads.
Clothes set aside, shower turned on.
More than just a hygienic ritual, the act of bathing or showering is an act of vulnerable introspection. At home, our bathrooms can become a place of refuge, where we find time to re-energise, rethink, and regroup with ourselves. Especially during this time, when the world is fraught with uncertainty, it's particularly important for us to practice self-care using the time we have and the investments we've made.
Read also: 6 Inspiring Ways To Design Your Bathroom
Rainfinity, hansgrohe's latest bathroom statement, happens to be the perfect acquisition to complete your home lavatory. Made with an elegantly modern design, the Rainfinity showerhead is a distinctly structured concave jet disk that connects directly to the wall. Its innovative design does away with the traditional handheld shower to ensure maximum convenience. Because the showerhead has the ability to rotate up to 30 degrees, users have the ability to ensure that its tilt is at a perfect angle that — if desired — can keep your face and hair dry.
The Rainfinity also offers users up to three different spray modes. The PowderRain spray is a gentle, microfine spray that guarantees a sensual and relaxing experience. Take it up a notch with the Intense PowderRain mode that makes it easy to rinse out soap. Lastly, the RainStream: a setting which offers a more intense drum and is perfect for those with tense shoulders or a stiff neck.
Read also: What To Consider When Designing A Bathroom
Rainfinity's extensive range of products also offers consumers a choice to customise their design. The Showerpipe, for example, features a shower system inclusive of the head shower, plus a hand shower and control bar. The hand shower, with its powerful Kneipp-inspired jets, can target sore muscles to provide a soothing, regenerative effect that complements the head shower's three spray modes.
With so much functionality, Rainfinity has become a go-to for wellness enthusiasts who value self-care. Its aesthetic design, coupled with innovative function, is perhaps one of the best investments you can make for your own bathroom. It will, after all, doubtless be a much better buy than your shower radio.
Read also: The Elements Of A Minimalistic Bathroom
---
In the Philippines, hansgrohe is exclusively distributed by Kuysen. Visit their showrooms at Kuysen Headquarters (236 E. Rodriguez Senior Avenue,near corner D. Tuazon, Barangay. Don Manuel, Galas, Quezon City 1113, Philippines) and at Kuysen Design + Experience Center (2 Jupiter Street, corner Zodiac Street, Bel-Air Village, Makati City 1209).