Revisiting Arturo Luz 2017 Retrospective Exhibition Through Ayala Museum's Virtual Platform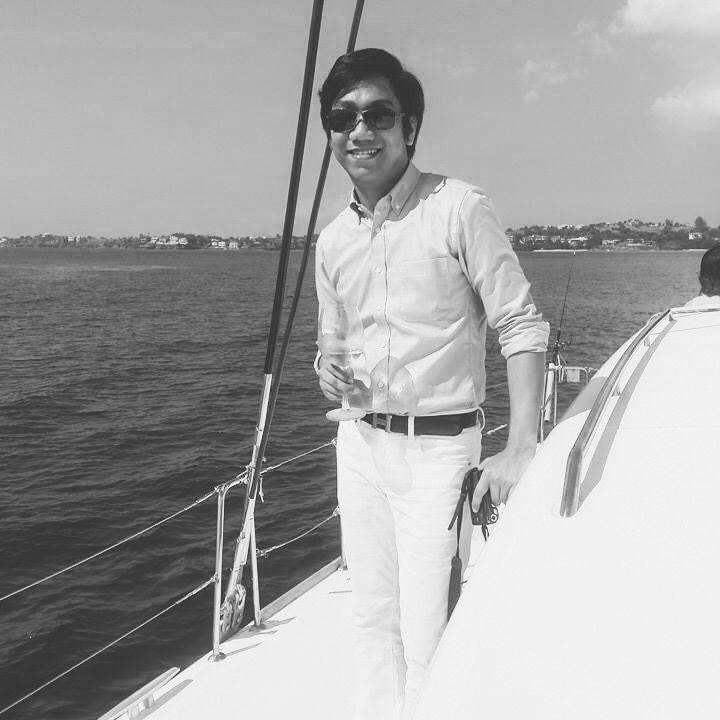 By Franz Sorilla IV
November 26, 2020
Ayala Museum marks its first virtual exhibition with a 2017 exhibition of Arturo Luz's early works
Conferred as National Artist for Visual Arts in 1997, Arturo Luz was one of the great masters of Philippine Modern Art. Best known for his linear art, his masterpieces are distinct and unique, so much so that art enthusiasts would easily distinguish such as his.
As stated in the National Commission for Culture and the Arts (NCCA)'s website, his works "exemplify an ideal of sublime austerity in expression and form". Indeed, he was "a painter's painter", as another Filipino modern pioneer Fernando Zóbel once said, for his pieces have been adored and collected even by his contemporaries in the art community and those succeeding him that he had inspired and influenced throughout their careers.
Born in the pre-WWII years of Manila, Arturo studied painting under the tutelage of Pablo Amorsolo, the younger brother of Fernando Amorsolo. He later finished studying Fine Arts at the University of Santo Tomas then furthered his mastery under a scholarship at the California College of Arts and Crafts in Oakland, California. He also studied at the Brooklyn Museum Art School in New York during the 1950s, and then at the Académie de la Grande Chaumière in Paris the following year. It was at this decade that Philippine art saw the rise of Modern artists, through the efforts of the Art Association of the Philippines (AAP) helmed by Purita Kalaw-Ledesma.
See also: Exploring The Trademarks Of 11 Of The Philippines' Most Significant Artists
Arturo's first solo exhibition was in Paris, France at the Raymond Duncan Gallery when he was studying at the Grande Chaumière. Shortly after his return in 1951, Manila Hotel hosted his exhibition. Arturo bagged First Prize awards during the '50s from AAP's annual competition and has since become one of the Philippine art scene's biggest names. As artworks based on scenes from Philippine life were the trend during that time, his early works depicted such as well. Beginning with pieces stylised with exuberant colours, he later transitioned in the '60s to his more known style today—muted colours, simplified lines and shapes, minimal and architectural.
In time for his 90th birthday and 60th year as a professional artist, the Ayala Museum organised an exhibition last 2017 to revisit the early works and observe the style transition of Arturo Luz. Curated by historian, scholar, and educator Dr Ambeth Ocampo, the exhibition was entitled, "Arturo Luz: First Light", and was met with success.
This year, as Ayala Museum continues its renovation and the country continues to fight the threat of the COVID-19 pandemic, the retrospective exhibition was brought online through Ayala Museum Virtual. It marks the museum's first virtual gallery experience and can be viewed until 31 January 2021.
In the exhibition, select pieces from Arturo's Carnival series of the late 1950s and succeeding Cyclist paintings can be seen. His play on colours and saturation at the early onset of his career is very noticeable by seeing these early works contrasted in more recent ones. Being one of the pioneers of the Philippine neo-realist movement in the '50s, his modernist approach in depicting daily life sparks curiosity to the observers. He describes his works "semi-representational, semi-abstract", using lines, shapes, and colours with sophisticated minimalism and energy.
Observing once again this exhibition—this time virtually—renders a different emotion. It seems like seeing an old friend once again, this time with different stories to tell. Arturo's circus performers and cityscapes present a different Manila, of a different time, where we are connected by lines—joined and intertwined. The transition from bright colours to blacks, reds, and whites, has now become more apparent and foreboding as if it is trying to signal something: change, reformation, reconstruction.
And true enough, this continues to echo Arturo Luz's artistic philosophy: that he "transforms". In another article for Tatler Philippines, Marge C. Enriquez quoted Luz saying, "If you want to understand my art, the keyword is transformation. I transform one thing into another. For example, when I take a photo of a painting or leaf, I would cut it up make it into a collage. It has gone from painting to photograph to photo collage."
Yes, Arturo observes a place or a band of people or even the simplest of things like a paper clip and transforms these into magnificent paintings, sculptures, and artworks not like other artists. But Arturo's unique style transforms not only what is visceral, but even the spiritual.
Looking again at these works reminded me of the kind of life we once had, and made me realise how things have changed, and will continue to change. Nevertheless, there is beauty seen in this metamorphosis. Like the first light breaking through the skies after an endless night.
---
"Arturo Luz: First Light" will be virtually on show until 31 January 2021. The exhibition can be viewed at ayalamuseum.org/first-light.