Self-Inflicted Wounds
Gabriel Barredo's Opera, staged recently at the Cultural Centre of the Philippines, was an international production and collaboration between several forces in the art world, all beating with the same bruised yet untamed heart.
Ever since he burst onto the Philippine art scene in the early '90s, Gabriel Barredo has been described (rather myopically) as a being macabre, bizarre, or that now-maligned term "avant-garde" artist. But if there's one thing that his art has never been called, it is small. That is, he is never one to lack ambition to make his work loom large, no matter the space or even the actual dimensions of the piece the he's given. If anything, that's a testament to the expanse of his imaginative gifts as it is about his willingness to plumb the depths of very personal agonies for his art.
Known for his kinetic sculptures and assemblages made from industrial detritus, he has always exhibited a flair for spectacle, especially when he debuts new work. For his 1999 exhibition Anima at the Hiraya Gallery in Manila, he had the entire building painted black, and even flew in a Butoh dancer from Japan to perform live for the opening. He has also incorporated a variety of mediums such as video, sound design, and music into his shows, enlisting an eclectic crew of experimental filmmakers, fiction writers, and electronic musicians to collaborate with.
Last February, the Cultural Centre of the Philippines and Ballet Philippines staged a three-night run of Barredo's Opera, an original ballet to close its season and to open this year's Art Fair. Opera was a collaboration of different kinds of media. First, there was sculpture—the ballet was based on Barredo's exhibition of the same name for Silverlens Galleries last year.
The exhibition drew inspiration from the operating theatres of the 1800s, positing foetuses in utero, bodies splayed and cut open, the human form laid bare. His set—brand new yet derived from his exhibition—is a storeroom of human bodies, a warehouse of suspended flesh. It was also the artist's way of mourning for his mother, who passed away the previous yearwhile he was creating it. "It was a wake," Barredo admits. "I never had a wake for my mum, so when we installed the show at Silverlens last year, it hit me that that was what it was."
Next, there was dance. It was this frank yet sublime examination of form that inspired Paul Morales of Ballet Philippines to suggest a collaborator. "I was always interested in ballet," says Barredo. "I've always been intrigued by the human body and how it expresses itself in movement—the drama and passion it can evoke without having to use a single word. In a way, you can see that even in my work as a visual artist. Every show I've ever done has had that kind of performance."
The ballet was choreographed by renowned choreographer and long-time BP collaborator Redha Benteifour, who has garnered acclaim through his "unclassifiable choreography," a mix of modern and classic technique, shot through with Benteifour's own style, so that the dancers are brought beyond the constraints of the expected. If anything, his choreography gets really physical and is far from being polite.
"We hit it off instantly," Barredo says of Benteifour. "He came to the house and immediately connected with the work. It's almost as if we didn't need to talk at all about what we needed to do. We both just knew. He's done amazing work all over the world, but even he said that this was something he had never seen before. His choreography was very raw, very physical. The first time I sat through the rehearsals was very emotional. It brought tears to my eyes seeing the dancers and hearing the music that Malek Lopez had composed for the show. It might be cliché to say, but that was a dream come true."
There were also words. The libretto was written in collaboration between Yvette Tan, an award-winning horror fictionist with international acclaim, and this writer, founding editor-in-chief of Esquire Philippines, who has worked with Barredo since the 1990s. The libretto was derived from elements from Barredo's work and life, and from Benteifour's choreography. It focuses on twin boys, artists, who journey from their mother's womb to brave society's scrutiny until they find who they are—as individuals and as a unit. It is every artist's journey.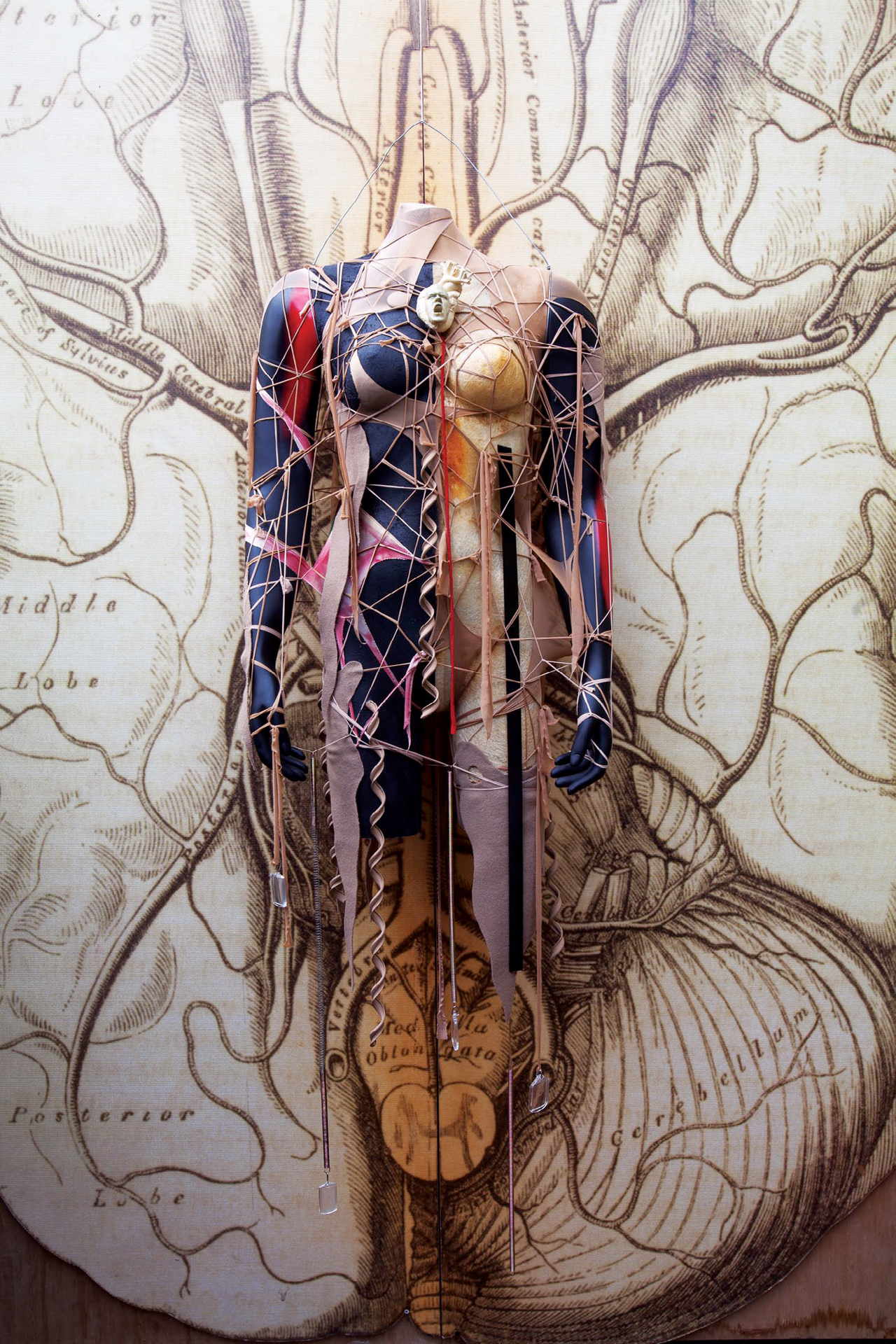 And then there was the music, composed by Lopez, a pioneer of live electronica and one of the most respected film composers in the country. Lopez performed the score live with this writer (on guitars); Caliph8, the country's most eminent hip-hop producer; and emerging new talent Fred Sandoval. The music was both savage and eloquent, a mix of rhythms that made for an intentionally uncomfortable accompaniment to an intentionally uncomfortable dance.
And lastly, there was video. Produced and directed by the filmmakers from the top advertising production house Pabrika—composed of directors Lyle Sacris, Carlo Directo, Joel Limchoc, and Stephen Ngo. The multimedia aspect lent an extra eeriness to the ballet, a subliminal unease. Video screens located on both sides of the stage showed the dancers in different phases of vulnerability. The blood and viscera implied onstage was made apparent onscreen, the flicker of pixels inviting the audience's gaze to stray.
To watch Opera was to be assaulted on different levels, to willingly subject oneself to the discomfort of uncertainty, of growth, of the act of creation. The ballet—the first of its kind on Philippine shores—signalled that perhaps Manila is ready for a different kind of artistic endeavour, one that goes beyond gallery walls and into bodies, music, and experiences—a more complete understanding of the process, if you will, leading to a more intimate relationship with the final result.
Opera was very well-received, but Barredo was noticeably absent at curtain call. "The work was already there," he explains. "There was no need for them to see me. I had lost so much weight by the time we opened the ballet that they would've hardly have had anything to look at anyway. But seriously, I really open myself up, cut myself open, and expose everything inside me whenever I do a show. It's a self-inflicted operation, and by the end of it you have blood, guts, and shit on display. There is nothing else to show, there is really nothing else to see."
Gabriel Barredo's Opera may be uncomfortable, but isn't that what art is meant to be?
Words by Erwin Romulo | Photography by Jay Yao