Small Beer: Remembering Nick Joaquin
By Dorynna Untivero
May 05, 2017
Nick Joaquin's centennial celebration was chockfull of nostalgia and anecdotes, but not to be missed were the free-flowing bottles of his favourite beer
"Identity is the history that has gone into bone and blood and reshaped the flesh. Identity is not what we were but what we have become what we are at this moment." - Culture & History, Nick Joaquin
Last night, the Cultural Centre of the Philippines (CCP) and the National Commission for Culture and Arts (NCCA) held a birth centennial celebration for National Artist for Literature, Nick Joaquin.
The day-long event began with a film showing of 'Dahling Nick' by Sari Dalena, followed by a programme entitled 'Nick Joaquin. He Lives".
Led by Jose Dalisay, Jr., the ceremonies included an angelic song by the Tiples de Sto. Domingo, a poetry reading by Jose F. Lacaba, a ballet choreographed by National Artist Alice Reyes, an excerpt from Joaquin's "How Love Came to Juan Tamad", and most touching of all, a message by National Artist F. Sionil Jose, more commonly known as 'Manong Frankie'.
About Nick Joaquin, Manong Frankie had this to say:
"The world Nick inhabited is no longer with us"
He talked about how they used to hang-out after work for drinks and their usual strong-armed debates about authors like Jose Garcia Villa, and James Joyce. Manong Frankie paints a lovely portrait of Nick Joaquin – a religious man, a man of principle and intellect, and more importantly, a man who loved his beer.
Nick Joaquin, the exemplary audience
Joaquin's love for beer was well-known among his colleagues and friends. CCP Vice President and Artistic Director, Chris Millado, even recalled how they gave an exemption only to Joaquin: "...he was the only one allowed to bring beer inside the theatres".
A representative from the Joaquin estate, Cecile Joaquin-Yasay, also recalled how their "Tonching" (a family pet name for Joaquin), would often play and talk with the children in their gatherings, although he was the oldest, she fondly recalls how he was the most youthful.
Viva Quijano de Manila!
The programme was followed by the opening of the Aparador ni Quijano de Manila exhibit.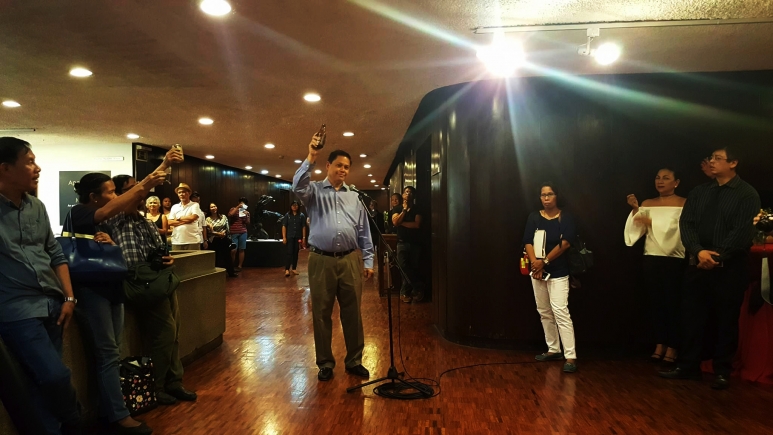 In lieu of a ribbon cutting, CCP President Raul Sunico raised a bottle of San Miguel Pale Pilsen – a toast to the late National Artist. Under the pen name Quijano de Manila, Joaquin published many articles including a 3-book series of reportage.
To cap the night off, an intimate book launch entitled Small Beer was held. Featured was Joaquin's Penguin Classic version of 'The Woman Who Had Two Navels and Tales of the Tropical Gothic'. Not an easy feat as Joaquin is only one of a handful of Filipino writers ever to be distributed by Penguin Books.
Small Beer
Nick Joaquin is surely one of the most influential Filipino writers that ever lived. His works serve as boxes that contain our national memory. From his poems, plays, books, and journalistic articles, he proved that there is much to learn and love about our country. Only a high school graduate, Joaquin never stopped learning through books, experiences, and the arts.
A true inspiration for all artists, writers, and Filipinos-alike, Nick Joaquin leaves us a painting of the Philippines of the past – one that can only be met with nostalgia, admiration, and awe. His stories were about heroes, folklore, revolution, and friendship –encompassing and yet, timeless.
Nick Joaquin, indeed, he lives.


To know more about Nick Joaquin and our national artists, you may visit www.ncca.gov.ph | Nick Joaquin's books are available in all major bookstores.