Taverne Gutenberg x The Philippines
Find out what Taverne Gutenberg is and what they have planned in the Philippines:
What is Taverne Gutenberg?
Taverne Gutenberg is situated in Lyon, France. It is a special art centre that was founded in 2015 by a French-Filipina designer Maïa d'Aboville and her French artist husband Henri Lamy. Taverne Gutenberg has become a creative hub that hosts art residencies, galleries, exhibitions, houses art studios, and a bar too.
The space used to be a forgotten apartment building but thankfully, the couple re-modeled and created an interactive and inviting space that welcomes art in all forms. People are invited to collaborate, innovate and immerse themselves in the creative world.
Today, the Taverne Gutenberg network consists of 17 000 members, over 400 participating artists, 15 resident artists and a team of young volunteers who are all in love with art, culture and giving back to the community.
Why you should know about it?
Not many places exist simply to engage in the act of creation – to push society and culture forward, to test limits and to encourage the birth of ideas. Taverne Gutenberg is a place where artists, seasoned or green, can feel welcomed, part of bigger than themselves and free to find inspiration and to develop their passions.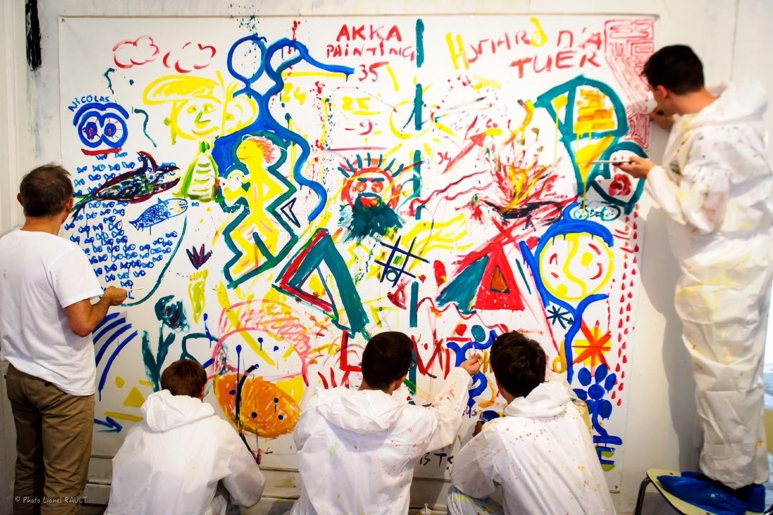 These artists do not only create art for themselves but for their community. They have a vision and mission of sharing their creations, making art more accessible, and making a difference in the world, through art.
Taverne Gutenberg is coming to the Philippines
Maia d'Aboville's home country is the Philippines – she and Henri have a special place in their hearts for this country and couldn't think of a better place to launch a community project for Taverne Gutenberg.
Maia and Henri have organised an 8 week artist residency in the Philippines for 4 international artists from Taverne Gutenberg. While in town from October – November, these artists will collaborate with local artists in their studios. They will be able to learn skills and cultural nuances from one another while imparting their experiences and expertise to the less fortunate children of the Philippines.
The artists will be teaching free workshops for their NGO partners, namely: Project Pearls, Virlanie, Stairway Foundation and ACAY. This is the most important facet of the program as it serves to demonstrate that art can help to better one's life. Through these workshops, children from difficult backgrounds can channel their troubles in to something positive, beautiful and meaningful – hopefully helping them carve a brighter path to a new future.
Furthermore, this project aims to reinforce ties between France and Philippines and marks the 70th anniversary of diplomatic relations.
Where?
The center of Taverne Gutenberg's activities will be in Poblacion, with its opening exhibit at Pineapple Lab. Z Hostel will provide the visiting artists with accommodation and an art space too. Artists are invited to transform the space into an environment of their own. There will be monumental outdoor murals where the public can have direct access to the artists and their work.
What to expect?
International and local artists will join forces in order to create projects, murals, exhibitions, installations and more. The combination of skills, cultural perspectives and worldly experiences is sure to produce an explosion of ideas and should provide each artist with endless inspiration.
Taverne Gutenberg has organized a rich variety of live performances and exhibitions throughout these two months. At Pineapple Lab there will be a collaboration with Agnes Arellano and Billy Bonnevie. Henri Lamy's will have a solo exhibition in Qube Gallery in Cebu, while a group exhibition will show at the Alliance française de Manille.
Prepare to witness live painting battles, capoeira-painting performance, and an art auction at Casa de Memoria too! There will also be a children's exhibit at Museo Pambata where 50% of the proceeds will go to participating NGOs. There is a lot more planned so be sure to check out their website for a detailed schedule!
Who are the artists?
Local:
BenCab, Gus Albor, Agnes Arellano, Max Balatbat, Billy Bonnevie, Carlos Celdran, Olivia d'Aboville, Dex Fernandez, Leeroy New, Ramon Orlina, Dee Jae Paeste & Ling Quisumbing Ramilo.
International:

Henri Lamy (France), Chufy (Switzerland), Abdoul Khadre Seck (Senegal-Italy) and Alexandre Beretta (France-Ireland).