Your Art Agenda For July to August 2020: Virtual Exhibitions, Art Talks, And More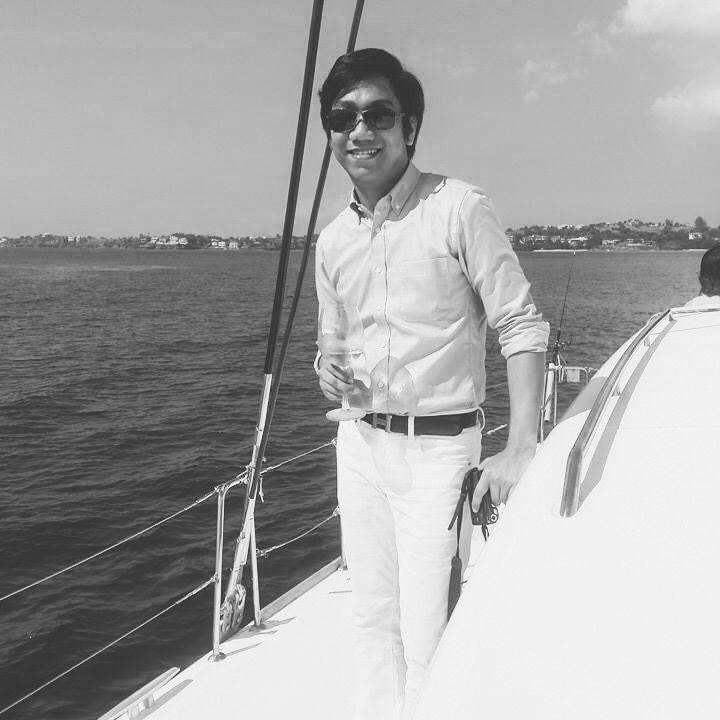 By Franz Sorilla IV
July 23, 2020
Artephiles, collectors, and connoisseurs! Gather 'round for your definitive guide to Metro Manila's visual arts scene amid the continuing pandemic
1/9 ALTRO MONDO CREATIVE SPACE
Impressionist master Claude Monet was once quoted in his botanical nursery saying, "My garden is my most beautiful masterpiece." Indeed, flowers, and all its kinds and parts, has been a popular central figure throughout art history. Not only were Vincent Van Gogh and George O'Keeffe bewitched by this enigmatic subject, but our very own Filipino artists were too. From 23 July to 26 August, Altro Mondo Creative Space is offering to art lovers the exhibition "Let The Flowers Bloom" which features the works of Betsy Westendorp, Emman Miranda, Kadin Tiu, Katrina Pallon, Keith Paras, Maria Pureza Escaño, Michael Pastorizo, and Pierre Roy Camille. Although it comes without a formal public opening, the exhibition will be available to view in person (by appointment or walk-in) throughout the duration, plus an online exhibition to be launched on the 25th at 5pm.

In case you missed it, Altro Mondo Creative Space has launched a series of virtual exhibitions last June, driven by the gallery's thrust to flourish in a low-touch, high tech economy.
"Launching these online exhibitions is how we envision the way we now experience art," says Altro Mondo's artistic director Remigilio David. "The COVID-19 pandemic has made us reflect about art's place in this reality and how we can collectively work towards a better future and a healthier world."
The following exhibitions are still available for viewing via Altro Mondo's Facebook page: Rio Loscano's "Quietude" where he explores calm spaces and the relationship between space and surface, sight, and silence; "Meanderings II" by Jim Orencio, which mirrors the beauty of landscapes, going beyond mere observation and inspiration by expressing the fragility of nature and the need to protect it; Marius Black's "Manila Ukiyo-e: Beauty And Ugly Rhyme", a reflection on the correlation between what is beautiful and what is ugly, and ultimately finding beauty in the ugliness of our daily battle for the right to live another day; and "Without God, We are Drifters" by Enrique Tabuena, which gives thanks for the gift of life and seeks to tell the artist's story of positive spiritual growth and his relationship with a higher power.
"The four featured artists for our exhibits reflect the nature of the times and our vision for the future," continues David. "Through this series, we hope to share our vision of the art world as more sustainable, thoughtful, and generous, and we hope to inspire you to have [the] courage to adapt and embrace the future."
For inquiries, please call (+632) 7501 3270 or +63 917 888 7872 or email altromondoart@gmail.com. The gallery is located at 1159 Chino Roces Ave., San Antonio Village, Makati City.
2/9 ART IN THE PARK ONLINE 2020
Brace yourselves for an online edition of the much anticipated annual Art in the Park as it goes digital this coming 10 to 17 August.
53 exhibitors representing galleries, art collectives, independent art spaces, and student groups will once again showcase a wide range of artworks that will surely appeal to a broad array of tastes and styles. Prices of artworks are still capped at PHP50,000 with many art lovers set to score coveted pieces for even far less.
The said event was supposedly scheduled for 15 March but due to the enhanced community quarantine in Metro Manila, the organisers had to postpone the event.
"We deeply appreciate the support that our participants, visitors, and partners have expressed throughout the planning process for this year's Art in the Park. Our thoughts are with those who have been affected by the coronavirus globally, and we fervently hope that this crisis will be overcome soon," the press statement said.
In a recent Tatler interview with Trickie Colayco-Lopa, co-founder of Philippine Art Events, Inc., she states, "Just like the physical fair, we hope to continue with our efforts to raise funds for the Museum Foundation of the Philippines. And of course, to do what we can to support Filipino visual artists at this difficult time."
Don't miss at the Art in the Park the special exhibition of the paintings of Reena Gabriel and Richard Quebral, whose largest painting he made specifically for this event will be auctioned live on 16 August. There is also a virtual demonstration of artist Jackie Lozano's method of portraiture and an original art performance by Fifth Wall Fest. Renowned artist and educator Dex Fernandez will also be having a special exhibit entitled "Garapata Hatchery" where he will be creating a special paper mural sectioned into 22 separate artworks to be offered to select fair visitors after the time-lapse video.
For more information on the Art in the Park home experience, visit artinthepark.ph
3/9 FINALE ART FILE
Still opening its doors for art lovers preferring the onsite experience of quality contemporary art, Finale Art File remains open from 10am to 5pm from Monday to Saturday with the observance of limited foot traffic and safety precautions.
Running until 7 August, catch Oca Villamiel's "Quiet Earth" exhibition inspired by the Raku pottery of Japan. Villamiel admired the magnificent wares at the Raku Museum during his visit to Kyoto and was mesmerised by how Raky pottery "reflects [the] spirit of stillness, punctuated by moments of subtle intensity," writes Pristine de Leon. "Moved by the beauty of this process, Villamiel expresses his fascination with Raku in different moments and modes of making. Some are drawn quickly and instinctively in the silence of the Raku Museum, while others are slowly painted and assembled to evoke the subtleties of Raku ware. The exhibition is an invitation to pause, to collect one's thoughts, and to be present as we gather around a quiet earth."
4/9 SILVERLENS GALLERIES
Besides opening its gallery strictly for by-appointment visitors from 10am to 4pm, Silverlens Galleries has also strengthened its online presence. Art lovers may now enjoy the pieces from its ongoing exhibitions through its website supplemented with show details, behind-the-scene videos of artists at work, and downloadable exhibition catalogues.
In case you missed it, Pow Martinez's "Sustainable Anxiety" and Corinne de San Jose's "Little Blue Window" are available for viewing at Silverlens Gallery in Makati City until 24 July.
This August, watch out for Patricia Perez Eustaquio's sixth solo show at Silverlens entitled "Hoarding Fossils in Blankets", featuring six new tapestries and a selection of sculptures and paintings from her Boom series. Also, American artist Dashiell Manley will have his first-ever solo exhibition in the Philippines. Silverlens is presenting a vibrant selection of the young artist's oeuvre in a format fit for the pandemic: a hybrid show, happening simultaneously between Manila and Los Angeles, where Manley is based. The two much-awaited shows will be available for viewing online and onsite from 1 August through 5 September.
5/9 GALLERIA DUEMILA
Running from 7 July to 31 August, Galleria Duemila presents the new exhibition of Filipino sculptor Roberto M. A. Robles entitled, "Form / Katha -ode". The exhibition focuses on Robles' practice of digging into the national identity through research on etymology and oral history. The objects on display are two blocks of marble, a sculptural relief and two components that touch on the grounds of identity put in a societal context.
In line with the government's mandate to restrict mass gathering, Galleria Duemila is opening its doors to visitors on an appointment basis only. For more information, you may contact us at +632 8833 9815 or +632 8831 9990 or email us at art@galleriaduemila.com or gduemila@gmail.com
6/9 MUSEUM OF CONTEMPORARY ART AND DESIGN (MCAD)
MCAD invites all to an online panel discussion with local artists, filmmakers and industry professionals to explore critical junctions in the development of the moving image in the Philippines. The panel discussion, "Moving Image in the Philippines: A Century Hence", celebrates Philippine cinema's 100th anniversary and gathers moderator Richard Bolisay with the following panel members: film curator Teddy Co; filmmakers John Torres and Raymond Red; and Tudla Productions, a non-profit collective of filmmakers promoting issues of national significance. The panel discussion is happening virtually on 24 July, from 3pm to 5pm.
Moreover, MCAD has launched its latest online platform "Screenings" on Youtube. MCAD presented last April the works from its previous exhibition "Construction of Truths", which recently opened last February, for a limited time period only. In continuation of its new endeavour, MCAD has also released this month filmed versions of its three public programs from recent years: "Curating in an Institutional Context with Pauline Yao" from its Public Lecture Series 2018, MCAD Artists' Talk with Alfredo and Isabel Aquilizan from "The Center Will Not Hold" exhibition in 2019, and lastly, the "MCAD In-Conversation: Esther Lu, Chou Yu-Cheng, Gary-Ross Pastrana, and Tromarama" coming out on 29 July at 1pm.
See also: 'High Noon At Cagayan Valley' By Alfredo And Isabel Aquilizan
7/9 METROPOLITAN MUSEUM OF MANILA
To supplement to its previously opened exhibition last February, the MET Museum in partnership with the Alliance of Greater Manila Area Museums (AGMAM) hosted the first episode in its Museum Online Talk Series. Entitled "Cues from the Times: Art and Crisis", the webinar via Zoom app featured artists Yason Banal and Mark Salvatus who participated in the MET Museum's group exhibition "Cues From Life Itself: Filipino Artists Transform the Everyday". The talk, hosted by art scholar and curator of the mentioned exhibition Patrick Flores, discussed the artistic processes of the artists and how contemporary art in the Philippines draws its origins from the social milieu of the sixties and our Filipino culture of finding creativity and artistry out of the mundane.
8/9 CULTURAL CENTRE OF THE PHILIPPINES (CCP)
As the library and archives of the CCP remain closed until further notice, efforts of the institution are focused on digitising content and automating its library systems.
The Visual Arts and Museum Division focuses on VAMD online programs (via social media platforms) and comprehensive assessment, maintenance, and updating of the CCP Collections and VAMD archives. "The objectives are strengthening the VAMD's online presence (awareness), community engagement, sharing of VAMD content, educating through arts and culture, and exploring the possibilities of digital space," CCP chairperson Margie Moran-Floirendo says.
Some of the exhibits online are Ofelia Gelvezon-Tequi Retrospective virtual exhibit, Portraiture and the Philippine Terno by Rafael del Casal virtual exhibit, Tirada: 50 Years of Philippine Printmaking online exhibit catalogue, Maceda 100: Attitude of the Mind online exhibit catalogue and playlist, Trenta: 30 Taon ng Gawad CCP Para sa Alternatibong Pelikula at Video online exhibit catalogue, Scenes Reclaimed: CCP 50 x Cinemalaya 15 online exhibit catalogue. CCP is also currently working on two publications, the 13 Artists 2018 exhibit catalogue and the Ofelia Gelvezon Tequi Retrospective catalogue.
For more information on these upcoming offerings, check out CCP's website and Facebook page for updates.
9/9 UNIVERSITY OF THE PHILIPPINES (UP) VARGAS MUSEUM
Pioneering Filipino visual artist Junyee addressed the current pandemic with his new installation at the front lawn of the UP Vargas Museum. Entitled "Kwarantin", Junyee used nonlinear bamboo columns to emphasise skepticism and challenge viewers to a philosophical experience.
On the other hand, Roberto M. A. Robles returns to the UP Vargas Museum after eight long years with his latest installation that encourages viewers to rethink and revisit our Filipino identity. This exhibition, "Form | Kata Proto-type", is in partnership with Galleria Duemila, which also has a Robles exhibition.
To view these two exhibitions at the comfort of your homes, the UP Vargas Museum posted on its Facebook page last 16 July a virtual tour video.