On Being Dustin Hoffman: Dr. Raul Destura Tells Us About His Breakthrough Test Kits For COVID-19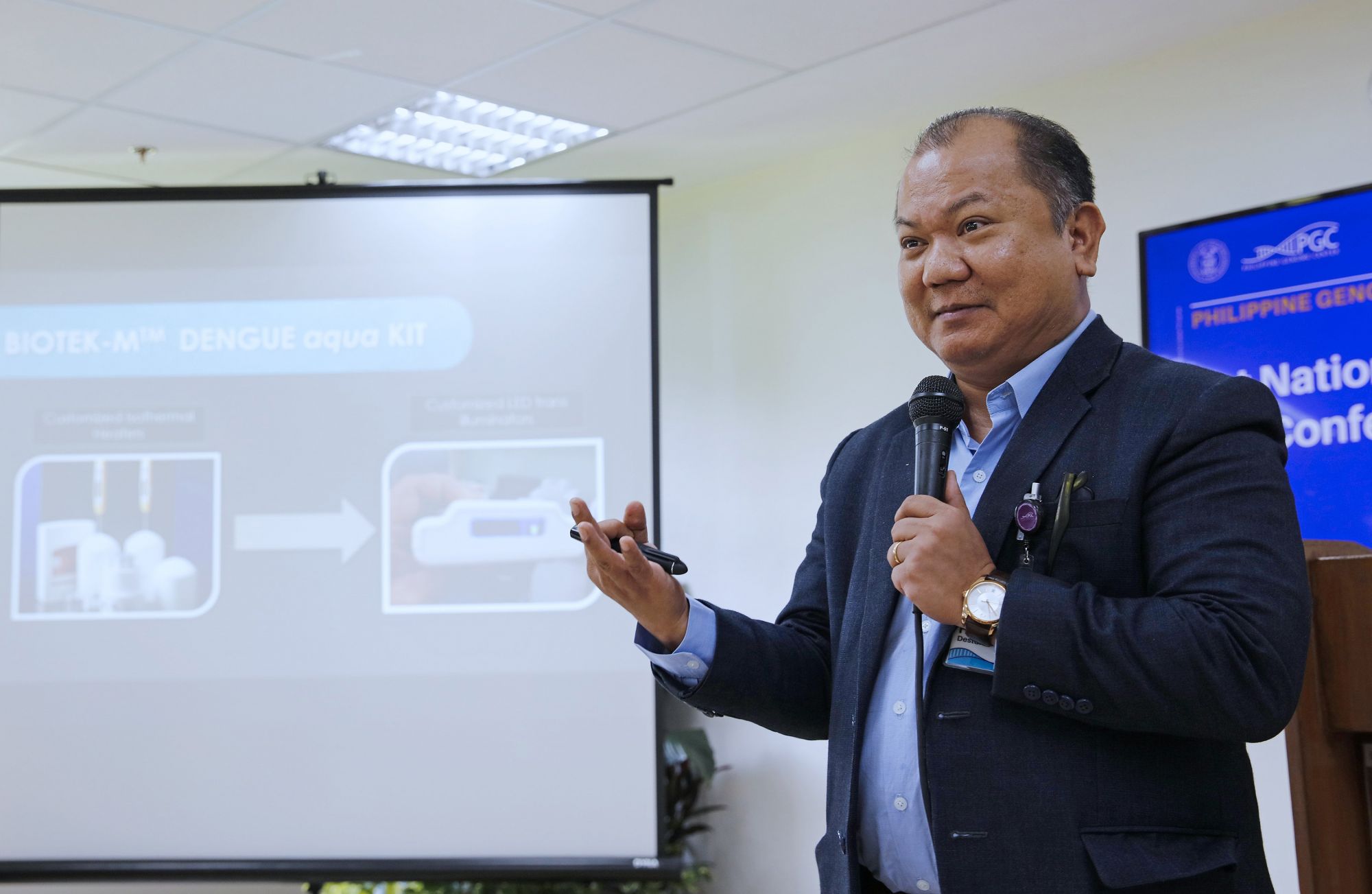 The seed of Dr Raul Destura's continued medical breakthroughs may be traced to the inspiration he got as a young man watching Dustin Hoffman in the movie "Outbreak"
When he was a student of microbiology at the University of Sto Tomas, Dr Raul Destura, lead inventor of the local COVID-19 test kit, said he liked the movie Outbreak so much that he dreamt of being the character Dustin Hoffman portrayed—a microbiologist in the middle of an Ebola virus pandemic, leading an exciting life, complete with commandeering a helicopter to find the carrier of the virus. He pursued this dream, moving on toward a medical degree with specialisation in internal medicine at the De la Salle University College of Medicine and then at the University of the Philippines-Philippine General Hospital for his training in infectious diseases. He was on his way to being Dustin Hoffman.
"Little did I know I would be spending most of my time in the laboratory," Destura tells us in this exclusive phone interview from the Philippine Genome Centre at the University of the Philippines (UP) in Diliman, Quezon City.
Before the end of December, the doctor recalls, there were already some observations of weird respiratory diseases reported in China. Then, the Chinese authorities released the whole genome sequence of the virus to the public, for everyone to be able to prepare. "This triggered my confidence that my team can come up with a test kit," he adds. "In the diagnostic world, if you know the genome sequence, you can design diagnostic tests." With this information, other countries started creating their own test kits. Off the bat, Destura names China, Singapore, and the Philippines with their own test kits in the region.
Last February, Destura took what he calls "a leap of faith" and went ahead to place an order of raw materials needed to make the test kits, even before approval. "I had to order them in advance. What if the test kit gets approved and then we cannot deliver because we haven't ordered the raw materials yet?" he explains. Good that he did too. What used to be a four-day delivery took all of four to six weeks waiting time due to the bulk of orders from other countries.
Anticipation and foresight are crucial in an epidemic situation.
From that first order, he continued to place one every week ("so as not to overwhelm the manufacturer"), enough to make 120,000 test kits, plus 20 per cent for productivity adjustment. "Hopefully if their delivery time is followed, our manufacturing time will not be affected, and then our productivity output will be able to reach the demand of the country," he elaborates.
Now, this move sounds more like that of a planner or a strategist rather than a scientist. But Destura explains: "I need anticipatory management otherwise it's going be dangerous. It's the one that had kept me awake all night in the beginning. Anticipation and foresight are crucial in an epidemic situation. I'm grateful for my training in emerging infectious disease response and in bio-preparedness. I learnt how to do risk assessment and risk mitigation planning, including anticipating potential problems and potential interventions."
And the realist that he is adds, "I am just hoping that my calculations and projections are within target."
The 3 April announcement that the Philippine-developed test kit was ready for manufacturing was hailed by a country still fighting the spread of the coronavirus. Thanks to the Philippine Technology Transfer Act of 2009, Destura's work did not stop at being a prototype. The law, passed by Congress during the administration of former President Gloria Macapagal-Arroyo, allows, among other things, university professors and scientists to establish businesses out of their researches. "It encourages university professors to not just end their research funding in publication but to push it further to be able to reach the target end users of their fundamental findings," explains Destura. As a result, he adds, a scientific entrepreneurship spirit is created and nurtured.
The first university spin-off company from the UP following the Tech Transfer Act is Manila HealthTek, Inc founded by Destura. It was created to commercialise the dengue diagnostic test kit that detects dengue infections in serum/plasma samples developed by Destura together with a team of researchers. The scientist is also equipped to run a company, having obtained an MBA in Health from the Ateneo Graduate School of Business in 2017.
Before the COVID-19 crisis, Destura was already working on technologies involving salmonella, leptospirosis, and schistosomiasis, and was scheduled to roll these out by the end of the year. "But then corona came," he said, so he had to shift his focus.
On the calendar this year as well are two buildings that would start his dream of establishing a bio-technology landscape for health in the country. "With this, we will have the capability to rapidly respond to emerging infectious disease threats, known and unknown, in the Philippines," Destura shares his dream. "It will also provide the opportunity for our young scientists finishing in universities and research centres to be able to stay in the country because they will have a place to practice their expertise and will not be pushed to leave for greener pastures."
He describes his dream bio-tech community to hold a building for R&D and for manufacturing and distribution; to create business technology incubators for young scientist entrepreneurs who are having difficulty in starting their businesses and creating a manufacturing unit so that their capital can be generated into a product right away and their small company can grow."
His goal was crystal clear: to increase the number of bio tech companies in the country. "That was the plan—until corona came," he said.
Focussing on his country's needs and sharing his expertise to help, Destura created this unique COVID-19 test kit using the same platform of real-time polymerase chain reaction. The deal-breaker, however, is the cost. At PhP1,320 per kit, it is, by far, the cheapest in the market, with the nearest price being P8,000 for an imported one. He says that even at this low cost, he already has enough profit. Not that the notion of upping the price has not been whispered to his ear. But this scientific entrepreneur has only one comment: "I will not be able to sleep at night."