AZ Factory: All About Former Lanvin Creative Director Alber Elbaz's New Brand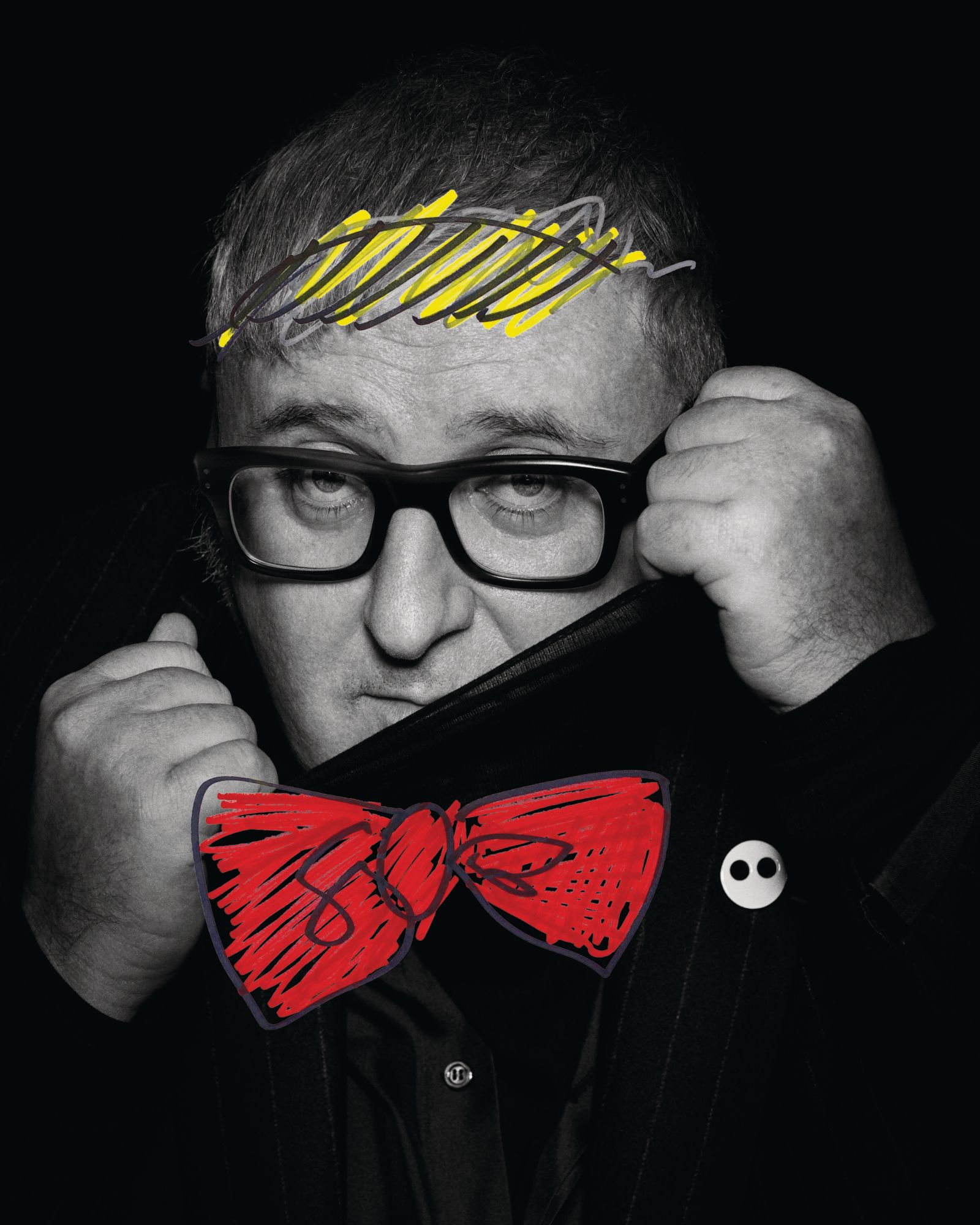 By Rosana Lai
April 26, 2021
Five years after he stepped away from the spotlight, former Lanvin creative director Alber Elbaz returns with an unconventional take on luxury called AZ Factory, where fashion is anything but a grind
"I feel like I've been pregnant for five years and now I'm in labour for a month and a half, filled with many panic attacks and several epidurals in my back," Alber Elbaz says, less than a minute into our interview. On a frosty January afternoon in Paris, he is a week away from introducing a new fashion concept backed by Richemont, called AZ Factory, that marks his return to the industry after a five-year absence.
"At least the baby has a father and mother," Elbaz says. "Richemont is the father, and I'm the mother."
Though he is his usual irreverent self, weariness seems to dampen his mood after many long days and nights back at work. His eyes squint from behind his black frames and his head rests heavily on his hand as he chats from a cavernous Paris office at the Fondation Cartier, where the Swiss luxury conglomerate has given him an office. "I always like to be in dark rooms," he says. "It's all glass walls and I managed to create a black office. When I create, I need to be in a cocoon."
Although Elbaz has remained a presence since he was abruptly ousted from the French house of Lanvin in 2015, having collaborated with Frederic Malle, Converse, LeSportsac and Tod's on small projects, he had little interest in taking on another role as creative director, having seen the challenges caused by the relentless pace of fashion first-hand. Instead, he wanted to create something new, a digital-native, couture-meets- athleisure brand, with more accessible prices and broadly inclusive sizes. The key difference, he says, is that at AZ Factory, he is free to break the rules.
"I needed to take the time to dream and fall in love with fashion again," he says. During his break, he tried many things: to meditate, to teach, to explore yoga and, he jokes, to transform himself into an athlete. "But my trainer said I have the mind of one but not the body."
While guest lecturing at Polimoda, a fashion institute in Florence, he revisited black-and-white images of Cristobal Balenciaga and Hubert de Givenchy, draped in lab coats, presenting their haute couture collections before swarms of adoring women. Elbaz longed to return to that level of intimacy between a designer and the clients, but he wondered if there was a way to translate that experience in an era of instant gratification and online shopping. Though his new designs are meant to be more accessible, it was not by accident that he decided to unveil them during the spring couture collections, when the most rarefied, hand-made pieces are normally shown.
"Many people ask me why I'm showing during couture week, but for me, couture means experimentation and individuality," he says. "I may not be doing 50,000 hours of embroidery with 60 metres of tulle, but I took the know-how of couture and I put it on a recycled yarn of polyester or a jogging suit. This is my way of saying this is also couture."
And yet everything here marks a huge departure from Elbaz's oeuvre at the seat of fashion's highest perches. The generic-sounding name "AZ" references the first and last letters of his name, but also includes "Factory", he says, because "fashion should be a factory of dreams". Its logo is just a circle with two black eyes. And the sizes range from XXS to XXXL.
Elbaz also doesn't plan to show collections in the traditional sense, or follow the fashion calendar of presentations for spring and summer. Instead, he calls them "stories", the first titled MyBody, with a series of stretch dresses and easy-pull zips that form a narrative about body positivity and women's empowerment. Elbaz himself has publicly complained about his weight, and sympathises with women who also feel pressure to conform.
"I'm afraid that I'll get all these nasty messages on social media saying I have to lose weight; I'm terrified. I can't bear them," he says. "Sometimes when I meet a friend for lunch and I'll tell her, 'Wow, you lost weight,' she'd say, 'Thank you, I love you.' But that's not what I said. I just told her she lost weight. We're living too much in a world of too many likes and not enough love for ourselves, and we need to learn to say: this is my size and I'm going to love it."
Elbaz worked with factories and laboratories in Spain and the Netherlands to develop a smart jersey fabric he calls AnatoKnit as the basis of his first 11 designs. Fabric panels of different thicknesses are used to flatter and support a woman's curves, and the zips with golden lanyards attached are inspired by surf suits, so that women can zip themselves up. "I like the sound of 'Honey, I don't need help,'" says Elbaz.
While technically impressive, the silhouettes are intentionally simple.
"I saw Michelle Obama wearing just a three-hole dress in her documentary Becoming," Elbaz says, referencing a style of wrap dress with an extra panel of fabric that can be worn in different ways. "I thought, 'My God, she's beautiful because you don't see the dress, you just see her.'" Still, he included a few flamboyant touches reminiscent of his Lanvin years. A red dress with puffed shoulders was a nod to one of his more famous heart-shaped dresses, while another style comes with a detachable bow that clips onto the back. "I'm of course bringing parts of my previous job with me; it's the same kitchen, I'm the same chef, I'm just working with different ingredients," he says.
A second story, Switchwear, includes outfit add-ons, like skirts made of jewel-toned duchesse satin, that can be slipped over basics for women to go from "gym to dream in under two seconds", he says. "I imagine those husbands always yelling, 'Are you ready yet, Janet?' and now Janet will be the one to say, "I'm ready, are you?'"
Elbaz also designed PointySneaks, which are basically sneakers with a pointed toe, and later this year he wants to introduce pyjamas featuring whimsical pop-art graphics of arms reaching out in embrace, or of faces kissing, designed by young artists that he and his team discovered on Instagram.
AZ Factory's Instagram account, like Elbaz's own, no-holds-barred personal posts, provides a cheeky glimpse behind the scenes of his diverse team of 16 staff members, with the intention of promoting a sense of accessibility. To launch the collection, he also produced a video that showed models cavorting in a newsroom. "I always say we use the word 'new' in fashion a lot, and I thought, if we put the letter 's' after it, it becomes 'news,''' he says. "I wanted to make something newsworthy by using technology to make something beautiful and happy."
Elbaz then presented his designs in the format of a chat show with celebrity friends such as Camille Razat and Kristin Scott Thomas on Net-a-Porter, and through a virtual tour on Farfetch.
"The new world that we have been invited into via AZ Factory has a refreshing synchronicity with the ways in which our society is moving and shifting towards a more inclusive environment where all women can felt seen, considered and celebrated," says Celenie Seidel, Farfetch's senior womenswear editor.
Elbaz plans to send dresses to friends around the world for virtual styling sessions. "I'm working with digital because I'm fascinated by it, but I'm very much a people person," he says. "I'm almost like a theatre actor—for them, without an audience, the words don't come. For me, without women I'm nobody, just like a dress with no one wearing it is meaningless. That's why I want this to sell out, and not because I work on commission. It's so I will know that more dresses are hugging women around the world, and there's nothing we need more than a hug right now."