Pearls of Wisdom: Chicho Suarez-Rodriguez
Weddings
October 19, 2016 | BY Philippine Tatler
Recently wed Chicho Suarez-Rodriguez gives Philippine Tatler Weddings readers some indispensable morsels of post-nuptial savvy.
On January 28, 2016, Chicho Suarez married her groom, Miguel Rodriguez at the San Sebastian Church in Manila. This was followed by an unforgettable reception at the Manila Polo Club among 340 family members and loved ones.
Philippine Tatler Weddings: What was the deciding factor for choosing your wedding venue and where to go for your honeymoon?
Chicho Suarez-Rodriguez: Miguel and I always knew that if we were to be wed in Manila, it would be in San Sebastian Minor Basilica. When we started dating, we wanted to look for churches with similar gothic architecture to ones you'd find in other countries and San Sebastian was the one we visited. We loved it a few years ago, and we love it more today. The church has so much history and the architecture is stunning (from the all-steel elements constructed in Belgium to the stained-glass windows from Germany). These are just a few things that attracted us to it. We are still deciding on a honeymoon destination.
PTW: How involved was Miguel? Did you want him more or less involved?
CSR: Miguel was very involved with the wedding preparations and I am very grateful he was. It wasn't just my day, it was ours together, and I would've wanted him to be comfortable with everyone that was involved with (the wedding) and our special day.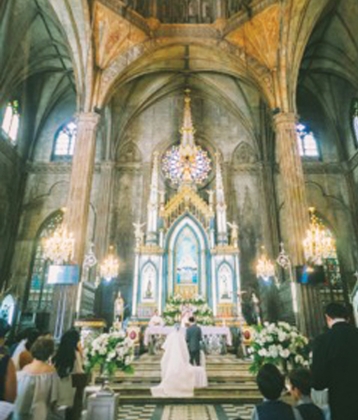 PTW: From your experience, what are the three most important things you would advise a bride-to-be in planning her wedding?
CSR: (1). Know what you want. Be truly genuine about it, stick with a plan—there are so many things you can do on your wedding day, and you might want to do them all but sticking to a plan will keep things in line. Stay on target as my husband would say! (2). Work with people you trust and are comfortable with so in the last few moments leading up to the wedding day, you can relax, let go and leave everything in God's hands. (3). Many have told us, as I am sure other bride-to-be's will be told, that the real marriage starts on the day after your wedding for as long as you both shall live.
PTW: In retrospect, would you have preferred a smaller or a larger wedding and why?
CSR: For a wedding in Manila, it was our ideal size, we are blessed with lots of family and friends, and we wanted to share our day with them.