Sleeping Beauty: How to Look Your Best Overnight
We spend a third of our lives in bed—so why not make the most of it? Elisabeth Galvin explains how you can look your best with minimal overnight effort.
Last night while you were sleeping, your body performed a sort of miracle. As you drifted off into dreamland, your skin and hair cells were working hard to repair and rebuild themselves faster than at any other time of the day—and you might even have grown a little taller, too. "The skin's metabolism is eight times more active during midnight and 1am," explains Clarins Hong Kong training manager Janice Lo. "It's the perfect time for the skin to absorb nutrients and moisture. Using beauty products before midnight will enhance their effectiveness to restore the skin to its perfect state. Also, applying beauty products before sleep will allow sufficient time for them to be absorbed."
Face First
US cosmetics company Helena Rubinstein has picked up on research by doctors in New York who have identified a "city syndrome" that affects people who live in urban environments. Noise, lights and electromagnetic pollution disrupt deep sleep—the crucial time for cell regeneration. Further, not getting a good night's rest prevents the sleep hormone and antioxidant melatonin from regenerating the skin's cells at the optimum time between 2am and 5am.
Helena Rubinstein's Powercell Skin Rehab is the first night mask (worn as a serum) to use 150 million plant stem cells to repair skin. It's said to improve the regeneration of skin almost fivefold at the peak time during the middle of the night. Of the 53 women who tested it, 98 per cent said they woke up with visibly younger skin. The women, who lacked sleep and lived in polluted environments, used the product for 10 months and saw results after five days.
In the first experiment of its kind, a clinical trial commissioned by Estée Lauder in 2013 found that poor sleepers show increased signs of skin ageing. One of the first beauty companies to recognise the skin's circadian rhythm, Estée Lauder launched its Advanced Night Repair 25 years ago—and it has been a consistent best-seller. The latest version on the market is the Advanced Night Repair Synchronized Recovery Complex II. The difference in the new formula is that it purifies skin by clearing dirt and dead cells, which encourages the skin to renew at the optimum time during the night.
When choosing a night cream, Lo advises choosing a product with two essential base ingredients: oil and water. "The most important point is to restore the balance of the skin after pollution and other environmental factors have done their worst during the day." Lo recommends Clarins Double Serum, which combines hydric and lipidic formulas. "This is to increase the suppleness of the skin and tackle ageing factors, such as rough texture and imbalance," she says.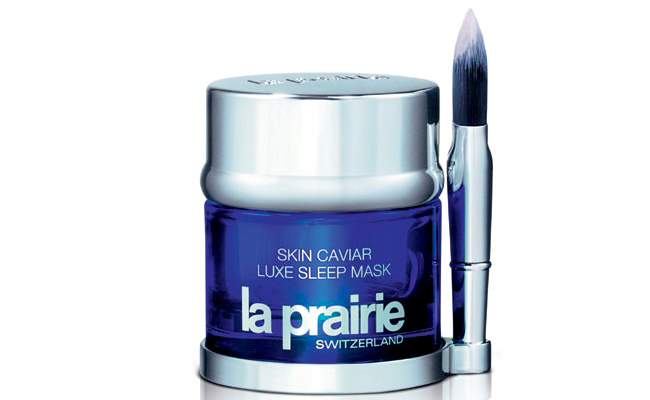 Next imagine nourishing your skin with one of the world's most exclusive delicacies: caviar. La Prairie uses fish eggs to help firm the skin in its Skin Caviar Luxe Sleep Mask. Applied before bedtime, the firming mask doubles as a night cream. Its benefits include improving elasticity, filling wrinkles through intense hydration, and exfoliating and eliminating damaged skin cells.
For a different sort of treatment, consider a silk pillowcase such as the ones from Slip. Over time, the creases you wake up with on your face become wrinkles. But this can be avoided by sleeping on silk, as it allows the skin to glide across the pillow during the night, rather than scratching and tugging it as cotton can do. Also, unlike cotton, silk isn't absorbent, which will help keep your night cream on your face rather than your pillow.
Eye, Eye
The most delicate area of the face is around the eyes and, if you've not had enough sleep, this is where it will be most obvious. Chanel's Le Lift Crème Yeux is formulated to improve muscle tone, making your eyelids look lifted and firmer and your eyes more wide open, with dark circles and bags diminished.

Hands-On
It's all very well using hand cream during the day—but while you're asleep, there's no risk of it being washed or wiped off. Make the most of resting hands by investing in a rich moisturiser such as Fresh's Brown Sugar Hand Cream. Ultra-creamy, it doesn't leave a residue and also softens cuticles. Turbo-boost the process with gloves such as The Body Shop's Moisturising Cotton Gloves.
Toe the Line
Your feet take a battering when you're awake—so make the most of the rest they get at night with a product such as Clarins' Foot Treatment Cream that nourishes, smooths and repairs skin and beautifies toenails. Arnica extract relieves swelling and tiredness, while roughness is smoothed with virgin cashew nut oil and shea butter. Myrrh is included for toenails. For double effect, wear bed socks and slather on The Organic Pharmacy's Ultra Dry Skin Cream with tamanu, an oil and fatty acid that heals, repairs and calms.
Goodnight Kiss
There's no excuse not to protect your lips at night—a quick swipe of balm takes just a second to apply, such as Fresh's Sugar Advanced Therapy Lip Treatment. Sea fennel helps smooth fine lines and wrinkles to define the lips.
Self-Tanner
You'll need to wash your hands after applying Self Tan by The Organic Pharmacy—but other than that, you can go to sleep knowing nothing else is required to wake up golden-brown. Completely natural with no petrochemicals or artificial colourants, sugar beet is the primary ingredient used to shade the skin gently and evenly, and without the strong smell of other tanning products.
Care For Your Hair
Who has time to hang about in the shower waiting for a hair mask to work? Instead, simply smooth one through your tresses before you go to bed and rinse out in the morning. Bonus: whoever is lucky enough to sleep next you will adore the gorgeous fragrance. Windle and Moodie's Intense Treatment Masque repairs the most damaged areas of your hair, replacing keratin like-for- like. The active antioxidants in green tea make hair healthier, while cocoa butter removes tangles and adds shine.
Night and Day
It's worth using specific products depending on the time of day, advises Stephen de Heinrich, the founder of Budapest-based brand Omorovicza. "Because the requirements of our skin differ during the night compared with the day, we include ingredients that are time-appropriate," he says. "For example, a tensing ingredient would make more sense in a daytime product, as would a blurring ingredient, while an ingredient that reduces the depth of wrinkles or is very rich in nutrients might suit a night- time product better."
Printed in the Philippine Tatler March 2015 issue, available in any leading newsstands and book stores, and downloadable via Magzter and Zinio.