TERNOCON Celebrates Our National Identity Through Fashion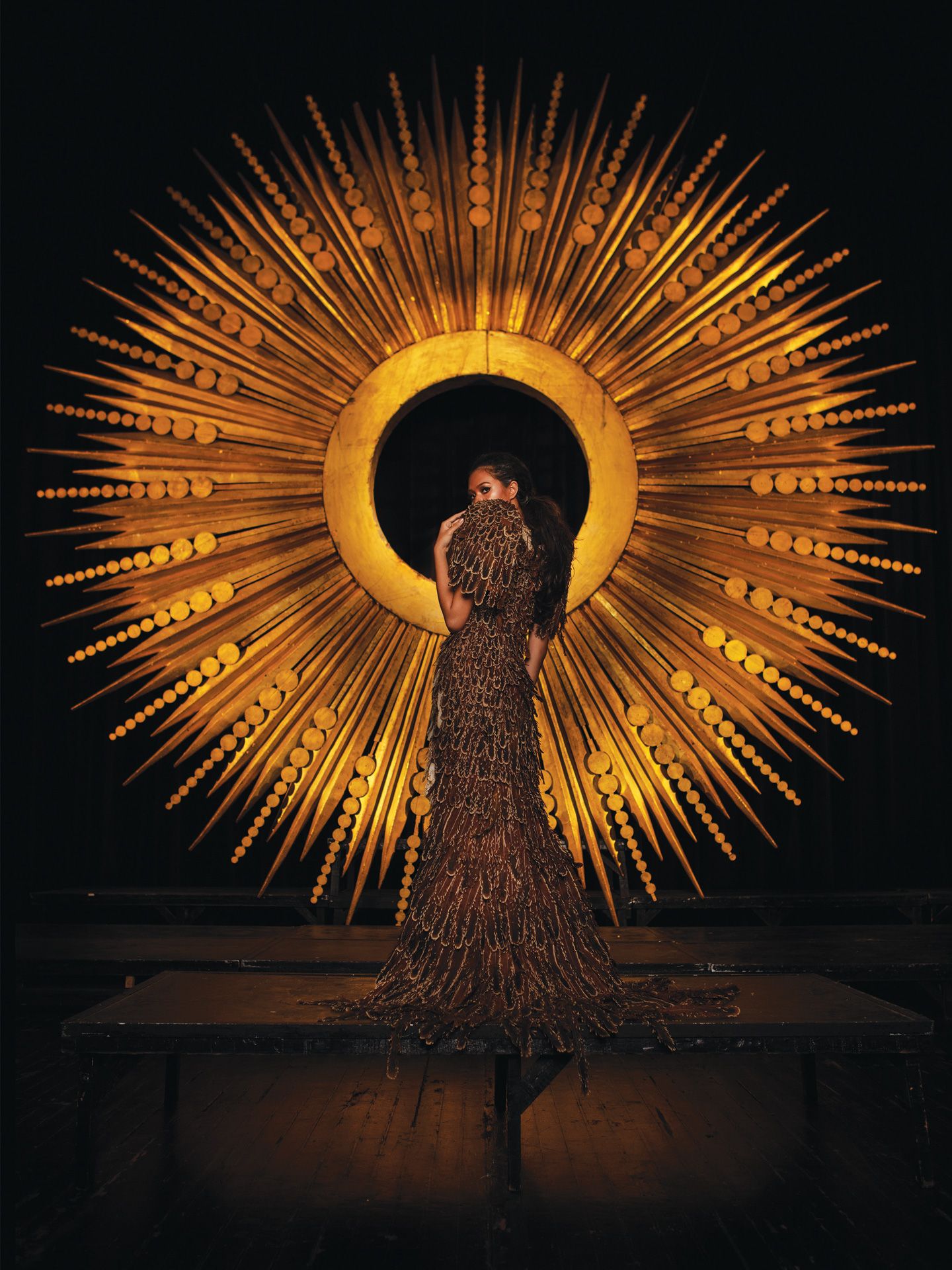 Hailing the terno as a barometre of our identity, these impassioned individuals launched TERNOCON, which aims to highlight the relevance of our national dress and why it must stand the test of time
"Fashions fade," said the late great Yves Saint Laurent, once upon a time. It is a truth that persists, as trends will always come and go, propelled and dispelled by our short-lived fascination. Our attitude towards the next big thing has hardly changed over time; we embrace them while they're in and relegate them to the backs of our minds when they're not. This way of thinking, to a certain extent, carries over to other aspects of fashion, affecting even the way we see the terno, the national formal dress for women in the Philippines. Due to time and circumstance, most women of today do not consider it as the go-to garment for special occasions—unless, perhaps, the invitation explicitly states so.
A Brief History
Our national dress traces its origins to the baro't saya, a T-shaped top and sarong-style skirt worn by Filipino women during the early days of the Spanish regime; the Maria Clara, a four-piece ensemble with a full skirt, blouse, panuelo (scarf), and tapis (over-skirt) named after Crisostomo Ibarra's sweetheart in Dr Jose Rizal's Noli Me Tangere; and the traje de mestiza, a garment sporting bell-shaped sleeves, a slimmer skirt, and a train. As it shares some of the terno's key characteristics, the traje de mestiza is considered its closest predecessor.
The terno (a Spanish term meaning "to match") we know today is a flowing, one-piece gown with an A-line skirt that drops from the empire line, easily distinguishable due to the sharply pleated butterfly sleeves that lie flat at the shoulder. It is a garment modified by women for women: Pacita Longos, a designer from the 1920s, was the proponent of the terno's iconic sleeve; another lady designer named Juanita Mina Roa caused quite a stir when her then controversial panuelo-less design walked down the runway in 1936. Though Western influences ushered in by the American occupation caused the terno to lose its prominence, it was cast back into the spotlight through the former First Lady Imelda Romualdez-Marcos, whose fondness for the garment allowed it to become a popular fashion choice once more—at least, for a time. After the Marcoses were ousted from Malacañang by the People Power Revolution, women began to distance themselves from the terno once more, wary of its association with the dark days of the dictatorship.
It is unfortunate that our national dress is facing an uphill battle with regards to staying relevant. It has been relegated for use during state functions; most known to us is the State of the Nation Address, where women in government and politicians' spouses attend the event in various interpretations of the garment. In a way, this has become an avenue for both established and neophyte designers, many of whom are exerting their best efforts to produce a modern, wearable terno without drastically deviating from its design. This begs the questions: In the hopes of bringing it back to the fashion fore, to what extent can we alter the state of our national dress? And how does its evolution reflect that of ours as a people?
Starting A Movement
A production designer for stage plays and theatre film, Gino Gonzales is no stranger to the intricacies of the terno. Over the years, he has amassed valuable research materials on the dress, including vintage photos, some of which were left to him by his late mentor, the National Artist for Theatre and Design, Salvador Bernal. He thought to publish a pamphlet in hopes of preserving the images, but this quickly ballooned into a full-scale publication project in tandem with artist Mark Lewis Higgins. The duo approached Ben Chan, a close friend of the late great couturier Joe Salazar and whose "Love Local" advocacy clearly resonated with what they wanted to achieve. "I have always loved the terno; and Bench has long believed in inspiring appreciation for all things Filipino, big or small" says Chan. "While working on the book Fashionable Filipinas with Mark and Gino, I understood the need to honour this beautiful garment and the women—our mothers, grandmothers, ancestors—who wore it with dignity and pride. We must ensure that the terno does not die in our hands."
Fashionable Filipinas is, to date, one of the most well-documented sources on the terno. Private collectors, scholars, artists, photographers, and stylists all lent their expertise to the text, which allowed Gonzales and Higgins to share the story of the garment. But this book alone would not be enough. Gonzales felt a need to venture out to educate designers on the history and proper construction of the terno for them to truly understand the value of what they were working with. "A lot of people expressed interest," he shares. "But there were not too many opportunities for them to obtain the guidance and connections necessary." Last year, in partnership with Bench and the Cultural Centre of the Philippines (CCP), he organised Fashioning the Terno, a three-day mentoring programme for designers in Luzon, Visayas, and Mindanao. "We have long seen Manila as the centre of culture, and we fail to realise how much talent the regions have to offer in terms of fashion and design," says Gonzales of the experience.
The success of these workshops inspired what the team calls their second phase: TERNOCON, a terno-making convention for regional designers that culminates with a fashion and cultural showcase at the CCP on 10 November. A total of 30 participants from last year's mentoring programme were tasked to design and execute one cocktail terno and one semiformal terno each as an application of all that they had learnt. In addition, Gonzales brought in respected names from the fashion community to serve as guides to the designers: Inno Sotto as chief mentor, with JC Buendia (Luzon), Cary Santiago (Visayas), and Len Cabili (Mindanao) as the regional mentors.
"Just like with Fashionable Filipinas, the TERNOCON project had to involve people across disciplines," says Gonzales. "We have the CCP (of which Margie Moran-Floirendo is chairman), who has expertise in working with cultural groups and doing outreach programmes. We have Bench, who is providing financial backing as well as giving the project a boost in terms of popular consciousness. And now we have the support of a strongly involved fashion community, which plays such a relevant role in this."
Long-Term Vision
It was vital that the mentors hailed from the same regions as the contestants, as this would help create an environment that would foster the student-teacher relationship. Buendia, known for his crisp lines and restrained work, was an ideal foil for those with a tendency to design in excess. "My primary focus was to teach them how to be disciplined in editing their work, and not revealing everything they know in a single creation," he adds. Santiago, whose sculptural works are lauded for their impeccable construction, was brought in to teach corsetry and other couture techniques. Cabili, who works with indigenous groups, touched on the concepts of slow fashion and cultural appropriation.
Having emerged from a generation of designers who worked with the terno in its halcyon days, Sotto is an essential bridge between the up-and-coming and the established talents: grounded in traditional couture techniques, but adaptable to modern developments. "For TERNOCON, I zeroed in on how sensitive they are to the pulse of the times—not necessarily how updated they are with fashion trends, but how affected they are by things that are happening in other aspects of popular culture," he shares. "I also need these young designers to develop a sense of curiosity and respect towards the past, which makes sense in this case because they are creating a terno. But based on the outputs I have seen so far, this is promising to be quite the show."
Aside from showcasing the contestants' creations and selecting a winner at the end of the night, the goal of TERNOCON is to celebrate our national dress, and "inspire the next generation of Filipinas to wear the terno with as much pride as the Japanese do their kimono and as the Koreans do their hanbok," Chan says. Moran-Floirendo chimes in, "Perhaps this new generation of designers and their wearable, fashionable ternos will open the doors for more events in which we can wear them."
But everyone shares the same sentiment about one thing: that the size and shape of the iconic butterfly sleeve remain as it is ("It is the last bastion of the terno," declares Gonzales). "There is modernising and there is tampering—and I am not a fan of tampering," Sotto says firmly. "I don't see the point of a terno with sleeves shrunk to the size of an espresso cup, all for the sake of making it less cumbersome. There are means and ways to re-invigourate interest in the terno, but never to the point where we are altering it so much. Why must we take it anywhere? I think it is beautiful as it is."
Photography: Ronnie Salvacion | Production: Gino Gonzalez | Creative Styling: Noel Manapat | Hair and Makeup Team: Eric Maningat, Jayson Santos, and Aljohn Songco| Models: Graciella Del Fierra of Main Models, Sabina Gonzalez of PMAP, Kim Ross of Mercator Model Management, Inc. | Location: CCP's Tanghalang nicanor Abelardo