Art In The Park 2021: Anna Bautista's Unique Take On The Concept Of Time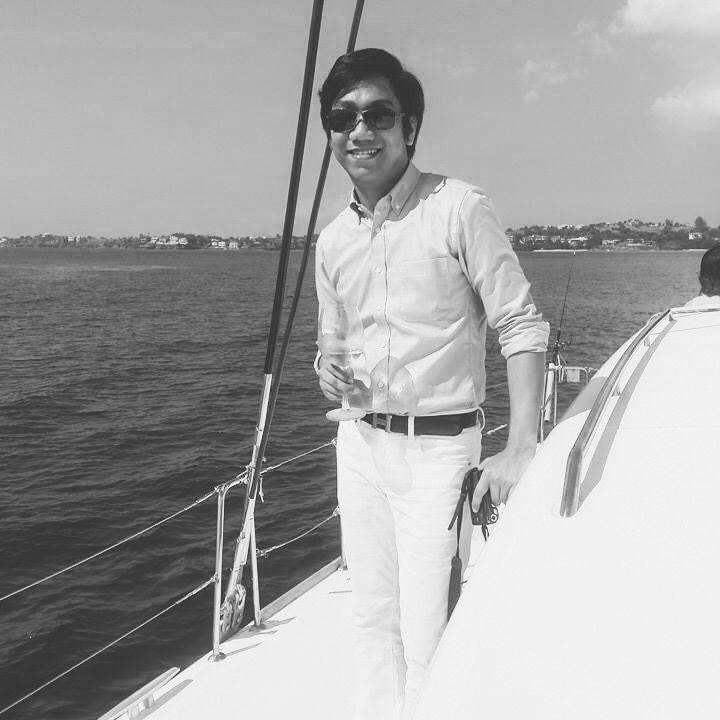 By Franz Sorilla IV
July 22, 2021
Giving tribute to our heroes on the frontlines of the current health crisis, Bautista mounts a special exhibition that tackles the concept of time, culture, and philosophy
A rising star of her generation, 22-year-old Anna Bautista joins other renowned contemporary artists in the upcoming special exhibitions at Art In The Park Online 2021. Bautista is based in Manila and has already had her exhibitions while she was still taking up a degree in BA Communication Arts at the De La Salle University.
Her works mostly tackle the takeover of consumerism and pop culture in modern-day society. In observing her pieces, one may see her posterised take on Impressionism and the use of more vibrant colours in varying shades and hues. But her uniqueness as an artist is more evident in the concept of her pieces—the satirical view on consumerism and other significant events happening around that bind us together as people.
Aside from her life as an artist, she is part-owner and art director of SupportYourFriends as well as director of Young Leaders Council—a non-profit organisation dedicated to ending OSEC (Online Sexual Exploitation of Children) in the Philippines. She is currently a designer for two event companies, namely; UNKNWN and CC:Concepts.
Read more: Fernando Zobel: Get To Know The Artist And His Dreams
We chatted with Bautista to talk about her early beginnings in the artistic path, the people who have inspired her, and the things that are close to her heart:
How did your passion for the arts come about?
I was told that my passion for the Arts was always evident as a kid, I always appreciated colour in all its forms but painting was only something I actively pursued as I got a bit older.
I was actually swimming competitively for most of my childhood years and it was only after I've left the sport that I had the time to explore other things. I've tried a bunch of other hobbies, but painting just had some kind of a different pull on me. I found that It was something I was leaning onto the most and it was the thing that really made me my most passionate self. Although I was just doing it for fun, it [gave] me a different sense of fulfilment whenever I would finish up on a canvas.
Who was your most influential teacher or mentor?
It was only when I was in college that I started to create pieces that had more depth. This could be traced back to one of my major subjects in college. The class was called 'Conceptualization' taught by Dir. Jose Javier Reyes. For our final requirement, we were tasked to make any creative output that would be backed by research that would use one of today's pressing issues as its prompt. We were free to use any medium for this project whether it be a short film, a photo exhibit, an interpretative dance, etc. I initially wanted to make a photo collection but I realised it would be difficult since I did not have the right equipment for the vision that I wanted to achieve. I figured that It would be easier for me to express my thoughts through executing them on canvas and asked my then teacher if it would be alright and thankfully he approved and encouraged me.
I would never think that that project of five tiny paintings would light the spark that would lead to my first major solo show with DF Art Agency. I will be always grateful for that class and Dir. Joey.
See also: In Memoriam: The Legacy Of National Artist Arturo Luz
Name two artists (one local and one international) who inspire you and tell us what you love about their work.
I look up to numerous artists but if I were to choose it would have to be Hernando R Ocampo (1911-1978) and Jean Michel-Basquiat (1960-1988).
[Ocampo] for his magic through his use of colour, form and composition. Seeing his work never fails to inspire me to keep going. His taste and mastery of material is just beyond. He creates work that breaks entities down to its essence, and yet still strongly pulls the viewer in. It also helps that he was one of the first few artists I was exposed to as a kid.
[Basquiat] for his creative bravery and confidence. What I love about his work is that every brushstroke appears to be alive. Almost as if you can hear the colours speak through his works. I still remember the day I was able to see his work for the first time. I don't know why but I couldn't help but feel so nervous and starstruck. It was like seeing a Hollywood celebrity.
On your featured works in this year's Art In The Park, tell us more about it: concept, inspiration, material, process
My show for art in the park's special exhibit entitled 'Time capsules' aims to serve as its namesake. To reflect this unique time, in hopes that one day when we look back at all this—things will always be better than this one we are in.
At the start of the quarantine I guess like everyone else, we were faced with a lot of uncertainty and worry. Over the first few months, I found out for myself that journaling, doodling or sketching would really take my mind off of these kinds of thoughts.
The inspiration for this whole exhibit actually came from one of my first projects back when the pandemic just started over a year ago. I created a time capsule for myself for the year 2020 that contained illustrations from my sketchbook that were relevant to the time
But more than a time capsule, in my little own way, it was my visual tribute to the people in our front line.
Now officially a year after I made that 2020 scarf, I find myself making a new time capsule but this time—more intuitive as the centrepiece holds up a mirror to society: showing us what we can move on from—and how much better we can become.
Read more: In Memoriam: The Legacy Of National Artist Arturo Luz
My first foray into making scarves was actually from a few years ago, but I felt like I still needed time to develop my process. So I made it a point to actively keep practising over the course of the lockdown.
I actually have always collected scarves too, so it felt natural for me to explore it as a medium as well. The language of textile or a scarf had always appealed to me. The fact that you can hold or even wear a story within your fingertips is just something that makes me even more curious about creating art in this medium. I am so thrilled because this would be the first time I would really be highlighting my scarves for an exhibition.

My solo exhibition for this year's featured exhibit, will be having both scarves and works in acrylic on canvas wherein all works aim to serve as the title's namesake. I wanted to inject the same elements from the scarves into my paintings as well to make it all cohesive. I've always had a big fascination for the Philippine terno. It would be present a lot in my works from the past and just felt it was natural for it to be an inspiration to me for this show as well
These time capsule abaniko fans hover over the faces of its muses, presented as modern Maria Claras. I want them to represent us as a collective. Both uneasy and uncertain, but also still hopeful in rejoining a post-pandemic world, whenever that would be.
Tell us more about yourself. You've been featured as one of the rising artists in various publications since you were in college. What can you say about the reception of your works locally and internationally?
I actually just graduated with my Communication Arts degree recently! As for the features, It feels extremely surreal to me. I am very humbled by them and although there is still a long way to go, I am so grateful that because of these, more people will get to see the art and the hard work that goes with it.

It might sound really cheesy but at the end of the day, I still find myself in disbelief that I get to do what I am most passionate about every single day. I still pinch myself constantly, haha!
But really, I'm just thankful I get to do what I love. Everything else is a plus.
How about your experiences working as directors of SupportYourFriends and the Young Leaders Council? What are the objectives of these two communities and how does your work there affect your art?
My experiences in my other ventures really inspire my work. SupportYourFriends (SYF) was a platform built to literally support our friends and the special gifts they had. SYF was initially a clothing line making pieces for us and our peers that would host events for our community that were headlined by our talented friends. But as time went on, SYF had evolved into a small-scale marketing & design/consultancy agency. We had taken on collaborations for SYF with some household brands. Additionally, SYF has been tapped to produce campaigns and other media by other companies as an outsourced service for corporations.
On the other hand, Young Leaders Council (YLC) is a non-profit organisation that I was tapped to be a part of. The said organisation is committed to ending OSEC (Online sexual exploitation of children) in the Philippines and was set to be officially launched in the year 2020—however, the pandemic happened and put our operations to a halt.
Although our plans are still on pause because of the limitations due to the pandemic, we are still very determined to execute our plans especially now that the rates for OSEC are rising even more.
Both ventures are deeply rooted in and driven by community. I can definitely say that the people I encounter and the experiences I've had working really inspire me. I am very blessed to be in a spot wherein I could pick the brains of so many wonderful individuals and share conversations with them that sometimes would even mentally nudge me to think and create an artwork that would be prompted out of it.
What does "art" mean to you?
Art to me in its essence is a visual narrative.
---
Check out Anna Bautista's exhibition entitled "Time Capsules" at Art In The Park's website from 25 July to 1 August 2021
Photography Globe Studios / Philippine Art Events, Inc