Sundance Film Festival's First Filipino Short Film Entry: Sonny Calvento's "Excuse Me, Miss, Miss, Miss"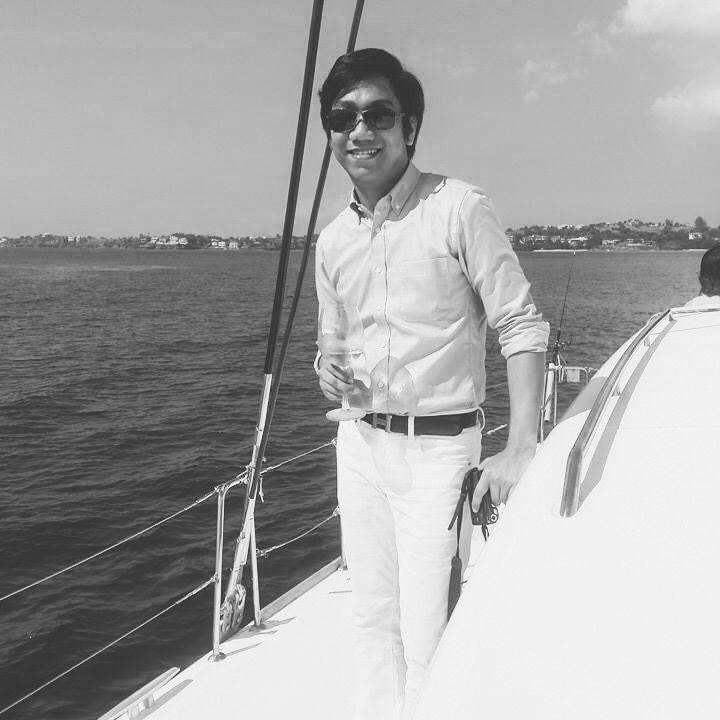 By Franz Sorilla IV
February 08, 2021
For the very first time, a Filipino film makes it to the Sundance Film Festival's short film category. Written by Arden Rod Condez (John Denver Trending) and directed by Sonny Calvento (Nabubulok), the satirical film Excuse Me, Miss, Miss, Miss sheds light to the plight of contractual workers. In his conversation with Tatler Philippines, Calvento shares more about the film and his inspirations and objectives as a budding filmmaker.
After his directorial debut in 2017 with Nabubulok and stint as producer of the award-winning film John Denver Trending (2019), filmmaker Sonny Calvento created his first short film entry Excuse Me, Miss, Miss, Miss for the QCinema International Film Festival, which eventually made it to the Cinemalaya Independent Film Festival and Luang Prabang Film Festival. In this exclusive one-on-one, Calvento shares more about this breakthrough film that has become the first-ever Filipino short film to enter the revered Sundance Film Festival, his inspirations and objectives as an independent filmmaker, and his two cents on the effects of the pandemic to the film industry.
Read Also: A Fearless Forecast Of Winners In Cinemalaya 2020's Main Competition Category
How did you feel when you received the acceptance letter from Sundance? How would you describe that day and the momentous event that occurred?
The requirements to submit your film to the Sundance Film Festival are just like the requirements for any [other] international film festival. You just need to fill out an application form with a screener link. What's special about Sundance is they don't require any premier status for short films. So, I knew I'd be competing with thousands of submissions. I just tried my luck. The thought of making it to the final 50 short films out of the almost 10,000 submissions never crossed my mind.
Three months after submitting the film, I saw an e-mail with the subject "Excuse Me, Miss, Miss, Miss / Sundance Film Festival 2021". I thought it was a rejection letter. I opened the e-mail, and the message wasn't loading, but I noticed that the e-mail had a lot of CC'ed contacts, which really got me thinking why would they inform a lot of contacts that my film got rejected? I had to rush outside the house to get a good LTE signal and there I was in front of the street in my boxer shorts when the message finally loaded. It was a congratulatory message from Sundance. I cursed repeatedly. I just couldn't believe it even up to now, but I am more than thankful that Sundance saw something special in my film.
Tell us how the concept for Excuse Me, Miss, Miss, Miss came to be?
Excuse Me, Miss, Miss, Miss is a social realist comedy with a little dash of fantasy about a sales lady who discovers her supervisor's shocking secret, a secret that might be her only key to survive life.
The film is about the plight of the contractual workers in the Philippines, particularly of salespersons in super malls. I learned more about their struggles by coincidence. We happen to own a small food kiosk and our then newly hired cashier is a former sales lady at a famous mall chain. She narrated how ridiculous and oppressive some requirements can get when you are applying for the job, as well as maintaining the job once you get hired. Once, she was even scolded because her lipstick was not pink enough.
Their stories are oftentimes heartbreaking but strangely, they told them in a comedic way. There are injustices that happen to them but there is already a level of acceptance to these women when they've shared their stories—that for me is even more tragic—that they've reached a point to just laugh at their problems because [there's nothing they can do about it]. Humour as a sign of helplessness.
Through the help of the writer of the film, Arden Rod Condez (John Denver Trending, 2019 Cinemalaya Best Film), we set the tone and drafted the script. We decided to infuse comedy and a little fantasy in a social realist subject because we wanted to explore the genre of comedy—being the best-selling genre in the Philippines—if it can be used to expose a subject relevant to the Filipino people. I'd like to think we have achieved this.
You also worked in television for quite some time. How do you differentiate the way you attack your works for both platforms?
Working in mainstream television for 10 years [has made me] aware of how [it all] works—how the audience dictates what they want to watch and how storytelling is approached from a business perspective. Everything you write, everything you do, are all based on calculated research statistics and [the] audience profile. There is a little room for self-expression because everything a TV writer does should always fit with the audience mould of the network you work for.
Film, on the other hand, does not just involve characters, but also all the living and non-living things surrounding those characters.That is a clear distinction between TV and film in my opinion.
In the Philippines, TV is very character-based. You have to invest in them in order to watch them every day, while film (and its characters) can represent a society, an institution. TV follows specific threads of characters in stories, while the latter has the potential to see the bigger picture.
Read More: 12 Filipino Film Directors That Have Shaped Philippine Cinema
Most Filipino filmmakers, especially the independent ones, scour the international film festival scene for awards and reviews. Being the first Filipino short to be accepted to the short film category of the prestigious Sundance Film Festival, what do you think inspires you and other filmmakers to showcase your works abroad? Do you find the doors to Sundance and other unchartered film festivals opening for fellow Filipino filmmakers too?
I have been a follower and a fan of the Sundance Film Festival for a long time. Filipino films that have been screened in Sundance* were a huge influence on me growing up. The main reason I submitted to the festival is to fulfil the life-long dream of getting into Sundance. But on the context of its importance, the films that I, as well as other Filipino filmmakers, create do not have enough space in the Philippine mainstream media, so I am grateful to film festivals like Sundance for celebrating our voices and seeing the importance of our films. I also believe that Filipinos are capable of producing quality works despite having low budget productions (compared to first world countries) and I think the inclusion of our film will also inspire other filmmakers to submit to Sundance and other major festivals.
*Other Filipino films that screened in Sundance:
Ang Pagdadalaga ni Maximo Oliveros, directed by Auraeus Solito, official selection in the World Cinema-Drama category
Metro Manila, British-produced film directed by Sean Ellis, winner of the Audience Choice Award in the World Cinema-Drama category
A Thousand Cuts, directed by Ramona S. Díaz, premiered at the Sundance Film Festival, US Documentary Competition
Bayang Ina Mo, directed by Ramona S. Díaz, winner of the Special Jury Award in the World Cinema-Documentary category
One is a gripping crime film, the other is a dark comedy short. What "truths" in our society do you wish to shed light upon with these two films?
Nabubulok is heavily inspired by my father. He was a crime show host and broadcast journalist. Growing up watching his movies, reading his articles and watching his TV show every Friday exposed me to harsh realities in life. It made me very critical towards injustices and flaws in our system. But after [this] film, I felt like I needed to do something in order to find my true voice as a storyteller—in order to be more truthful to myself. That's when I decided to direct a short film after reading a Call For Entry announcement by the QCinema Foundation for short film grants.
The commercial at the start of [Excuse Me Miss...] was based on old Filipino TV commercials—I watched a lot of Filipino commercials on YouTube in order to help me come up with the visuals for the music video/commercial. I chose an old-looking feel to highlight the idea that through the decades, nothing has really changed about how labourers are treated in our country.
For the main visual, I wanted to project the visuals the same way shopping malls would like to be projected–a happy, clean, flawless and problem-free world. I specifically chose a red uniform for Mailes Kanapi's character because I wanted her to pop out from the contractual salespersons' white and grey-coloured uniform. I studied a lot of inspirations for this film—the deadpan and dark humour of Aki Kaurismäki films, the set, the camera movement and the colourful visuals of Wes Anderson films, the campiness of The Stepford Wives and the documentary Grey Gardens by Albert and David Maysles. I also listened to a lot of jazz-rock music, particularly the music of Filipino jazz-rock band Radioactive Sago Project, to help me determine the unusual beat that I want for the film.
After finalising the film, it made me realise that this type of tone and project is really the route that I want [to pursue] in my career.
Read Also: Q & A With Ryota Nakano
Nabubulok reminds me so much of Ian McEwan's The Cement Garden novel... How was the experience working with these fine young actors plus the exceptional Gina Alajar, knowing this is your debut film? How did you prepare them mentally and physically for the scenes?
Thank you! I have heard of The Cement Garden but unfortunately, I haven't been able to read the novel. Working with the cast, specifically Gina Alajar, is such an inspiring experience. For someone who is also a well-respected director and a remarkable actress—she showed such kindness and professionalism to all of us during our shoot. She adapted to my style of shooting—which was really more like "docu-style", I didn't want to do rehearsals and I didn't give too many instructions while shooting them because I wanted to capture their acting in the most natural form. Despite being different from Gina Alajar's directorial style, she never questioned or complained about our process. She came to the set every day not as a director but as an actress, and we all respect her for being so professional.
Excuse Me, Miss, Miss, Miss is such an enjoyable film, and the more absurd it becomes, the more it becomes hilarious. But were there any instances that you and Arden Condez hesitated for the shades the film threw on capitalist Metro Manila and labour issues?
We hesitated a bit when we were composing lyrics for the song because we were afraid to get sued. But after consulting with our musical scorer, we just decided to commit to it because what's the point if it the jingle wouldn't sound like the popular mall jingle we all grew up listening to. Other than that, we really wanted to highlight all the ridiculous practices and standards set by mall companies to contractual workers so even before writing the script, we were very much on the same page of committing to exposing these absurd practices.
Aside from these, what other social commentaries from Excuse Me, Miss, Miss, Miss that you think most audiences have missed? Would you please expound on your message?
Our mindset was just to tell Vangie's story and then let the audience extract their own interpretations of our material. We were not very keen on planting messages, but rather it was our priority to tell the journey of the character, and hopefully, let the audience interpret the material and give meaning to it. Filmmaking is always a two-way relationship, between the makers and the audience, in my opinion. Reading their reviews and interpretations really gave me the impression that the audience got our film and we are all very pleased with that.
With these films on your roster, how would you describe your core philosophy as a filmmaker?
I have always believed that a good film is a film told with sincerity. One of my mentors, Armando Lao, would always say "the truth is a filmmaker's strongest argument", if he/she is truthful to what he/she is trying to say, the audience will feel it. We all have our own versions of truth; your truth may be different from someone else's truth but always remember that it is your duty as a director to tell your "truth" through your story. It is what will make you stand out from other storytellers.
What can you say about the current Filipino film audience? Has there been a shift in taste and preference for the past decade?
I believe Filipinos, specifically the mainstream audience, are still in the process of developing and evolving as of today. After being saturated with larger-than-life romantic dramas and comedies, we are just in the process of learning that there are other content options for us. We've been stuck in the '90s Hollywood romantic comedies and classical comedies formula that we are still trying to develop our film audience, but I believe that a paradigm shift in mainstream audiences' preference is happening slowly, one day at a time, and independent film festivals are big factors in that movement.
Where do you draw inspiration from for your projects and are you open to trying other genres or style?
I draw inspiration from basically how I live my life—from the movies I watch, the people I meet, the art galleries I visit, the music I listen to, and many more. I believe in the saying that a storyteller is a storyteller 24/7—so how I live also inspires how I tell stories. Some of the filmmakers that really gave an impact to my life are Yorgos Lanthimos, Wong Kar Wai, Miranda July, Charlie Kauffman, Wes Anderson, Asghar Farhadi, Ken Loach and the list goes on.
I'm very much open to trying other forms and genres since I am still in the middle of the getting to know more about myself as a storyteller.
Read More: 18 Asian Movie Directors You Should Know
Sadly we are in the strangest of times, but how do you foresee the film industry and the way we consume films in the next years? What has the recent crisis taught you?
As storytellers, we should always learn to adapt our ways of telling our stories depending on how our audience consumes it. I think it's important to take into consideration how people consume films today. For me personally, with all that is happening in our country and our world, It's hard for me to finish a 90-minute film without pausing for hours, sometimes days or even weeks. Maybe because it's very difficult to accept that this is how we consume films today—through the internet. I'm very used to experiencing movies in cinemas without distractions.
The pandemic has badly hurt the film industry. Technology-wise, we are lagging behind and the idea of streaming films is still foreign to most Filipinos. Sadly, I don't know how [the film] industry will address these challenges. How will you introduce the concept of streaming films online to the majority of Filipino families who don't even have access to the internet?
I think now is the time to be more conscious about the content we make. Our voices as filmmakers should somehow highlight the voiceless now more than ever.
---
Excuse Me, Miss, Miss, is part of the shorts program of the 2021 Sundance Film Festival, which ran from January 28 to February 3
Images Southern Lantern Studios